Event Information
Location
EAA Airventure Oshkosh - Press HQ Tent
Description
IMPORTANT NOTE: To become eligible for a nomination, you MUST pre-register for this event above by 5PM on Friday, June 28. (Pre-registration does not guarantee a seat.)

SEATING: THIS EVENT WILL HAVE VERY LIMITED GENERAL ADMISSION SEATING, SO IT IS ADVISED TO SHOW UP EARLY IF YOU WANT A SEAT. THERE WILL BE OVERFLOW SRO AVAILABLE.

We've all seen the glitzy award shows from Hollywood and the music industry, and now the aviation family will have the Airplanista #OSHBASH Awards! These awards will go to spectacular Airplanistas who have pushed the Twitter #avgeek community forward by promoting aviation on our favorite social platform.
So come to the 2013 Airplanista #OSHBASH and see who wins. We'll be honoring your favorite Airplanistas with some cool trophies, a few laughs, and plenty of #fun.
If you have questions about the OSHBASH or the Airplanista Awards, hit me up on Twitter @av8rdan or via email editor@airplanista.com.

Official #Oshbash website: Oshbash.com

Thanks to major cooperation from EAA's Press office, they have offered their Press HQ Media Tent for this event! Location is just northeast of the new FAA control tower (see illustration below).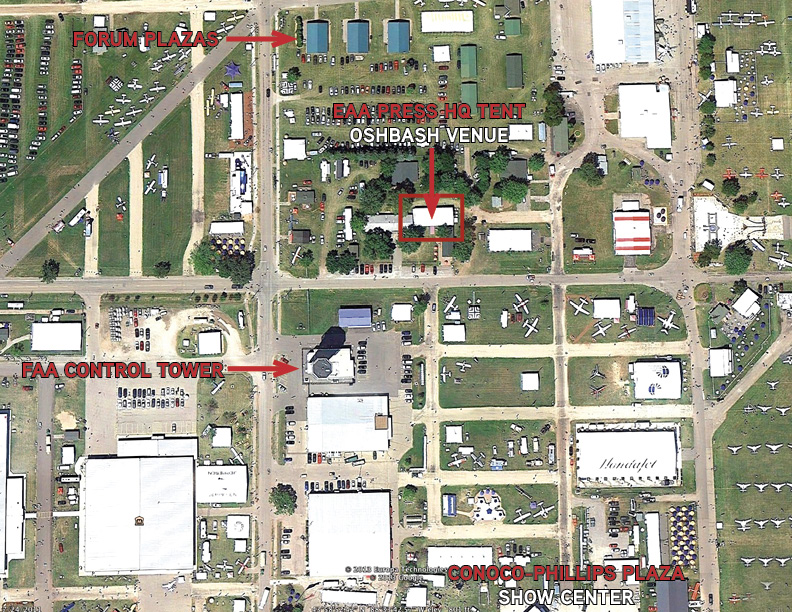 C-ya at the 2013 #OSHBASH! No RSVP is required but you must pre-register above using the bright green button to be considered for an Airplanista #OSHBASH Award nomination...because winners need to be present to win.* You do not have to buy a ticket, just show up with a huge grin on your face from staring at endless flying machines all day! As always since this is an Airplanista event, you can expect a few surprises.
*Just to be clear, you will be winning a nice acrylic award that while cool, has little actual cash value. You will however be unofficially known until #OSH14 as one of the #Avgeek community's most important movers/shakers and have a groovy award for your bookshelf. And you need to be present to win because an awards ceremony with a bunch of absent winners is really boring. If you are nominated and do not show up to see if you won, your award will go to the second place #avgeek in that category.

Date and time
Location
EAA Airventure Oshkosh - Press HQ Tent