2012ALIGNMENT | AWAKE 4th YEAR ANNIVERSARY

Wednesday, December 21, 2016 from 7:00 PM to 11:00 PM
Event Details
21.12.16 | 4th Year Anniversary

---
EXCELLENCE  | 4th YEAR ALIGNMENT ANNIVERSARY

Hart Culture C.I.C. is Leading A Golden Era. This is the 4th Year of the official 2012 Alignment, a highly anticipated Paradigm Shift where Consciousness and 'Self' unite.
In the last few years, we have seen an increase in people loving themselves, and supporting black economic recovery strategies.

God has made man in his perfect image - and Science has put these beautiful facts under the telescope.

Everything that man needs to delve into the Highest Heaven's is already contained within him. All he simply needs to do is - 'AWAKE' & 'ALIGN' to the truth of his own 'existence'.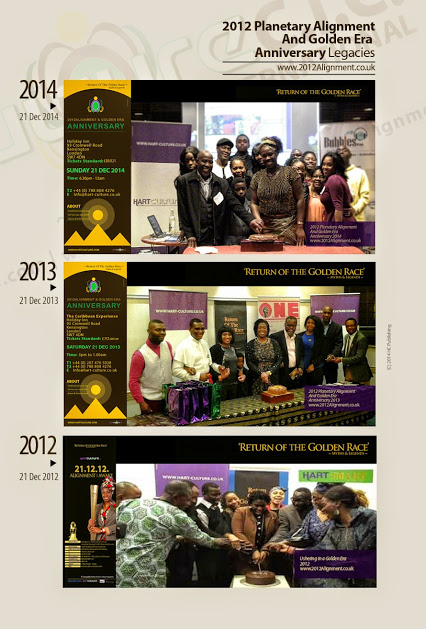 The WORLD is a wonderful place of 'Life & Discovery' with all of its Secrets, Mysteries and The Uknown. The 'Alignment' event will look at the new cycle of the 5th Sun. A Cultural Concept of 'Renewal' and Spiritual Transformation. Alignment celebrates breaking open into 'Positive' Conscious Existence and deeper knowledge of 'The Self'.






TESTIMONIALS/KEYNOTE
SPEECHES: ... 'THE RETURN'



 
50 Most Outstanding Jamaican Women
The Worshipful Mayor of Southwark,
Althea Smith

RETURN OF THE GOLDEN RACE


No.1 in the UK for Basic Arts Education
There is so much to see, and encourage you to attend with a Inter-galactic open mind ...
FURTHER READING |  'ALIGNMENT'



(c) HART CULTURE PUBLISHING, 2016
When & Where

HART CULTURE C.I.C.

E16 2EW
United Kingdom


Wednesday, December 21, 2016 from 7:00 PM to 11:00 PM
Add to my calendar
Organizer
Inspiring Excellence In The Arts Through Local Communities