Description
A celebration of open government and investigative reporting
Presented by the Wisconsin Center for Investigative Journalism, the Wisconsin Freedom of Information Council and the Madison Pro Chapter of the Society of Professional Journalists.
The event is sponsored by the Wisconsin Newspaper Association, Wisconsin Broadcasters Association, McGillivray Westerberg & Bender and the Wisconsin State Journal.
Dick Wheeler, the late founder of the Wheeler Report, has been named the 2012 recipient of the Distinguished Wisconsin Watchdog Award in recognition of his four decades of tirelessly opening Wisconsin state government to public scrutiny.
Gwyn Guenther, Wheeler's daughter, will accept the award.

Wheeler, who died on Nov. 11 at age 67, launched the Wheeler Report in 1972, after having covered state legislatures in Ohio and Michigan. It began as a mimeographed write-up that was mailed to subscribers each day. Later it was sent out by fax, then email, which is how it is distributed today. The Wheeler Report also maintains a robust website, tracking state news.

Often, Wheeler was the first member of the public to receive important government documents such as audits, legislation and fiscal analyses, which he immediately posted to his website for others to see. The Wheeler Report remains one of the state's most comprehensive sources of information about state governement.
Click here to see a story about Wheeler's recognition in the Wisconsin State Journal.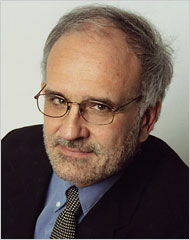 The Wisconsin Watchdog Awards will feature a keynote address by Walt Bogdanich, a three-time Pulitzer Prize winner and UW-Madison graduate. Bogdanich is a New York Times investigations editor and former investigative producer for 60 minutes and ABC News.
Bogdanich graduated from UW-Madison in 1975 with a degree in political science. He received a master's in journalism from Ohio State University in 1976.
In 2008, Bogdanich won the Pulitzer Prize for Investigative Reporting for the series "A Toxic Pipeline," which tracked how dangerous and poisonous pharmaceutical ingredients from China have flowed into the global market. Bogdanich also won the Pulitzer Prize in 2005 for National Reporting for his series "Death on the Tracks," which examined the safety record of the U.S. railroad industry, and in 1988 for Specialized Reporting, for his articles in The Wall Street Journal on substandard medical laboratories. He has also won four George Polk Awards, an Investigative Reporters and Editors Award, and an Overseas Press Club award.
Other highlights include:
-- The annual Opee Awards, presented by the FOIC.
-- Reception (cash bar) at 5 p.m.
-- Dinner (cash bar) at 6 p.m.
Just 120 tickets will be sold.
Click here if you're interested in becoming a sponsor of the event.
A story about the event can be found here.
Subscribe to the WisconsinWatch.org free email newsletter to receive our free email newsletter highlighting recent stories and news at the Center.