Description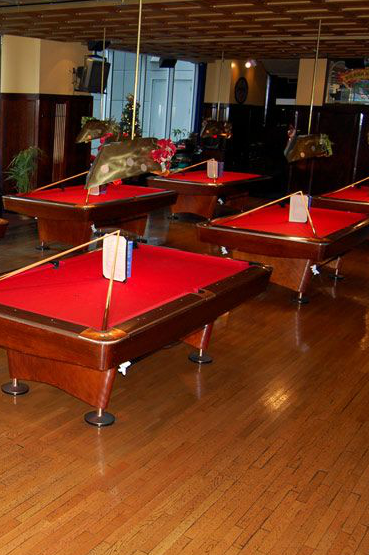 Join us for the biggest, baddest vmunderground WuPaaS event yet!
Sunday, August 26, 2012 - 8 PM @Jillian's
In our fourth major year of VMworld warm-up party (sixth if you count Theron's first two gatherings), vmunderground has grown by leaps and bounds to stay on top as THE independent VMworld networking event. Every year this event is a who's who in the VMware community and the place to be to meet up with the best in the business.
This year we are growing the event to 700 invites and have chosen Jillian's as the venue. Jillian's is located smack dab in the middle of VMworld City (Moscone) so their should be no issues arranging transportation this year. So in addition to attending a kicking vParty, you'll have the chance to hustle your fellow vNerd or vExpert at the many professional billiard tables Jillian's provides. Please to don't bet all your week's beer money the first night of the conference. ;)
Of course, even independent events need some sugar daddies if you want to do things right. Also called sponsors, the vmunderground sugar daddies make this whole event possible. This year we have the familliar vmunderground sponsors, but we also have some new faces. Please give our valued sponsors a good look, stop by their booth, and tweet or blog some good things about these folks. They are all industry leaders in the virtualization space and are all committed to supporting the VMware community. Remember, that even though you provide your email to VMunderground for the registration, Theron, Brian and I have never allowed attendee lists or emails to be passed on to the sponsors. Even another reason to support these fine companies since they are confident enough to stand on the merits of their products and services as well as the word-of-mouth/tweet of the VMunderground attendees. They don't need VMworld Spam to get their point through.
BlueLock
So much about cloud computing is hyped up and irrelevant to the enterprise. BlueLock understands what public cloud hosting is not about, and can help you begin to take steps forward from today's datacenter toward a logical public or hybrid cloud business model. With BlueLock, you'll find a cloud hosting partner who see your challenges. Clearly. Challenges like needing to move quickly. Not knowing exactly what you'll need and when. And needing to be able to change your mind later if things don't go quite as planned–because let's face it, they never do.
Bocada
Bocada is a recognized leader and market expert in data protection services management, helping enterprises and MSPs worldwide to deliver data protection services that drive greater business and IT alignment, operational efficiency, minimized risk and improved customer satisfaction.
Trainsignal
Train Signal is the global leader in professional computer training and one of Inc Magazine's 5000 Fastest Growing Companies. Their video training products include Microsoft, Cisco, CompTIA, and VMware. Included in their product lineup is the best selling video training product for VMware ESX by vExpert David Davis. If you're looking to get great vmware training, here's the place to do it.
Nexenta
Nexenta, a VMware Technology Alliance Elite Partner, is the developer of the leading OpenStorage solution NexentaStor. NexentaStor is a fully featured NAS/SAN/Object storage solution based upon the ZFS file system. With tight VMware integration the VM Data Center module for NexentaStor simplifies the management of storage and data replication for virtualized environments, and the new Nexenta VSA for VMware View helps simplify the deployment and management of View environments.
Xangati
Xangati is a 3-time VMunderground sponsor and a 2-time Best of VMworld award winner for virtualization management – is ready to bring the fun again to VMunderground 2012! Yes, there will be bacon involved. Yes, there will be prizes. Yes, we have a couple other secrets that will be revealed on Sunday night. No, we aren't going to bore you to death with PowerPoint….we never do that. No, we aren't going to corner you and give you the sales pitch….that's what our VMworld booth is for. Xangati's sponsorship of VMundergorund is all about kicking off the night with a ton of fun over a ton of beer!
Veeam
Why should you trust tools that were designed for the physical world and simply retrofitted to support VMs? After all, virtualized environments have lots of moving parts and dependencies. Veeam knows virtualization. In fact, that's all they do. If you want very fast backups of your VMs on Microsoft Hyper-V or VMware vSphere, Veeam can help. Veeam's Backup & Replication™ is the #1 VM Backup because it's fast and reliable. It just works. Veeam's management solutions let you sleep at night. Veeam understands that deep visibility into your infrastructure is critical. Whether you are a small business or a large enterprise, Veeam is all about saving you money, helping you meet your SLAs and avoiding risk.
Rackspace
Rackspace deliver enterprise-level hosting services to businesses of all sizes and kinds around the world. Rackspace was started in 1998 and since have grown to serve more than 180,000 customers. Rackspace integrates the industry's best technologies for each customer's specific need and delivers it as a service via the company's commitment to Fanatical Support. Our core products include Managed Hosting, Cloud Hosting and Email & Apps. There are currently over 4,300 Rackers around the world serving our customers.
PuppetLabs
Puppet Labs' IT automation software enables system administrators to deliver the operational agility and efficiency of cloud computing at enterprise-class service levels, scaling from handfuls of nodes on-premise to tens of thousands in the cloud. Puppet powers thousands of companies, including Twitter, Yelp, eBay, Zynga, JP Morgan Chase, Bank of America, Google, Disney, Citrix, Oracle, and Viacom.
Nexus
With Nexus you'll do more than work with a national provider for information technology solutions and services. When you work with us, you'll connect a name with a face. You'll be able to talk with someone who brings competence, expertise, customized solutions, and professionalism to the table. We are a premier IT solutions and services provider of virtualization, data storage,disaster recovery, networking, servers, technical, professional and managed services.