2012 Optimain User Group Meeting

Wednesday, March 28, 2012 at 9:00 AM

-

Thursday, March 29, 2012 at 3:00 PM (EDT)
Event Details
 Opvantek is pleased to be hosting the 2012 Optimain User Group Meeting!
---
Location
Map & Directions
P: 303.438.6600
For room reservations, call the Omni Interlocken Hotel at 1.800.THE.OMNI (1.800.843.6664) and mention this meeting. NOTE: The group rate of $129.00 per night expired on 2/27/12.
Meeting Room: Pine
Breakout Room: Aspen
Breaks: Garden Foyer A
Breakfasts & Lunches: Private Dining Room
Dinner: Atrium
---
Schedule
This schedule is subject to change before the event.
Wednesday, March 28th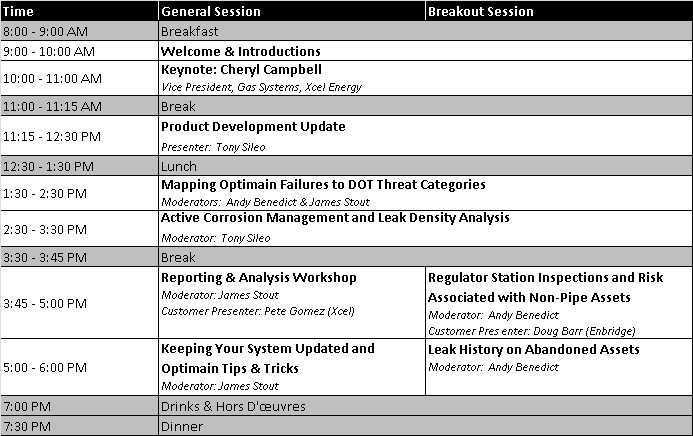 Thursday, March 29th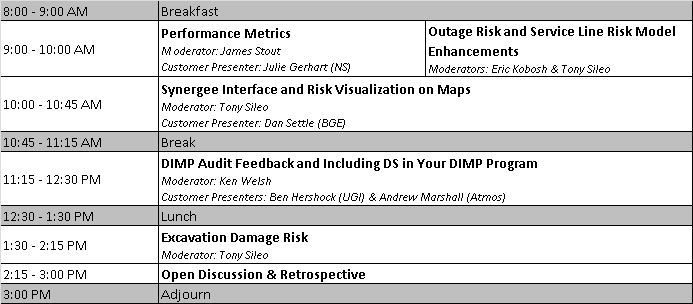 ---
Description of Session Topics

Active Corrosion Management and Leak Density Analysis
This session will discuss recent enhancements in several customer systems that incorporate the active corrosion management and review process into Optimain DS.  The enhancements allow these customers to quickly identify, report, and track "areas of active corrosion" in their distribution system in a way that supports DOT 192 compliance activities.  We will also illustrate some similar concepts using spatial density analysis of specific types of leaks or threat indications, such as Open Leaks per Square Mile, Corrosion Leaks per Thousand Feet, or even Risk per Mile.
DIMP Audit Feedback and Including DS in Your DIMP Program
A number of our customers will have already had DIMP audits by this Optimain User Group Meeting.  This session will be an open opportunity to discuss and share your experiences, or if you haven't had an audit yet, to listen and ask questions.

Our customers have taken a diverse approach regarding how they have incorporated Optimain DS into their overall DIMP programs.  This session will explore how Optimain DS does/does not support the seven overall DIMP elements, as well as how we can better support and integrate with your DIMP plans.
Excavation Damage Risk
For most customers and operators, excavation damage is by far the most prevalent threat that leads to reportable incidents. This session will provide an update on our new Optimain xDR module for evaluating the risk associated with excavation damage.  We certainly welcome attendance of interested Damage Prevention staff at this Optimain User Group Meeting.
Keeping Your System Updated and Optimain Tips & Tricks
This session will provide a forum for users and Opvantek to share best practices on keeping the data and results in an Optimain DS system up to date.  We will also provide tips and tricks on accomplishing other useful tasks in Optimain DS.
Leak History on Abandoned Assets
Everyone agrees that leak and pipe inspection history is important for pipe risk and asset assessment.  However, the rules and philosophies are not clear regarding how long to keep historic records, and whether or not it is appropriate to use history associated with abandoned assets.  Should records only be retained for the active life of the pipe?  Does DIMP or other regulations require longer record retention?  Does it make sense to apply the history from abandoned pipe when assessing risk on active pipe of a similar nature?  Opvantek is now involved in writing GPTC guide material for these issues.  We will share current results and activities, and solicit your input.
Mapping Optimain Failures to DOT Threat Categories
There are eight Distribution Integrity Threat Categories.  Optimain does a good job of evaluating risk for threat categories with statistically significant occurrences and sample size.  However, for some threats, the probability of failure or incident is extremely low.  Nevertheless, all threats must be addressed in your written DIM Plan.  This session will explore how our customers have satisfied this requirement, and also discuss when and how Optimain DS failure types should be mapped to the eight DOT threat categories.
Outage Risk and Service Line Risk Model Enhancements
This session will provide an overview of a recent project to integrate outage data sources into Optimain DS, and how outage factors are incorporated into an objective outage risk calculation. Outage factors include outage duration, customers affected, number of outages experienced by customer(s) during a specified period.  Display outage risk in the GIS both by project and area, eventual tie-in to drip maintenance for assessing economic impact.
Opvantek has incorporated several significant enhancements in our SPIP Module and statistical analysis methodology for service line risk.  We are also working with a customer to add additional enhancements, such as the capability to use service risk calculations in the GIS by quad map to identify service replacement projects and provide risk summaries by pipe, coupling type and quad maps. This session will discuss these enhancements, and also solicit input on other important factors to consider in a robust service line risk model.
Performance Metrics
Optimain DS can be used to generate key performance metrics related to the programs it supports, including capital allocation, replacement planning and DIMP. This session will provide an opportunity for users to share specific metrics and results obtained from attempting to measure the performance of Optimain DS.
Regulator Station Inspections and Risk Associated with Non-Pipe Assets
Optimain ACM has been supporting the Regulator Station Inspection and Maintenance program at Enbridge Gas Distribution for over seven years.  This session will describe the key features and business benefits of that program.  We will discuss how inspection and failure data for non-pipe assets (including regulator station equipment) can be incorporated into a risk model in Optimain DS.
Reporting & Analysis Workshop
This session will showcase data analysis and reporting techniques developed by various customers against Optimain DS data sources, including both tabular reports and pivot tables.All users are encouraged to bring their best examples to share with the user group.
Synergee Interface and Risk Visualization on Maps
This session will provide an overview of a recent project to integrate Synergee (Stoner) hydraulic modeling data with Optimain DS in a two-way feed.  In one direction, Optimain DS imports pressure and flow data, and incorporates it into the risk model.  A separate data source also allows pipe replacement plans (material, size, and pressure) from a Synergee model to be imported into Optimain DS and automatically associated with the corresponding risk evaluation projects (default replacement plans).  In the other direction, Optimain DS exports risk results in a format that can be imported into Synergee for visualization and use by system planners.

---
We hope at least one representative from your company attends to share knowledge/ best practices and learn how other companies are using the Optimain product suite. Your feedback is very important, as it gives Opvantek insight into future software enhancements. Please feel free to forward this email to others at your company who would be interested in attending.
This year we are limiting each customer to 3 free attendees. Addtional attendees can register for a fee of $300.
Thanks to everyone who contributed to last year's conference and we look forward to seeing you in Broomfield!
Attendee List
Sort by:

Date

|

First Name

|

Last Name
When & Where

Omni Interlocken Resort
500 Interlocken Blvd
Broomfield, CO 80021


Wednesday, March 28, 2012 at 9:00 AM

-

Thursday, March 29, 2012 at 3:00 PM (EDT)
Add to my calendar