2012 Niles Canyon Railway Caboose
Departing from Niles at 4:30 PM
Event Details
Ride a Caboose on our Train of Lights. 
For our early trains, departing from Niles at 4:30 P.M.
(Were you looking for our Late Trains departing from Sunol at 7:30 PM?)

Enjoy a private party on a caboose!
Consider Reserved Seating in the Dome Car or the  Holiday Club Lounge!



The Best View on the Train!


 

Enjoy the exclusive use of the caboose by you and your private party guests, on the end of our acclaimed holiday train. Climb up into the cupola for a bird's-eye view of the train as it weaves along the scenic route of North America's First Transcontinental Railroad, through Niles Canyon, with a docent aboard to narrate the ride.
Departing from Niles (Fremont) at 4:30, you will get to see the canyon during sunset, as the lights become more promenent on the return trip to Niles. (There will not be a chance to get off the train in Sunol this year.) On the return trip, as the sun sets, the lights become the focus of attention.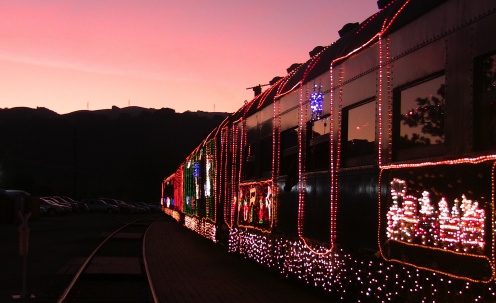 The Santa Fe cupola caboose provides a special ride for groups of up to 24 people (or 28, if some of them are child-sized). Two small serving tables are available on-board for serving your refreshments. There are windows on the main floor, but the best view of the train is from the seats high up in the cupola.
The cost is $600, for up to 24 riders. The caboose is very popular, so be sure to reserve early.
You may bring your own food and drinks aboard the caboose to enjoy.
PARTY PACKS are available!


A grab bag full of railroad theme party favors just right for young caboose-ridin' revelers. There's train-loads of fun in every bag! There are three different sizes. You can ask to have some ready for your arrival when you make your reservation, and you can pay for them at the gift shop on the day of your train.
If you have further questions, please contact our Chief Station Agent at 510-996-8420.
Thank you for supporting our Western Railway Heritage Museum.
Niles Canyon Railway - About Us - Our History - Our Collection - Contact Us

Where
37001 Mission Blvd.
Fremont, 94536


Organizer
Niles Canyon Railway, station-agent@ncry.org
The Niles Canyon Railway is operated by the Pacific Locomotive Association. We have been operating on this historic route since 1987. The Niles Canyon Railway has been running the Train of Lights for more than two decades, and has become an annual tradition for many families.

Our Train of Lights operations are our main annual fundraiser, and the ticket prices are supporting the maintenance and operation of our railroad and equipment. Our volunteer staff thank you for your support of our Educational outreach, and our restoration of this historic railroad corridor.
2012 Niles Canyon Railway Caboose
Departing from Niles at 4:30 PM