2012 Elizabeth Stampede Parade

Saturday, June 2, 2012 at 9:00 AM (MDT)
Event Details
Event Details Promote your business or organization and join the fun by participating in the 2012 Elizabeth Stampede Parade . . . for FREE!
Please review the following instructions:
Please email this invitation to others that you think would like to participate in the parade. 
Click on the "Register" button located above and fill out the form 
You will receive an email confirmation with a FREE ticket. You do not have to bring this ticket to the parade. 
We expect a large turnout this year, so it's very important that you give us the size of your entry.  We use this information to determine how much room to map out for you in the staging area.
There is an an Open Riding Entry for anyone wishing to ride their horse in the parade who is not already part of an equestrian group. 
Horse trailers and large trucks are welcome to park in the Big R parking lot located at Big R of Elizabeth, CO, 650 Beverly Street, Elizabeth, CO 80107. The Elizabeth Big R management is pleased to provide parking space for the parade but has asked for our help in 3 ways: 
Please begin parking on the far-east side of the parking lot to reserve parking space for customers. 

Please park the trailers as tightly as possible to conserve space.

Please clean up your manure before you leave. 

Staging will begin at 9:00 AM on Saturday morning, June 4th, on the Southside of CR 136 (see map to the right). (CR 136 is approximately 2 blocks to the Southeast of the Big R parking lot.)
The parade will start promptly at 10 AM
For additional information, please contact Traci Swisher, Community Relations Chairperson by emailing parade@elizabethstampede.com or calling 303-960-1263
****HORSE OWNERS - PLEASE CLEAN UP AFTER THE PARADE ****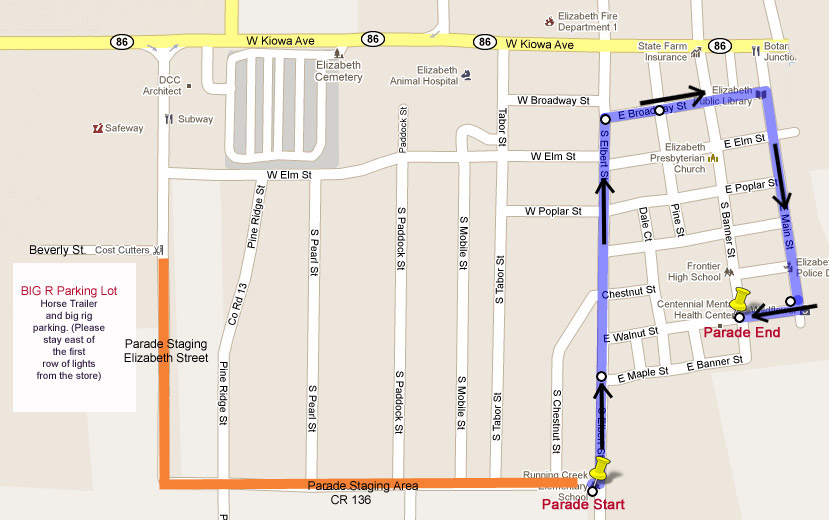 Organizer
Elizabeth Stampede Rodeo
The Elizabeth Stampede started as a local amateur rodeo put on by the Elizabeth Chamber of Commerce in 1952. In 1988, the Stampede went pro with the Professional Rodeo Cowboys Association (PRCA) and in 1995 the Chamber turned over ownership and operation of the rodeo to the Elizabeth Rodeo Association (ERA).
2017 will be the Stampede's 30th year as a PRCA Rodeo. This "Pearl of the West" is produced every year by the 100% Volunteer Elizabeth Stampede Rodeo Association. The Stampede is unique in that its 150+ Volunteers run everything inside and outside of the arena.
2012 Elizabeth Stampede Parade