2012 DC Hungarian Pig Fest

Sunday, March 11, 2012 from 10:00 AM to 5:00 PM (EDT)
Event Details
10-YEAR ANNIVERSARY
and "In Memoriam"
Dear Invitee,
Please let us know if you would like to join us to share some great pork meals and participate in a fun and traditional Hungarian Pig Feast.  Since 2002, we have now been doing this popular gathering for 10 years (last year it was the "10th year" and this time it is 10-year to allow us to celebrate twice).  
Our date is being moved back to somewhat later again (was in February last year) to allow more time we can spend outside without freezing, especially the kids who cannot drink palinka.  We hope that the mid-March date also gives us some protection against nasty snow cancelations we had to deal with 2 years ago.
The event is by invitation, but you are free to forward the invitation to anyone interested. As long as they buy tickets here, we are fine.  To simplify the ticketing and registration process, we use Eventbrite, where you can register, purchase a ticket, and print it, too.  Please bring your ticket to the event.
We again will have pony rides for the kiddies, between 11 AM to 12 PM and then again from 2 PM to 3 PM.  If you can please send an email to indicate your need (which time slot, how many kids) to enjoy preferential access to the pony ride.
Please see our discounted tickets for those who offer their help.
2009's video (courtesy of Akos Rozsa): http://www.youtube.com/watch?v=bw0rHane84o
2009's photos: http://picasaweb.google.com/zoltan.mari/Disznotor_20090322?authkey=Gv1sRgCLqw-eTroZLlrAE#
I hope to see you there!
Zoltan (on behalf of the organizers)
ADDENDUM#1:
For those who for some reason won't be able to make it this time around, we hope there will be a next year, but in the shorter term I can recommend the HFFF Luncheon, for further information please check:
http://zneuro.net/Files/HFFF_Luncheon_April8_2012.htm
ADDENDUM#2:
Dear All:
Since the above announcement we have been informed that Pista Bacsi is no longer among us and after 10 years will not be able to entertain us with his jokes, dogs, and cart.  We are deeply saddened and remain forever grateful to him and his family to help establish this wonderful tradition (along with our sister event in the summer, the Fisherman's Soup Party).  We are particularly grateful to Pista Bacsi's widow, Zsoka Neni, for letting us come despite this tragic development.  Our event this year will begin with a brief eulogy, in memoriam of Pista Bacsi, at 12 PM (please note the change from the original 10 AM!!! - the start of the Pig Fest is STILL at 10 AM, but the Pista Bacsi Memorial will be moved to 12 PM).  Emory (Imre) L. Toth, Pista Bacsi's close friend and ex-student (in 1950, Budapest), kindly prepared the euology, which will be read during the "in memoriam" part at 10 AM:
"Stephen "Pityu" Benedek Istvan passed away peacefully at his home during the night of February 6, 2012. Stephen was 92 years of age.
Stephen is survived by his wife Elizabeth "Zsoka" Benedek. 
Rest in peace Stephen. We all miss you "Pityu".
Stephen  "Pityu"  and  Elizabeth  "Zsoka"  Benedek  arrived to Maryland from their native country Hungary, as Hungarian refugees  after the Hungarian Revolution of 1956 was crushed by the Soviet Army. They were forced to leave they country as  freedom-fighters due to the brutal crackdown of the Communist  regime.
Stephen had a Master Degree in physical education, and also being an outstanding athlete,  he started coaching  'modern pentathlon'  to the legendary  Hungarian pentathlon team. (Five sports  competition). The Hungarian team won both the Olympic Gold and the Silver Medals in the 1952 Helsinki Olympic Games.
He also taught physical education and coached at several Hi-schools and Universities in Budapest, Hungary.  In the American-Hungarian community we have a few people who were coached by Stephen "Pityu' either in high school and Universities in Budapest, Hungary.
In Washington, DC., he was appointed  Professor of  Physical Education  and coach of  the Georgetown University. He is also a member of the Georgetown University's  Athletic HALL OF FAME for his legendary coaching of the  Georgetown's  track-and-field team.
In 1958 Stephen and Elizabeth established and built  'CAMP OLYMPIA'  in Derwood, Maryland sharing their love of teaching and coaching young people in various healthy sports combining fun and achievement in their programs.
Upon Stephen's retirement from Georgetown University he expanded  programs at Camp Olympia to swimming, basketball, soccer, track-and-field and gymnastics.  Horseback riding from beginners  to master level is enhanced by indoor and outdoor rings as  well as cross-country  trails on their large estate.
Stephen "Pityu" and Elizabeth "Zsoka" have been strong supporters of  activities and festivities for the American-Hungarian community around the metropolitan area and surrounding  states. 
Our American-Hungarian community is grateful for the loving and unconditional support  the Benedek's  provided  for decades to its numerous groups and members at their home and their Camp Olympia facilities."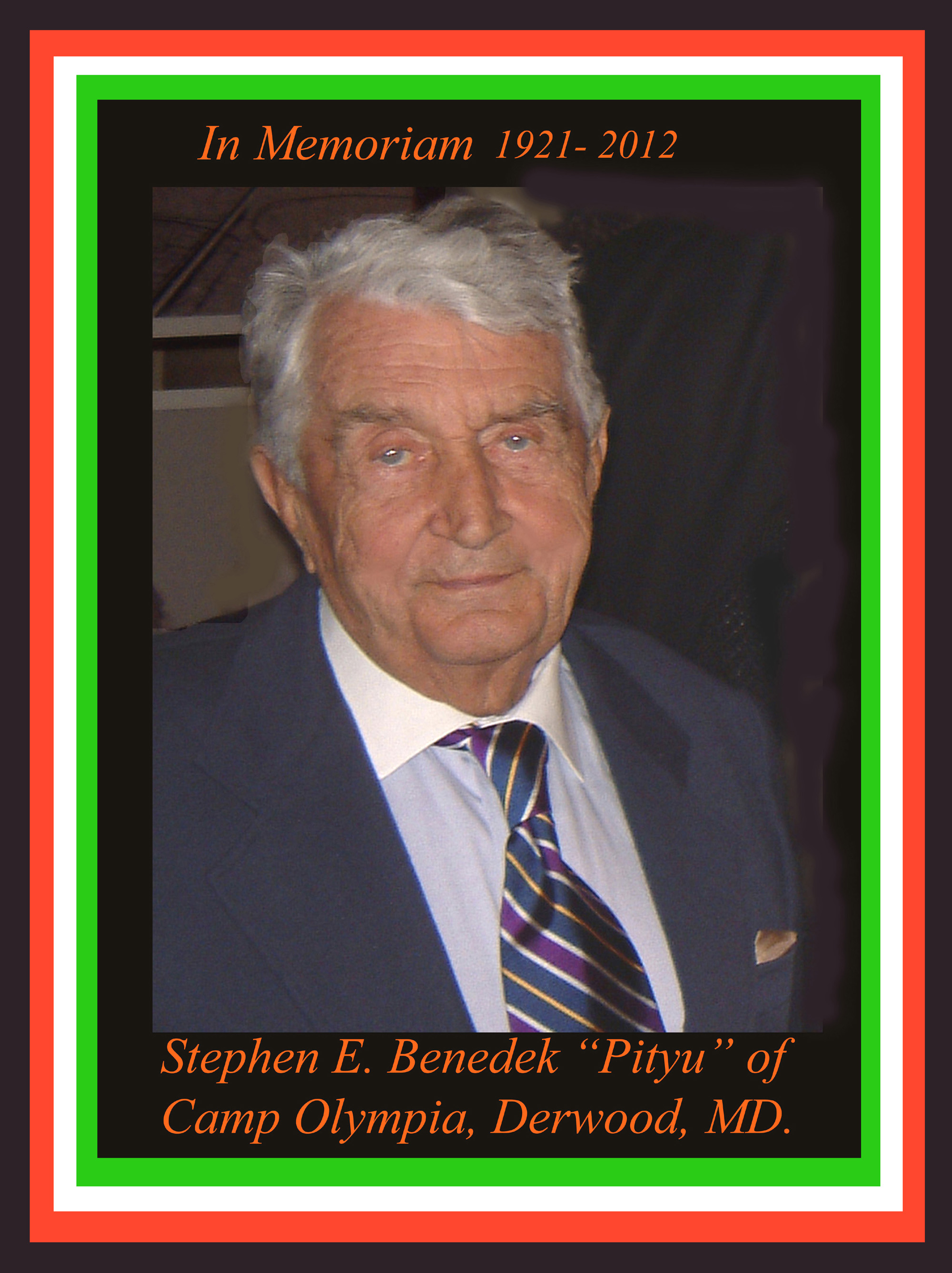 Attendee List
Sort by:

Date

|

First Name

|

Last Name
When & Where

Benedek Farm, Camp Olympia
5511 Muncaster Mill Road
Derwood, MD 20855


Sunday, March 11, 2012 from 10:00 AM to 5:00 PM (EDT)
Add to my calendar
2012 DC Hungarian Pig Fest