Sales Have Ended
Registrations are closed
It is unnecessary for you to print your ticket. Please check in at the Rotary van when you join the walk to let us know you have arrived. Likewise, please check out when you leave for the day.
Sales Have Ended
Registrations are closed
It is unnecessary for you to print your ticket. Please check in at the Rotary van when you join the walk to let us know you have arrived. Likewise, please check out when you leave for the day.
Description
2012 Press links
Saint Paul Pioneer Press
Minnesota Public Radio
Rochester Post Bulletin
Twin Cities Daily Planet
New: Nick Coleman: The UpTake
Hopeful Peacemaker blog for photos to share


"Manipi Hena Owasin Wicunkiksuyapi"
We Remember All Those Who Walked
The history of 1862 marks a tragic time for Minnesota, when policies were set in place causing ripple effects are still felt today. In 1862, approximately 1700 Dakota women, children and elders were force marched 150 miles on the "Minnesota Trail of Tears" across the state to the stockade winter camp at Fort Snelling. The entourage traveled approximately 20-25 miles a day. It is important to note that most of the Dakota on this walk were noncombatants who voluntarily surrendered to the US soldiers, and many had actually helped to protect, defend or even rescue the white settlers. But that autumn, Minnesota Governor Ramsey declared that all Sioux were to be "exterminated or forever removed from the borders" of the state, which led to their exile, beginning with this "Minnesota Trail of Tears" November 7-13, 1862.

While the Dakota families were marched to Fort Snelling, their men were being held at Mankato in preparation for trial. The day after Christmas, Mankato became the site of the largest mass execution in US history as 38 warriors were hanged and the remaining prisoners were removed from Minnesota. So during this forced march and the following winter, the Dakota men were locked away from their families and they could neither protect nor provide for them.
By contrast, during the Dakota Commemorative March that just concluded, non-Dakota people have been invited to join them in prayer, to help provide for the needs of those who are walking, to help ensure that the Dakota story has an opportunity to be heard, and to symbolically provide your support to the Dakota community by being respectfully present.

Those who come with a good heart and who wish to help set the stage for healing are welcome to support the walkers as they pass or to join anywhere along the route of the 2012 Dakota Commemorative March. (Lower Sioux Agency, New Ulm, Mankato, Saint Peter, Henderson, Belle Plaine, Jordan, Shakopee, Bloomington, Mendota Heights, Fort Snelling State Park). This registration process will greatly help event organizers to ensure for the provision and safety of the group and to communicate with you directly about event details as the date gets closer.
It is understood that this ceremonial walk will be long, hard, and emotional and that the weather will likely not be warm and beautiful --but these challenges will allow participants to gain a greater understanding of what it would have been like for the Dakota women and children in 1862.

ROUTE INFORMATION AND A MAP IS AVAILABLE AT THE END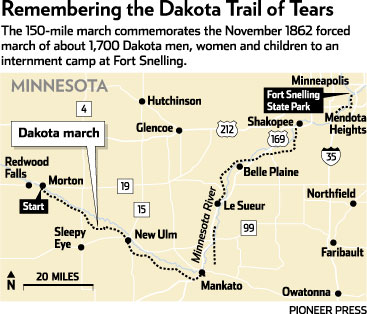 ****************************************************************************************************

*This site is written with the blessings of Dakota women who are working on organization of the march. The intention of this site is to help non- Dakota guests to come to the event better prepared and more aware of what is culturally appropriate and how to stay safe.

SCHEDULE OVERVIEW (Sign up for Twitter @2012DakotaMarch for updates)

November 7: Start at the Lower Sioux Agency parking lot near Morton 7:00 AM
November 8: Start location TBA between Lower Sioux Agency and New Ulm
November 9: Start New Ulm armory building
November 10: Start @ Mankato
November 11: Start @ Henderson
November 12: Start @ Shakopee
November 13: Start @ Bloomington
November 14: Prayers and Return home
CULTURE POINTS
Feel free to invite others to come with you!


The march will start shortly after sunrise (approximately 7 AM) with a morning prayer and will end before dark. The group will cover approximately 20-25 miles each day and a ceremony each mile along the way but for safety reasons, some portions are covered by caravan vehicles. The marchers are walking on behalf of their people so there will be portions with large numbers and others with smaller numbers. The march starts when it starts. It ends when it is over. The people who should be there are there. Please set aside the need to count how many people who are there and to keep track of time. Come and pray and show your support by being present.

The Dakota women in the front are the leaders of the march and all decisions are made by them and implemented by the community. Thank you for following their lead and allowing them to host the march in their way.


Keep your conversations quiet and respectful to prevent distracting from the sacredness of the march

Join the walk behind the marchers and allow others to be at the place of honor near the front of the procession. You may stand as supporters to welcome the walkers as the pass or you may file in behind and walk too.

Participate in the ceremony at each mile marker as you feel appropriate. Take the tobacco in your hand, and after sharing a prayer, leave the gift there.

"Smudging" is the act of purification by sage smoke and is a necessary portion of ceremony.

Women should wear a long skirt over your walking clothes

Women who are in their time of the month are asked to not participate in the ceremonies and to walk as far as possible behind the group.

Children are invited to participate; all adults to help guide the positive and respectful behavior of any children who are

guests

of the march; allow Dakota families to discipline their own children.

This is a reflective time for many; if you try to start a conversation and you are not met with conversation, kindly respect their space rather than trying harder.

Please turn off your phones and/or ask others to refrain from calling you; Take the opportunity to unplug from technology and to allow others to have a quiet walk

Do not take photos during the ceremonies and please don't take photos/video of anyone without permission. Members of the Press will be provided with a press kit when then check in at Rotary's Support Van.

It is inappropriate to bring any pets

For those with limited mobility, you may meet the march at various locations and participate in the ceremonies.

Non Dakota are asked to

NOT

drive behind the procession vehicles -- there are plenty of cars already. You can drive ahead and meet the group at the next stop. Ask the Rotary van for directions

SAFETY POINTS


Dress in layers for the weather

Wear sturdy shoes that will keep your feet dry


Monitor your foot care regularly; check in with medical volunteers earlier rather than later for all first aid care. Early intervention is very important

Wear and bring additional multiple pairs of socks

Chapstick is necessary for lip care; consider sunscreen or other moisturizer for uncovered skin


Wear a winter hat that covers your ears, gloves, scarf to protect from the wind and cold

Bring multiple sets of gloves/hats/socks to swap out as they get wet and put in a backpack marked with your name that can be placed in the Rotary Van/trailer or you may carry your bag

Carry your own refillable water bottle and drink regularly to stay hydrated
Bring your own snacks. Maybe keep a few granola bars, trail mix bag or some fruit in your coat pocket. You can leave your lunch meal in your backpack in the Rotary van. Depending on the group size each day, there

may

be plenty of food and you may be invited to share the meal but please plan to be self-sufficient

.

The group will walk in formation on the shoulder of roads; Be aware of passing traffic

A traveling portapottie trailer follows behind the group so simply drop out of the procession as needed.
In case of emergency and the need to reach someone on the march, call 612-964-2984 and we will do our best to help get a message to your party
If you are sick or hurt, go to the Rotary Van who will contact the first aid staff.
Arrange for your own transportation to meet up with the group and for your own pick up
Rotary is providing event insurance and your group/school/troop can get a copy of the certificate by contacting Stephanie Smith at hopefulpeacemaker@gmail.com
All children under the age of 18 are to be accomanied by a parent or have a permission slip with emergency contacts signed by a parent/guardian
For those non-Dakota who wish to participate in multiple days, please arrange for your own overnight accommodations; Depending on the group size each day, there may be plenty of room and you may be invited to join the evening meal and to stay overnight but please plan on being self-sufficient
We will post regular map updates so that people can find the march and support the participants in prayer
Register for the day(s) that you plan to join the march by selecting the date on the pull down menu above. No printed tickets are necessary but kindly check in and out with the Rotary van each day so that we can help account for everyone.


Where to Meet Up on November 13:
(Option 1: approx. 7 miles) Start the morning at Saint Bonaventure Church, on 90th Street in Bloomington 7:00 AM for moming prayer and the start of the march. For those who park their cars here in the morning, the free bus shuttle will bring participants back to St. Bonaventure at the end of the march where the closing feast will also be served.

(Option 2: approx. 6 miles) Especially for Boyscouts: Join the walk near the 28th Avenue Station of the Light Rail Transit near the Mall of America no later than 8:00 AM and wait for the group to pass, joining behind; After the ceremony you could get picked up at Fort Snelling State Park, up the hill at the Historic Fort Snelling parking lot, or walk to the Fort Snelling station and catch the LRT train back to cars.

(Option 3: approx 1.5 miles) Arrive at the Church of St. Peter parking lot in Mendota, no later than 11:00 AM where you may wait in cars and remain warm until the walkers approach. This location allows you to either follow them on the bridge on foot or drive to Fort Snelling State Park (cars require a permit) to meet the group near the State Park Visitor Center. Please do not contact the church for information about this event.

(Option 4) Meet at Saint Bonaventure parking lot to catch the shuttle to the closing ceremony site and get a ride back to your car afterwards

(Option 5) Especially or Boyscouts: Park by Boyscout Basecamp or the Fort Snelling Light Rail Transit station and walk to the historic fort and await the march, following behind them down the hill to the commemoration site. (If you begin walking from Boyscout Basecamp when the marchers start crossing the Mendota Bridge, you will arrive in plenty of time because your distance is shorter). Feel free to where your uniform including the OA sash.

CLOSING FEAST
All Dakota Commemorative March participants are invited to go to the closing feast at
St. Bonaventure at the conclusion of the ceremony at Fort Snelling State Park. A shuttle bus is available to bring people to the church. It is VERY important for non-Dakota guests to RSVP if you plan to attend the feast through this registration form to help organizers plan.
****************************************************************************************************************

WAYS TO FINANCIALLY SUPPORT THIS EVENT

There is no cost to participate, however a monetary donation would be welcomed to assist with event expenses. There are also in kind donations that would be helpful (the registration page has several suggestions for food/beverage items). You may leave a cash donation with the van driver of the Rotary Van during the march -- all cash will be applied directly to event expenses.
Below is the information on two groups that are helping to collect funds from multiple sources and then collectively offering to pay for Dakota March expenses. For either group, desigation Healing Minnesota Stories on the memo line
St. Paul Area Council of Churches
Checks are to be mailed to 1671 Summit Avenue, Saint Paul MN 55105.
Their primary focus is for November 13 as the march comes into the Twin Cities
Bloomington Daymakers Rotary Foundation, (Incorporated 5/17/2005) This 501c3 nonprofit will offer a tax receipt for your donation) Checks are to be mailed to 7500 Flying Cloud Drive, Suite 800, Eden Prairie, MN 55344. OR you can visit a Bloomington Daymakers Rotary meeting Friday mornings at the Hilton Hotel 7:30 AM at France and 494 and leave your donation with the club officers.
Contact Samantha Odegard from the Dakota community (below) to arrange direct donation

DONATE ONLINE:
Please consider making a financial contribution to support Healing Minnesota Stories as it support of the Dakota Commemorative March (food for feast, transportation for "marchers," etc.) You can do so on-line at http://givemn.razoo.com/story/Saint-Paul-Interfaith-Network-Spin click "Donate" and type "HMS" in the"Dedicate this gift to…." line.

************************************************************************************************************

PREPARATION
You are encouraged to view the documentary film Dakota 38 prior to the walk to help understand the significance and to help prepare. There are multiple viewings in Minnesota during October and November and it is also posted on Youtube.
There are also many events/educational opportunities: go to healingmn.blogspot.com for listings.

***********************************************************************************************************************************

FOR MORE INFORMATION
Non-Dakota Guests & Press:
For more information about route and timetable, contact Stephanie Hope Smith .
Email: hopefulpeacemaker@gmail.com (Emergency Contact during the event: 612-964-2984)
Check in with the Rotary Van during the event to get additional information and to pick up press kits.
To reach Healing Minnesota Stories: healingminnesota@gmail.com
Twitter: @2012DakotaMarch for location updates

Dakota participants can get the most helpful information from Samantha Odegard 320-292-3767
waduta83@gmail.com who is in communication with those organizing the ceremony.
*************************************************************************************************************

View LARGE Commemorative March Route
The march will being at approximately 7:00 AM each day which is sunrise.
Marchers will leave from the Lower Sioux Agency Interpretive Center, Redwood County Rd 2 and plan to follow the route listed below. Due to weather and safety issues, the route might be altered or walkers might need to caravan in vehicles for portions. Please check back here for details or follow TWITTER.

*This means we have passsed this point


MONDAY NOVEMBER 12
Breakfast served at Tiowakan at Shakopee
Return to the city of Jordan.
Meet at the Catholic Church parking lot on 282 in Jordan.
Take main Jordan exit of 169.
Follow 3rd West which turns into 2nd East past Radermacher's to the Catholic school/church
(Saint John the Baptist Church)
Walkers will go up the hill onto County Road 282.
Turn left on County Road 17 (Marschall road)
Turn right on County Road 42
Turn right on Dakotah Parkway
Enter the Shakopee Mdewakanton Sioux Community
Follow signs to Tiowakan Spiritual Center in middle of residential
Evening meal and accommodations at Tiowakan; overnight accommodations also offered at Saint Bonaventure in Bloomington

TUESDAY NOVEMBER 13
6:00 AM Breakfast served at Tiowakan for those who slept there;
Drive to Saint Bonaventure
ALL MEET AT ST BONAVENTURE PARKING LOT.



Begin formal march at 86th and Old Shakopee Road in Bloomington
Follow Old Shakopee, winding to the right by the Mall of America
Turn right on Killibrew and American Blvd
**Vehicles split off and go to the Big Rivers Trailhead
Follow the 494 highway split, NOT HWY 5.
After crossing the river bridge of 494, take exit 71 (Pilot Knob Road)
Turn right and head north on Pilot Knob
Turn left on Mendota Heights Road (2 blocks)
Cross Hwy 13. You are now on Sibley Memorial Highway
On your left is the Big River Trailhead parking lot
Wait here for the march


March continues past the Wildlife Refuge onto the railed sidewalk along Hwy 494 crossing the Minnesota River.
After crossing the bridge, follow the sidewalk down to the parallel road below
Follow trail to Mendota Bridge at the Church of Saint Peter's in Mendota parking lot
Continue on foot, crossing the mile long Mendota Bridge, heading west on Hwy 55 toward Fort Snelling
Turn right onto the path that leads to the historic fort
Walk down the hill to the right of the fort
Turn right at the base of the hill on the paved bike path
Follow this path to the Fort Snelling concentration site for the Closing Ceremony


**Vehicles drive across the Mendota Bridge
Turn right onto Hwy 5 which loops SOUTH on Hwy 5 toward the MSP airport.
Take the Post Road exit just past the airport
Turn left at the top of the offramp and go across the highway
Follow the signs to enter Fort Snelling State Park
Drive down the hill and past the ranger station
Buy vehicle permits if needed
Follow the state park road to the end, heading toward the Visitor Center
Drive underneath the Mendota Bridge to the Visitor Center parking lot
You are within a short walk to the Fort Snelling Concentration Camp site (north of the parking lot)
Those who walk across the bridge and who have parked at St Peter's Church can catch a shuttle back to their vehicles. Likewise, those who walked today can get dropped off at St. Bonaventure where the evening feast will be served. Please kindly RSVP ASAP so that we can reserve adequate transportation.



Further questions:
CONTACT healingminnesota@gmail.com
EARLIER ROUTE DETAILS


WEDNESDAY NOVEMBER 7
**Redwood Co. Road 2
Turn left onto gravel road 305th Street which changes numbers and eventually become Cty Road 8 then Cty Road 10
Ending Point: intersection of County Road 10 and 290th Street
*Cross County Rd 11
*Cross Hwy 4
*Return to Lower Sioux community Center for evening meal and overnight accommodations

THURSDAY NOVEMBER 8
*Begin Brown County Rd 10, Currently on 130th Street (9:10 AM)
*Turn left on MN Hwy 29
*Turn left on 210th Street (gravel road), follow to the right which is KC Road
*Turn Right on Broadway on the west side of New Ulm.
*Follow the curve, turn right onto Minnesota Street
*Turn left on Broadway and the Armory will be on the right side
(intersection of Broadway and 2nd Street North) 205 N Broadway
*Evening meal at United Church of Christ
*Overnight accommodations at New Ulm National Guard Armory

FRIDAY NOVEMBER 9
Breakfast served at the Armory provided by New Ulm Oakwood United Methodist and First United Methodist Churches
*~7 AM Depart for walk
*Caravan will meet just out of New Ulm on Hwy 68.
*Follow 68 to the edge of Mankato at the 169 intersection with 68
Evening meal and overnight accommodations at Centenary United Methodist Church downtown Mankato
501 South Second Street Mankato, MN 56001 (507) 387-4074

SATURDAY NOVEMBER 10
*Breakfast served at Centenary United Methodist Church
*Meet at the intersection of Riverfront Drive and MN Hwy 22 (just north of Mankato) at 7:30 AM
*Walk Hwy 22 North
*Turn right on Minnesota Avenue into Saint Peter
*Follow Minnesota Ave to the Traverse de Sioux Treaty Site on the north side of Saint Peter
Lunch will be served here
*Caravan in cars to County Hwy 93/8 and begin walking on 18 N
*Turn right onto Sand Prairie
*Turn right onto 316 Street
*Turn left onto Hwy 93
*Turn right on 19. School on the left
Evening meal and overnight accommodations at the New Country School,
(210 Main Street in Henderson)

*SUNDAY NOVEMBER 11
*Breakfast served at New Country School in Henderson
*Leave town going north on Scenic Byway Road (Hwy 6)
Stop at the intersection of Scenic Byway and Hwy 25 (13.5 miles)
Caravan in cars through Belle Plaine along Hwy 169
Exit onto Park Blvd (approx 4 miles) and begin walking
Follow Park Blvd and veer right onto Railroad Drive
End point at intersection of Railroad Drive and Hwy 9 in Jordan
Caravan in cars to Tiowakan at Shakopee for evening meal provided by Kitto family
Evening accommodations at Tiowakan


During the event, contact the Rotary support van 612-964-2984