2012 Biennial Secrets Revealed- Who will be curating?

Tuesday, October 25, 2011 from 6:00 PM to 7:30 PM (PDT)
Event Details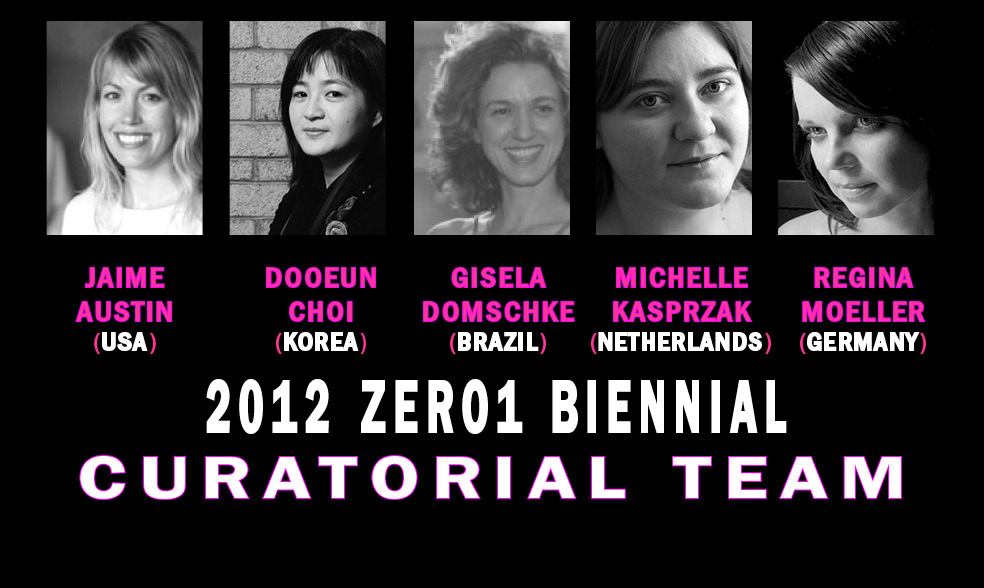 Please join us for a preview of the 2012 ZERO1 Biennial.
Who will be curating? Where will it be? What is the theme?
Great questions, we've got your answers.
Come for a casual mixer to meet the 2012 ZERO1 Biennial Curatorial THIS EVENT HAS BEEN MOVED TO FAHRENHEIT SJ at 99 E San Fernando St (cross 3rd St) in Downtown San Jose.
This event is FREE. Refreshments will be served. 
Music will be provided by Tim Thompson who will bring his interactive instrument Space Palette, recently featured at Burning Man.
Here is a tantalizing peak at WHO will be there:
Jaime Austin is the Curator and Director of Programs for ZERO1: The Art & Technology Network and is the lead curator of the 2012 ZERO1 Biennial.
She was the Assistant Curator of the 2010 01SJ Biennial and co-curated the Biennial's central exhibition 
Out of the Garage Into the World
. Before shifting her focus on the arts full-time, Jaime held product development and marketing positions in the tech industry at companies such as Macromedia and Adobe. 
Jaime received her M.A. in Curatorial Practice from California College of the Arts and holds joint bachelor degrees in Art History and Computer Information Systems from Santa Clara University. 
Dooeun Choi is the creative director of the Art Center Nabi, Seoul, Korea, and has worked extensively as an independent curator for projects including the 
Resfest Digital Film Festival Korea, to public art programs in New York and Melbourne, the 2003 Uijeongbu International Digital Art Festival, the 1st 01SJ Biennial / ISEA2006 Symposium, and has most recently been working as a
 visiting scholar at Parsons the New School in NY during her sabbatical year. Her interests revolve around new ways of communication between humans, nature and artificial lives through networked media.
Gisela Domschke is a Brazilian media artist and independent curator, based in Sao Paulo, who previously led the media lab of Goldsmiths University in London, where she was also a lecturer in the MA Interactive Media programme. Back in Brazil, Gisela founded and managed the media lab of the Museu da Imagem e do Som in São Paulo, and is a guest lecturer at FAAP, Belas Artes and Escola São Paulo. As an artist her work has found international recognition through exhibitions in the Whitney Biennial (NY), Stedelijk Museum (Amsterdam), ICA (London), Johnson Museum of Art (Ithaca), and Centre d' Art Contemporain (Geneve) e Bienal de São Paulo. 
Michelle Kasprzak is a Canadian curator and writer based in Amsterdam, the Netherlands. Following a decade of practice as a visual artist, her current focus is primarily on writing and curating which led to international research residency awards, speaker invitations world-wide, an extensive set of critical essays, and in 2006 the foundation of her curating contemporary art blog: curating.info. The results of her curatorial work have appeared in venues worldwide, and Michelle is currently Curator at V2_ Institute for the Unstable Media; Project Director at McLuhan in Europe 2011; and a member of IKT (International Association of Curators of Contemporary Art).
Regina Möller is a Berlin based German artist and writer, as well as the founder and publisher of the magazine regina and the art label embodiment. Her cross-disciplinary work challenges the existing boundaries and relationship between body and environment, as well asfiction and documentary at the convergence of art, comics and everyday life. Since 2006, Regina has expanded her artistic practice and research as visiting professor for various academies and universities including the Visual Arts Program (VAP), Massachusetts Institute of Technology (MIT) and the Trondheim Academy of Fine Art, Norwegian University of Science and Technology.
When & Where

Fahrenheit SJ
99 East San Fernando Street
San Jose, CA 95113


Tuesday, October 25, 2011 from 6:00 PM to 7:30 PM (PDT)
Add to my calendar
2012 Biennial Secrets Revealed- Who will be curating?