| | |
| --- | --- |
| 2012 Best Practices for Youth Conference | |
Event Details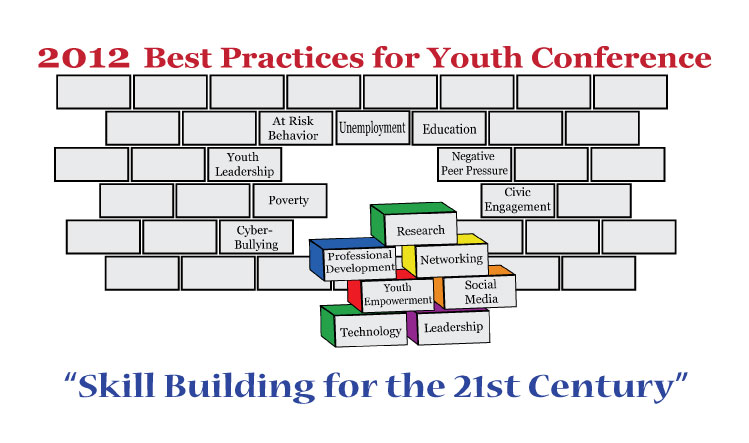 August 6-10, 2012
Presented by the Alliance for Positive Youth Development
http://apydconference.sisgigroup.org
Join us for a great professional development opportunity that leverages technology and social media to share and connect with youth development professionals, educators and young people working on youth issues around the country. This virtual conference will include a week of online and live streamed events with up to a year of access to content on topics related to five conference tracks:
Monday August 6, 2012 -
 Girls and Society
Building a Latina Leadership Pipeline

Girls and Teen Women as Leaders, Advocates and Activists

Human Trafficking - Its closer to home than you think
Youth Development and Organizations
Establishing Inclusive Environments for the Positive Development of Youth with Disabilities

Creating A Golden Generation Can Start at Age 6! Here's How...

Engaging Through Passion
Wednesday August 8, 2012 

-
Higher Education and Employment
Building a Bridge Between Education and Employment


Mobilizing Community College Students: Strategies for Developing Leadership and Engagement

Partnership: Key to Successful Transition to College
Thursday August 9, 2012

 - 
Civic Development and Social Change
Meaningful Youth Participation Around the World


Understanding Influences on Youth Civic Developement

Starting Your Own Nonprofit as a Young Leader: Turning Vision Into Reality
Alliance for Positive Youth Development
State of Youth - Results from the 2012 APYD National Assessments of Pressing Issues for Youth
PLUS MORE!
For Full Workshop and Event Descriptions visit the conference website at http://apydconference.sisgigroup.org 
Conference Mission
The Alliance for Positive Youth Development provides valuable training and professional development for youth development professionals in an effort to improve and increase the positive outcomes on issues impacting young people. The Best Practices Conference promotes innovative and dynamic ideas from around the country on the future of youth development, engagement and leadership including the role of technology and its impact, and strategic approaches to the most pressing issues facing young people.
Conference Goals
Provide an affordable professional development opportunity to youth serving professionals
Begin a national conversation on strategies to create and increase positive youth development and engagement
Engage youth in their own development and leadership
Use technology to share best practices and to create a platform that allows strong strategies to reach new audiences with limited barriers
Build a foundation for ongoing networking, learning and community wide resource sharing
Do Not Miss This Unique Online Learning Event!
Registration Includes
Access to track based conference websites
Workshop presentation links and year round access to recordings
Year long topic discussion areas
Networking and chat areas
Sign-ups for Add-on activities
Conference Pass -
Full access to all online events
Track Pass -
Full access for one day of the conference online events
Organization Pass

-
Receive 40% off conference pass access for individuals in your organization. Minimum 5 registrations. Small organizations with a staff of less than 5 or budget of $250,000 or less can also receive this discount by emailing conference@sisgigroup.org
Workshop/Plenary Pass

-
Access to one live workshop or plenary and the recording
Organizer
The Alliance for Positive Youth Development (APYD) is an international membership network connecting and supporting individuals that have dedicated their career to youth and youth development. The APYD focuses on networking, advocacy, awareness, and professional development for youth serving professionals and young leaders, to significantly increase the positive outcomes for youth around the globe. The APYD is an initiative led by The SISGI Group. 
We use our annual event to share best practices from across the country with parents, practitioners, community leaders, youth leaders, policymakers and educators.
The goal of this initiative is to raise awareness and bring to scale, effective strategies for sustainable positive youth impacts that create a GOLDEN© generation.
We focus on 6 strategies of Youth Empowerment:
G- Giving Back
O- Open to differences
L- Loving yourself unconditionally
D – Defending against oppression
E – Empowering yourself and others
N – Never Giving Up