Description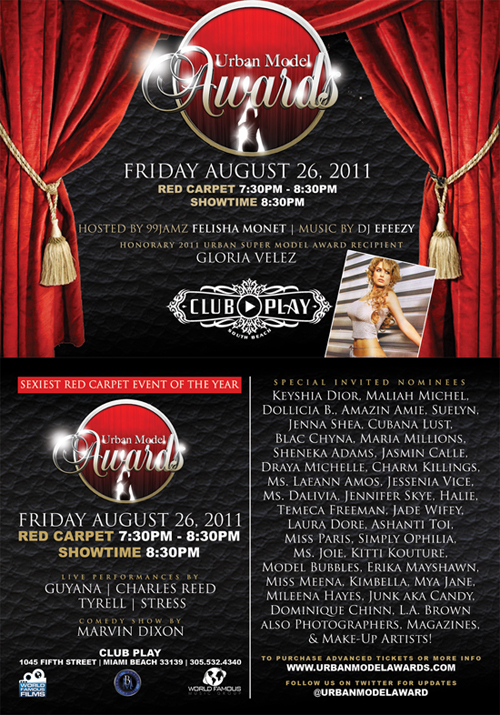 The Urban Model Awards is a unique annual red carpet awards show that recognizes and celebrates the success of urban models in the industry. These models have graced the covers of, and have been featured in magazines, music videos, fashion shows, movies, TV shows, etc. The UMA's are the only awards ceremony that acknowledges the accomplishments and hard work that these beautiful women have put in the year before.
We also have categories for magazines, photographers, make-up artists and more, as they also play a major role in the success of these models.

After our very successful 1 st year in Washington, DC in 2010, we have decided to move this year's event to the very sunny and sexy South Beach in Miami. Miami is the home of many of the models in the industry as well as celebrities, athletes, artists, etc. We have chosen the very popular venue Club Play on South Beach to be the home this year for our event.
There will also be special LIVE performance by B Major Music Group rapper Princess Guyana and singer TyRell as well as performances by singing sensation Charles Reed and World Famous Music Group rapper Stress.
Also the very very funny comedian Marvin Dixon will also be performing to add some laughs to this wonderful event.

This year the UMA's will hosted by 99Jamz Felisha Monet.

The UMA's will once again have all the hottest, sexiest and most popular models in the game all in one place. All nominees will go head to head as the public will vote on our site for each category. All winners for each category will be announced at the show.
Special invited nominees are Keyshia Dior, Maliah Michel, Dollicia B., Amazin Amie, Suelyn, Jenna Shea, Cubana Lust, Blac Chyna, Maria Millions, Sheneka Adams, Jasmin Calle, Draya Michelle, Charm Killings, Ms. Laeann Amos, Jessenia Vice, Ms. Dalivia, Jennifer Skye, Halie, Temeca Freeman, Jade Wifey, Laura Dore, Ashanti Toi, Miss Paris, Simply Ophilia, Ms, Joie, Kitti Kouture, Model Bubbles, Erika Mayshawn, Miss Meena, Kimbella, Mya Jane, Mileena Hayes, Junk aka Candy, Dominique Chinn, L.A. Brown, and more along with the industry's top photographers, make-up artists and magazines!
Also the sexy model/video vixen Gloria Velez will be attending accepting our honorary Super Urban Model Award as well as Sandy Vascneannie (CEO of Smooth Magazine) accepting our special Pioneer Award.
There will also be a lot of celebrities attending that we are not permitted to mention.
PLEASE BE SURE TO ARRIVE @ 7:30PM FOR THE RED CARPET & SEATING!!! PLEASE BE SURE YOU ARRIVE EARLY!!!

PLEASE NOTE THAT PURCHASING TICKETS HERE ARE CHEAPER THAN PAYING AT THE DOOR!
WWW.URBANMODELAWARDS.COM