2011硅谷高創會 "贏在蘇州" 創業大賽 SVIEF "Win in Suzhou" Startup Contest

Saturday, October 22, 2011 from 9:00 AM to 12:00 PM (PDT)
Event Details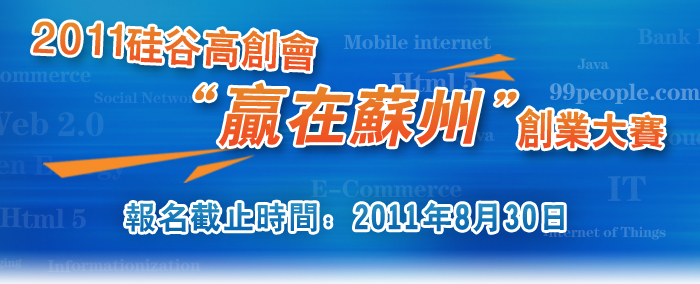 美國硅谷規模最大,影響最大的2011硅谷高創會"贏在蘇州"創業大賽於 5月20日正式啟動,2011年硅谷高創會是集中美政府高端論壇,項目對接,合作交流,企業形象展示於一體的海外最大規模和最具影響力的高科技盛會。大會的口號是"海聚中美高端英才,打造科技創新平台"。

            由蘇州市人民政府獨家冠名贊助的"贏在蘇州"創業大賽是矽谷高創會的重頭戲,活動的亮點,大賽將強力打造海內外高端人才,創業項目,創投資金,政府,高新技術產業園區及市場等資源匯聚的平台。大賽通過專家組挑選具有強勁發展動力及代表世界最新創新理念的高技術項目推薦給科技部創新基金,中國政府,各級高新技術產業開發區,風險投資家,民營企業家和PE基金,媒體和行業內大公司,為具有創新精神的企業創造有利的創業環境,爭取得到充足資金的支持,鋪平發展道路。
       "贏在蘇州"創業大賽將成為矽谷創新項目在中國尋找合適發展機會,取得風險投資,和發展業務夥伴的最具影響力的大型活動,今年將吸引超過 300家創新型的企業在創新矽谷的舞台上展現他們的創新產品和技術,商業模式,這次活動將被稱為矽谷創業創新領域及投資領域一年一度的最具影響力的的創業大賽。

        2011"贏在蘇州"創業大賽將聘請蘇州市政府代表,國內外知名大學學者,美國矽谷和國內最頂級的風險投資機構,最活躍的天使投資人,民營企業家和PE基金,和最傑出的成功商業人士的現場評判,從而每一位參賽選手和現場觀眾都有機會現場聆聽他們的商業智慧,獲得他們的睿智點評
活動亮點:
大賽和中國科技部中國火炬IT服務創新聯盟合作,優秀項目將由中國火炬IT服務創新聯盟推薦給科技部火炬創新基金
所有項目將和蘇州及中國其他城市及高科技園區對接,大賽現場將展示各大園區優惠政策,和園區介紹,將免費提供各個城市及高新區的獎勵基金的申請服務
所有項目將刊登在大賽會刊上,並發給大賽相關的城市,園區和企業。所有入圍項目、優秀項目和獲獎項目將會獲得大賽頒發的證書,並推薦給各城市和園區
總決賽當天每個項目代表隊進行3分鐘演講並接受評委點評
大賽提供下列服務:A.建立創業俱樂部進行賽前培訓:大賽將培訓團隊學習如何寫商業計劃書,註冊公司,公司估值,在3分鐘內吸引風投,幫助團隊了解賽程賽制,以及提供法律和會計的諮詢,等等。 B.大賽將安排優秀項目和風投一對一的面談。 C.賽后的跟踪服務,將幫助團隊和風投、民營企業家、及有可能落戶的城市或園區聯絡
決賽優勝項目可獲得:
1.20名決賽優勝項目可獲得克林頓演講的入門票1張,及創業大賽當天參賽團隊3人的午餐和晚宴,價值4000美元
2.第一名將獲獎金$10,000,第二名將獲獎金$5000,第三名將獲獎金$3000,第四第五名將獲獎金各$1000,另设優勝獎$100若干名
3.前50名決賽優勝項目將會有機會和100名中國民營企業家現場對接,並有機會獲得天使投資和民營資本的100到200萬美元的獎勵投資(蘇州原點創業投資有限公司等投資機構將為"贏在蘇州"硅谷創業大賽優秀項目提供300-500萬元人民幣的天使投資)
4.前30名決賽優勝項目將會有機會和著名風投家一對一見面,有機會獲得風投的親自指導和投資。
5.大賽優勝項目將組團回國考察,訪問蘇州及國內相關城市和科技園區,尋求優惠政策和政府各種獎勵,實現市場和產業對接,成果轉化
** 若您想免費入場觀看這場精彩的創業大賽,請通過本頁報名領取入場電子票,凴票入場 (座位有限,一人限領取一張票)
** 若您想報名參加此次創業大賽,請到以下網址查看詳情並提交參賽項目:
Have questions about 2011硅谷高創會 "贏在蘇州" 創業大賽 SVIEF "Win in Suzhou" Startup Contest?
Contact SVIEF
When & Where
5001 Great America Parkway
Santa Clara, 95054


Saturday, October 22, 2011 from 9:00 AM to 12:00 PM (PDT)
Add to my calendar
Organizer
99People, Inc.  
99People, Inc. is a leading web media and information resource company for Small/Medium-Sized Business (SMB) in US and investors/ entrepreneurs in China. It functions as a bridge between US and China, helping SMB and start-up to search for market, capital, partnership, and business develop opportunities. 
 Our Service:
ü  Present international high-end conference such as: SVIEF, US-China Mayor Forum, US-China VC Forum, Mobile Internet Forum, etc.
ü  Organize QB Start-up Club monthly events, discuss high-tech business hot topics
ü  Assist start-up projects to seek for business partnership
ü  Help promote oversea branding of Chinese governments/ hi-tech development zones/software parks/hi-tech enterprises
ü  Provide Full scale searching service for Chinese Internet users in North America
ü  Operate an Internet platform for high-tech related information exchange
ü  And More…… 
Our Team: 
We are professionals with advanced degrees in diverse fields, including high technology research, IT management, marketing and communication, law, finance, industry design, etc. 
Our team members are familiar with both American and Chinese culture and business models, and we're dedicated to create a meaningful and efficient communication channel for our clients.