2011 South Dakota Bicycle Summit

Friday, January 21, 2011 at 7:00 PM

-

Saturday, January 22, 2011 at 5:00 PM (CST)
Event Details
2011 South Dakota Bicycle Summit
the bicycling community: create one. be one.

Pierre/Fort Pierre, SD
AmericInn Lodge & Suites, Fort Pierre

Lodging reservations:
(605) 223-2358
Mention SD Bike Summit for special rates
Special rates and room holds through January 7, 2011
For more options, visit www.pierre.org.


Proudly presented by the:


With support from the: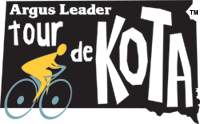 South Dakota Bicycle Coalition
PO Box 88434
Sioux Falls, SD 57109-88434
web: www.sdbicyclecoalition.org
email: sdbicyclecoalition@gmail.com
facebook: facebook.com/sdbicyclecoalition

Friday, Jan. 21

7-8 pm - Social hour. Summit check-in, registration.
Featuring early registration for the Tour de Kota.

8-10 pm - "telling our Stories" meet 'n' greet
Meet other South Dakota bicyclists, advocates, leaders
and volunteers. Appetizers and cash bar.

Saturday, Jan. 22

Presentations & Workshops

Registration opens at 8 am. Session runs at 8:30 am to 5 pm

Presentations

• Bike Culture and Bicycle Friendly Communities - Ann Freiwald,
Alta Planning & Design, Madison, WI

• Great Ideas Get Kids Biking & Walking in South Dakota - SD
Safe Routes to School, SD DOT and winning SRTS community
programs.

• Economic Impacts of Bicycling and Active Travel - Ginny
Sullivan, Adventure Cycling Association

• Building Partnerships to Build Singletrack - Panel featuring trail
leaders and volunteers from Sioux Falls and the Black Hills

Workshops

• Accommodating Bicycles on City Streets - Ann Freiwald, ALTA
Planning. A discussion on facilities and planning for bicycles on
city streets.

• Developing Local Programs with Safe Routes to School - with SD
SRTS. A review of the application process for funding through
SRTS. How can your community get started?

• Educating South Dakota Bicyclists - Jim Books and Michael
Christensen, LCIs - An introduction to bicycle education
curriculum through the League of American Bicyclists and South
Dakota's only League Cycling Instructors.

• Attracting the Bicycle Traveler to South Dakota - Ginny Sullivan,
USBRS - Discuss South Dakota's opportunities to attract the
bicycle traveler and possibilities to develop the market.

• Creating Trails in Communities - singletrack panel - Review
the process and develop contacts to create trails in your
communities

• Promoting Bicycling for Health - SD Dept. of Health, Healthy
SD - Discuss existing health promotion activities and how to
incorporated bicycling for health at the local and state levels.

Evening Reception
When & Where

AmericInn Lodge & Suites
312 Island Drive
Fort Pierre, SD 57532


Friday, January 21, 2011 at 7:00 PM

-

Saturday, January 22, 2011 at 5:00 PM (CST)
Add to my calendar
Organizer
South Dakota Bicycle Coalition
The South Dakota Bicycle Coalition (SDBC) is non-profit organization working to improve conditions for bicyclists and pedestrians in South Dakota and promote bicycling and walking as environmentally friendly, healthful and enjoyable.
The group's prime purposes are:

To advocate for bicyclists' and pedestrians' interests in the state legislature, state and in local governmental policies.
To host bicycle/pedestrian safety and education events.
To work with citizens around the state to promote bicycle/pedestrian-friendly communities.
2011 South Dakota Bicycle Summit