2011 Second Annual Harsens Island Bluegrass Festival

Saturday, August 13, 2011 from 12:00 PM to 9:00 PM (EDT)
Event Details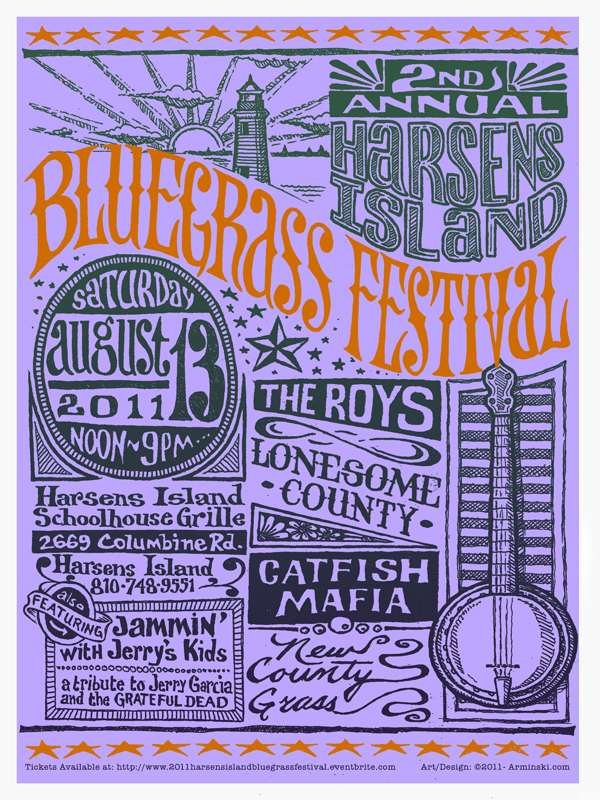 Poster Design by Mark Arminiski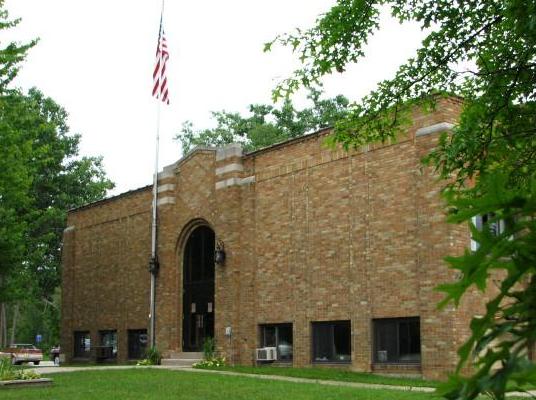 Harsens Island Schoolhouse Grille, 2669 Columbine on Harsens Island
 SECOND ANNUAL HARSENS ISLAND BLUEGRASS FESTIVAL
Fast Facts ~
Saturday, Aug. 13, 2011 from Noon- 9 p.m.
@ Harsens Island Schoolhouse Grille 
2669 Columbine Road, Harsens Island, Mich. 48028
Featuring Outstanding Regional Bluegrass Bands  & a live Jam
Local vendors and food celebrate back to basics lifestyle 
Admission is $20, portion of proceeds to Harsens Island Lions Club
Tickets on sale online and at select local businesses  
Producer: Kate Hart, (810) 748-3204
Media Contact: Peggy Blue (586) 291-2018
***
Get out and play on Harsens Island!
Harsens Island Bluegrass Festival slated for Mid August
On Harsens Island they'll be celebrating summer old school -- literally.
The playground of the historic former two-room Harsens Island Schoolhouse will come alive with the sounds of traditional and contemporary bluegrass music and the aroma of smoky barbecue on Saturday, Aug. 13 when the island hosts its Second Annual Harsens Island Bluegrass Festival.
The 2011 Second Annual Harsens Island Bluegrass Festival will play out at the Schoolhouse Grille, 2669 Columbine on Harsens Island from Noon to 9 p.m. Tickets are $20, with a portion of the proceeds going to the Harsens Island Lions Club Family Emergency Fund. Traveling to Harsens Island, which is about an hour from Detroit and many other Metro Detroit and Port Huron area cities, includes a $7 ferry ride (in your car!) on the Champion Auto Ferry.  
For festival producer Kate Hart, the event on the Lake Saint Clair island is about hearkening back to simpler times when families took leisurely Sunday drives, enjoyed picnics and barbecues and listened to roots music in a beautiful setting.

"There are few places as beautiful as Harsens Island," said Hart, who fell in love with the island and moved there three years ago. "When we planned this festival we chose Bluegrass because it is lively and fun and steeped in American tradition.
"I believe people truly want to get back to basics. This festival allows them to visit a beautiful place, enjoy some of the best bluegrass bands in the region, share each other's company, and feast on mouth-watering, slow-cooked barbecue."
Organizers made a concerted effort to seek regional vendors specializing in natural, organic, handmade crafts -- wildlife photography and watercolor painting, pottery, bird houses, award-winning custom fishing lures, Magik Nutz, hand-crafted jewelry and more.
Between the island beauty, the art and goods and the fabulous fare, festival goers will be kept plenty entertained. But Hart -- a Grammy-nominated singer/songwriter who spent the better part of 40 years on the road singing with some of the best in blues -- knew that having the best regional entertainers in bluegrass was vital to a great experience. That is why she and husband Joe Veler spent the winter searching for bands that would "knock your socks off!"
"Lonesome County was our headliner last year and people loved them. They're so amazing," Hart said. "And we've got another great Michigan band -- New County Grass -- out of the Flint area that really impressed us. The music is going to be unbelievable. Plus we're adding a jam session where all the bands will get together and play. It's a tribute to Jerry Garcia and the Grateful Dead called Jammin' with Jerry's Kids. We hope people who play will bring their instruments too.
Tickets are $20 and are on sale now. Purchase them now on eventbrite or at one of the locations listed in the "Hosted By" box in the right column of this page.
The musical lineup to date is: Lonesome County, New County Grass, Bill Bynum & Company and the Goldmine Pickers . . . Stay tuned.
Watch a promo video with highlights from last year's Harsens Island Bluegrass Festival at animoto.com:  http://animoto.com/play/iu5ijnnDcajnXsPbfZ3vtA?utm_content=escape_link
Media Contacts: 
Festival Producer ~ Kate Hart
(810) 748-3204
Publicist ~ Peggy Blue
(586) 291-2018 
Production Manager ~ Joe Veler
(810) 748-3204
OUR SPONSORS
                          Preferred Charters                    Holistic Voice Institute             Sunset Harbor Marina
                                         Sue's Coffee House                           Spiritwear Shop
When & Where

Harsens Island Schoolhouse
2669 Columbine Road
Harsens Island, MICHIGAN 48028


Saturday, August 13, 2011 from 12:00 PM to 9:00 PM (EDT)
Add to my calendar
Organizer
Harsens Island, located between Algonac and Canada, is about an hour from Detroit and many Metro Detroit communities. Harsens Island is a 17-mile-long horseshoe-shaped lowland island at the top of Lake St. Clair, which is the lake (with its river) separating Lake Huron from Lake Erie. The island is bounded by Muscamoot Bays and the North, Middle and South Channels of the St. Clair River. The Champion Auto Ferry, which carries visitors and their vehicles, provides primary access to the island.
About 1,300 residents live on the Island year round, but the population swells to about 5,000 in the summer months when part-time islanders from Metro Detroit and beyond come to relax in their cottages. 
Visitors and residents enjoy the historic charm of the island with its beautiful old homes and marshes teeming with wildlife such as foxes, swans, herons, geese and ducks. They also love the fabulous views of freighters and ships from all over the world passing through the Shipping Channel.
Harsens Island Bluegrass Festival Lineup:


Lonesome County
New County Grass
Bill Bynum & Company
Goldmine Pickers 
Jammin' With Jerry's Kids: A Tribute to Jerry Garcia and The Grateful Dead
....................
....................
Get Your Tickets!
You can order your tickets here, on Eventbrite, or stop by one of the following locations:


· 

Harsens

Island

Grille,

2669 Columbine Road

,

Harsens Island

,

MI
48028


·   

Delta Hardware

,

3062 S. Channel Drive

Harsens Island

,

MI

48028



·  
The Spiritwear Shop,
5297 Pointe Tremble Rd
,
Algonac
,
MI
48001

·
Sue's Coffee House,

201 N Riverside Ave

,

St

Clair

,

MI

48079
·
Holistic Voice Institute,
2769 Coolidge in
Berkley
,
MI
48072
~~~~~~~~~~~~~~~~~~~~~~~~~~~~~~~
~~~~~~~~~~~~~~~~~~~~~~~~~~~~~~~
Need a Lift?
Preferred Charters will be offering Festival Packages that include a Festival Ticket, Transportation to and from Harsens Island and a Trolley ride to the Harsens Island Schoolhouse Grille. 
Pickups will be in:
Port Huron
Marysville and
Marine City

Price? Only $30.
Call Preferred Charters
(810) 982-7433