2011 Niles Canyon Railway
Departing from Sunol at 7:15 PM
Event Details
The tickets sold on this page are for General Seating.
(Looking for Reserved Seating, or a Private Caboose?)
The Train of Lights has been a long-standing tradition for many families for more than a decade.  Come and join us for this special event!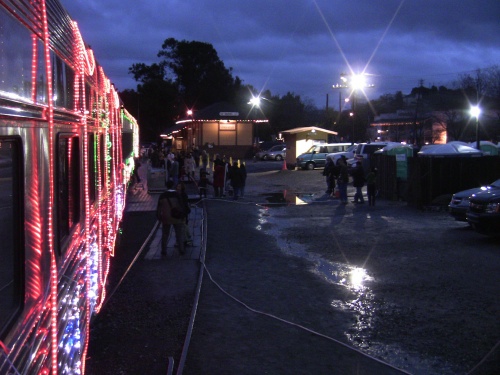 Our antique coaches and our open cars are decorated for the season, inside and out, and we enjoy holiday music on our hour-long trip to Niles and back to Sunol. These late trains will run in the dark, and the lights will stand out all along our trip.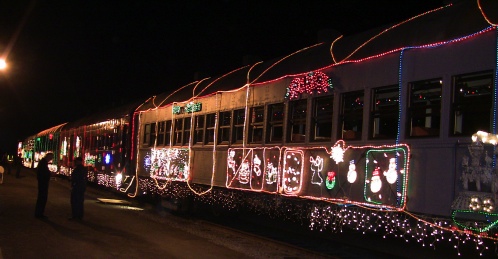 During the Full Moon (around December 10), the canyon will be bathed in moonlight, showing visitors another side to this beautiful canyon.On the New Moon nights (around November 25, and again around December 24), The canyon is at it's darkest, and we light the area as our colorful train weaves it's way through the canyon.
We sometimes have last-minute tickets available! Come to the station an hour before the train and ask the station agent to add you to the waiting list for that day. We'll also " target="_blank">tweet about day-of-train ticket availability, if you want to " target="_blank">follow @toots4ncry.

Please read our Frequently Asked Questions page, since we will have answers to questions that you may not have thought about yet. :-)
---
Thank you for supporting our Western Railway Heritage Museum.
Niles Canyon Railway - About Us - Our History - Our Collection - Contact Us
Where

Sunol Depot
6 Kilkare Road
Sunol, CA 94586


Organizer
Niles Canyon Railway, station-agent@ncry.org
The Niles Canyon Railway is operated by the Pacific Locomotive Association. We have been operating on this historic route since 1987. The Niles Canyon Railway has been running the Train of Lights for more than two decades, and has become an annual tradition for many families.

Our Train of Lights operations are our main annual fundraiser, and the ticket prices are supporting the maintenance and operation of our railroad and equipment. Our volunteer staff thank you for your support of our Educational outreach, and our restoration of this historic railroad corridor.
2011 Niles Canyon Railway
Departing from Sunol at 7:15 PM