2011 MIT-Knight Civic Media Conference

Wednesday, June 22, 2011 at 9:00 AM

-

Friday, June 24, 2011 at 2:30 PM (EDT)
Ticket Information
This event is invite-only
You need an invitation to register for this event.
Contact the host
to find out more.
Event Details
This is an invitation-only event. Air travel, hotel rooms, and conference attendance will be provided to invitees...but only to invitees.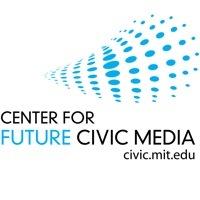 Knight Foundation and the MIT Center for Future Civic Media are delighted to invite you to our 4th annual Civic Media Conference, on the MIT campus in Cambridge, June 22-24.
2011 Knight News Challenge winners will be announced and will spend three days with digital media innovators as we all share our projects and experience.
The event starts with optional pre-conference workshops at 9 a.m. on Wednesday, June 22.
2011 Knight News Challenge winners will be announced by Knight Foundation President and CEO Alberto Ibargüen at 2:30 pm on Wednesday, June 22.
The conference ends at 2:30 p.m. on Friday, June 24.
Full schedule and all details is available at civic.mit.edu/conference2011.

Travel Details

Knight Foundation will cover flights, hotel, meals on-site at the conference and taxi fare from and to the airports.
Receipts are needed for taxi fare reimbursements. Following the conference, please send reimbursement requests and receipts to:
Brad Seawell
MIT 14N-430
77 Mass. Ave.
seawell@mit.edu
617-253-3521
Please make your own travel arrangements directly with The Travel Collaborative, the conference travel agency. Two travel professionals at The Travel Collaborative have been designated to work with you on arranging your travel to and from the conference. Please contact either Thom Mulhern (800-370-7400, ext. 49. or tam@tvlcoll.com) or Roy Palmeri (800-370-7400, ext. 45 or roy@tvlcoll.com) and let them know you are part of the "MIT-Knight Civic Media Conference" and they will assist you.
Hotel Details

The conference hotel is now full. Please contact Brad Seawell (seawell@mit.edu or at 617-253-3521) about your local options.

We are looking forward to seeing you in June at MIT.
Sincerely,
Andrew Whitacre
MIT Center for Future Civic Media
Attendee List
Sort by:

Date

|

First Name

|

Last Name
When
Wednesday, June 22, 2011 at 9:00 AM

-

Friday, June 24, 2011 at 2:30 PM (EDT)
Add to my calendar