2011 Global OpenGov Organizers

Monday, May 16, 2011 at 9:00 AM

-

Friday, May 20, 2011 at 8:00 PM (EDT)
Event Details
Update: Although we reached a very large group of 40+ organizers in early 2011, we did not reach the minimum of 100 to move forward.  Please email lucas@barkbest.com if you're interested in joining the organizing team in the future.
Locations with Local Organizers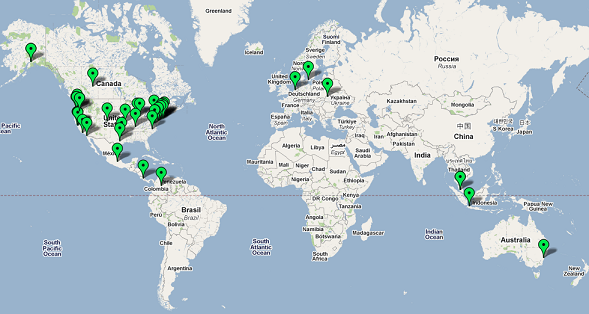 Currently there are organizers in Australia, Canada, Columbia, Denmark, Indonesia, Latin America, Malaysia, Mexico, Netherlands, Ukraine, and United States.  Click on the map for more details.
Partner Organizations
Overview
This event is an ambitious experiment to assess where we are as a community and to consolidate the gains we've all made over the past two years in government transparency, public participation, and collabolllration.
We can and we must begin collaborating in the same manner that we are demanding of government.  We're looking for 100 organizers who are capable of facilitating a 2-hour meeting with any local government agency in their part of the world during the week of May 16-20, 2011.
Because these are only 2-hour meetings, we will need to have a large number of them to have a substantial effect; if we do not have a minimum of 100 organizers who sign up by March 16, then no worries-- we will be able to cancel these events without anyone spending any time planning them.
As the organizer, you will design the meeting that is right for your community; we're definitely not pushing any single agenda.  The goal is to simply organize the opengov community around a collective action.  All 100 of these meetings will take place in a four-day window to demonstrate the scale of the broader community to local officials.
This plan will continue to evolve with your suggestions as we build momentum.  Please do reach out to the organizers through lucas@onlinetownhalls.com or ask your question in the Google Group.
What is the Purpose of these Summits?
Help individuals in local government agencies share their transparency/participation/colllaboration effective practices with other cities.
Connect local officials to the resources of the broader opengov community (such as CityCamp, GovLoop, CivicCommons, Sunlight Foundation, etc).
Key Tasks for Organizers
Find a forward-thinking individual in a local government agency where you live that can help organize the event.  If you can't find one, sign up above and we'll help you.
Design a 2-hour meeting that is right for your community.
Record the questions and suggestions generated at your local summit to be shared with the broader community.
Benefits for Organizers
To build and strengthen an open government community of practice where you live.
To establish your reputation as a leader of that community.
To connect with local government officials and learn about upcoming opportunities.
An event like this is necessary to jumpstart opengov in more local communities; we want to be bold, but we also want to get this right.
Nothing is happening with these events until we reach 100 local organizers.  If we don't reach that many by March 16, then we won't waste anyone's time.
If we do reach 100 organizers many by March 16, then we have two months to connect organizers to local government and prepare people to organize 2-hour meetings; this seems like enough time to organize these short meetings, especially since they will all have a similar format.
These events will be free and held in government facilities.
The event design will be "open sourced" where any local organizer who makes an improvement will be able to share it with the other organizers.  This way we're not recreating the wheel.
What Could a Sample Agenda Look Like?
These events will require a simple design because we're all volunteers who are likely involved with many other great initiatives that require our time.
Time

Activity

9:00am

Welcome by the organizer and presentation of the agenda

9:05am

Remarks by a senior local public official

9:10am

Collaborative exercise

9:35am

Brief OpenGov presentation

(this can be created by the organizer or borrowed from another organizer)

9:45am

Small group discussion #1 (groups of four)

10:05am

Small group discussion #2 (groups of four)

10:25am

Small group discussion #2 (groups of four)

10:45am

Closing discussion
One Final Thought
We are in the middle of a window of opportunity to advance the values of transparency, public participation, and collaboration.  For every one of us, there are many more people that have not yet heard about opengov and the exciting innovations taking place at all levels of government.
This is our chance to bring opengov home to the local communities where we live.  If we don't make it happen, who will?!
Attendee List
Sort by:

Date

|

First Name

|

Last Name
When & Where

In Your City
(if you make it happen)



Monday, May 16, 2011 at 9:00 AM

-

Friday, May 20, 2011 at 8:00 PM (EDT)
Add to my calendar
Organizer
Various Organizing Partners
We're in discussions with several prominent OpenGov/Gov 2.0 organizations who can help make this event a success.  If your organization is interested in partnering, please do not hesitate to reach out.