Description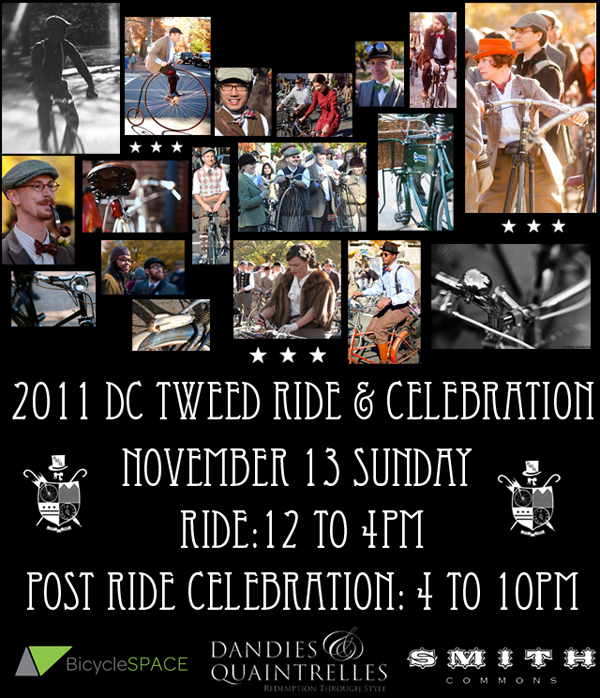 Get out your jodhpurs and fascinators, the legendary DC Tweed Ride is back! Dandies & Quaintrelles will take to the streets on Sunday November 13 for a spirited ride through the best that Washington has to offer. With help from BicycleSpace, Velocity Cycles Co-op, and D&Q friends, riders will navigate through scenic side streets, historic monuments, city parks and several downtown locales. Register here so you can receive important information about start times and the course route; we wouldn't want you to be left behind for one of the most whimsical and stylish events of the year! There will be multiple routes for riders of varying skill levels, so riders of all styles can happily cavort. Revel in seeing much of the city or take a short cruise while decked out in your finest tweed attired, we'll have you covered.

We are delighted to announce that our post-ride celebration will take place at Smith Commons on 1245 H St. N.E. from 4pm to 10pm. The staff is eager to help us celebrate in style by preparing a seasonal menu of small plate snacks and crafting specialty cocktail punches to keep us smiling throughout the evening. Dandy Wellington and his band will get your toes tapping and booties moving as we celebrate a friendly and fancy-free Tweed Ride 2011. Space at Smith Commons is limited to half of our festive riders, so please reserve your ticket online as soon as possible to guarantee admission to the party.
We look forward to seeing your most fabulous fashions and fancy frippery, so dress to impress and shine up your bike. See you at the DC Tweed Ride!