Sales Have Ended
Registrations are closed
Looking to register for the replay? If it's been less than one week since this program aired, email support@nyadventureclub.com with your name, email address, and the webinar replay you're interested in viewing. We'll then send along an invoice, and once paid, you'll get access to the replay for the remaining time.
Sales Have Ended
Registrations are closed
Looking to register for the replay? If it's been less than one week since this program aired, email support@nyadventureclub.com with your name, email address, and the webinar replay you're interested in viewing. We'll then send along an invoice, and once paid, you'll get access to the replay for the remaining time.
Can't make it live? Register and get access to the full replay for one week! New York Adventure Club | www.AdventureClub.com
About this event
Did you know that as recently as the 1960s, more than 95% of the apparel purchased within the United States was produced in New York City's Garment District? While the bulk of today's garment manufacturing has moved overseas, the city still remains a powerful force in the globalized apparel industry, and a leading source of innovation — this is the story of fashion in New York, and the lives of the legendary designers, image-makers, and style icons who shaped American fashion over the past 200 years.
Join New York Adventure Club on a crash-course through the history of fashion in New York, from the revolutionary impact of its ready-to-wear garment industry in the 1800s, to its current role as a global fashion capital.
Led by fashion historians Sara Idacavage and Tessa Maffucci, this fast-paced virtual experience will include:
A deep dive into how New York designers challenged the dictatorship of French fashion, and developed a unique sense of style that became known as "The American Look"
An overview of New York's most iconic fashion designers, from Claire McCardell to Tom Ford
A discussion about the importance of media in the rise of New York fashion
The history of New York as a shopping mecca, and how department stores and factories shaped the built environment that we still navigate
Stories of New York's garment workers and laborers, which remind us that the fashion industry isn't always glitz and glamour
Afterward, we'll have a Q&A with Sara and Tessa — any and all questions about NYC fashion history are welcomed and encouraged!
Can't make it live? Don't worry, you'll have access to the full replay for one week!
See you there, virtually!
*Immediately upon registering, you will receive a separate, automated email containing the link to join this webinar
**For the best possible viewing experience, please ensure you're using the latest version of your internet browser — Google Chrome is the most compatible. Exact technical requirements and a webinar user guide will be shared in the automated confirmation email upon registration.
***A full replay of the experience will be available to all registered guests for up to a week
About Sara & Tessa
Sara Idacavage is a fashion historian, archivist, and vintage collector with a background in fashion journalism. She currently teaches courses at Parsons School of Design, the Pratt Institute, and the Fashion Institute of Technology, and is an Associate Editor of The Fashion Studies Journal. Sara previously managed the Parsons Fashion Study Collection, served as an archivist for prominent American fashion designers, and worked in the costume collection at the Museum of the City of New York.
Tessa Maffucci is a fashion scholar whose research focuses on the relationship between fashion and labor. She is the Managing Director of Strategy at Custom Collaborative, a nonprofit that supports women from low-income communities in launching fashion careers. Tessa teaches at Pratt Institute and Parsons School of Design and is the recipient of the Made in NYC Fellowship, working on an ongoing digital humanities project about labor and making in New York's Garment Center.
Testimonials
"I enjoyed the ladies who were well versed in their subject and of course their passion! I liked the fact that I did not have to drive into the city which can be a battle since I live an hour away and could watch from the comfort of my home!" -Alba
"The webinar was of an extremely high standard, very informative, and delivered by people who were knowledgeable and passionate about the topic being delivered." -Caoimhe
"The topic was so fun and interesting! The speakers were so knowledgeable! The presentation was excellent." -Christine
"What an escape and SO interesting! Tessa and Sara were amazing!!!" -Stacy
"The presenters were clearly scholars and passionate about their topics. Their enthusiasm was communicated to the audience so intensely that the comments board was rarely silent. I cannot wait to join them again. I learned a lot and gosh...what a GREAT escape it was from the depressing COVID-19 world out there. I loved it. More please! P.S. I loved the video format, having the comments running along the side. It really gave us students an opportunity to commune together, applaud, pose questions, express excitement in real-time. This made the experience very rich. In an in-person classroom you mus remain silent most of the time. This was pretty spectacular. I LOVE IT. Can't wait to come back for more!" -Liz
Disclaimer
By attending a New York Adventure Club experience, you accept our terms of service.
Categories: Virtual, Art & Entertainment
Organizer of '200 Years of New York City Fashion' Webinar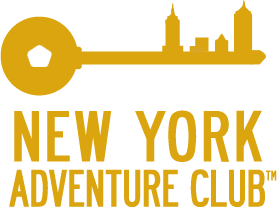 NEW YORK ADVENTURE CLUB
Unlock Your City
We give you insider access to the city's best-kept secrets. But we're so much more than a tour company.
WHO WE ARE

We are a community-driven club that curates the most unique experiences in town, with a focus on history and storytelling. We show you a city you never knew existed, and offer a community you can't live without.
You won't find our special-access tours and exclusive events anywhere else. Think after-hours tours of New York City's most celebrated spaces, themed parties in unexpected locations, and weekend excursions to incredible destinations. All of our events end with social hangouts so you can meet people who love exploring as much as you do.
THE 'CLUB' IN NEW YORK ADVENTURE CLUB

Our current community is more than 23,000 members strong and includes everyone from recent NYC transplants to lifelong residents. Whatever borough you're from (or city or country, for that matter), we'll make it easy for you to take full advantage of the unique places and great people this city has to offer.  
WHERE WE GO
To ensure a one-of-a-kind experience each and every time, we handpick events and outings specifically for the New York Adventure Club community. Recent events include:
* An after-hours tour of New York City Hall
* Special access into some of New York's most coveted private social clubs, including the Explorers Club and National Arts Club
* Petting baby kangaroos, holding sloths, and feeding leopards at Staten Island Zoo

* An NYPD Precinct tour, including a meet-and-greet with detectives and Emergency Service Unit crew members
* A tour of the Polish Consulate led by the Consul General and Vice Consul General of Poland

* A special-access tour of Brookhaven National Laboratory and its Relativistic Heavy Ion Collider (RHIC)
* A Halloween party in a historic gothic crypt, complete with a five-piece brass band
Subscribe with our newsletter to get the inside scoop on the city's most interesting events: http://eepurl.com/1cnVH
Unlock Your City with New York Adventure Club