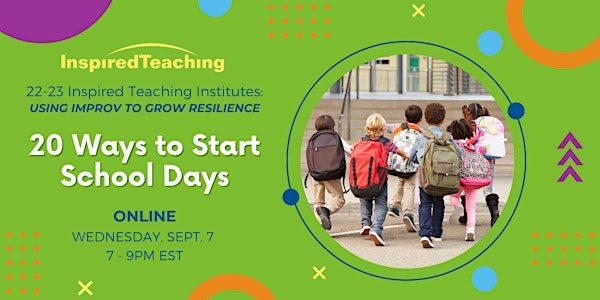 20 Ways to Start School Days (ONLINE)
Learn new ways to begin the school day that make students eager to get to school!
About this event
Teachers can't control what happens between the time students wake up and when they arrive at school but they have a lot of control over what happens when students cross the classroom threshold. Opening class with activities that engage students physically, emotionally, and mentally is key to motivating them to learn.
Participants in this fast-paced, idea-rich Institute will learn 20 different strategies for starting the school day! These can be adapted to any grade level and any subject area. Lasting between 5 and 10 minutes, this repertoire of energizers, getting-to-know-you activities, and content teasers will have you and your students looking forward to the morning bell.
PLEASE NOTE: We teach the way people learn best - with our whole selves. This means all of our sessions, both in-person and online are fully interactive. You're not going to do a lot of sitting and listening! Our online sessions are "cameras on" and "mics unmuted" so participants can get to know and interact with one another. We are often physically moving around whatever space we happen to be in but we ask participants to move and interact in the ways that work best for their bodies. Time flies in this environment and we guarantee you'll leave these sessions feeling energized and ready to try something new. We can't wait to learn with you!
*Our IN-PERSON session will be held Saturday, September 10 from 10 AM - 12 PM. You can find registration for that event here.