2 Yaa Sisters' "Retrace. Retreat. Refresh...The Unforgettable Ghana Experie...
Description
We are pleased to welcome you to the second annual "Retrace. Retreat. Refresh...The Unforgettable Ghana Experience" which will be held from May 6 through may 17, 2020. We invite you to journey with us to discover this beautiful country where many of our ancestors came from. It will include 10 days of traveling to 4 major regions in Ghana: Accra, Kumasi, Cape Coast and Takoradi while learning, enjoying, reconnecting, networking, retracing, retreating, and refreshing.
We promise you that you will have the time of your life and leave wanting more. Historic and notable places we will visit are Independence Square, Manhyia Palace, Kwame Nkrumah Memorial Park, Assin Mansoo, Cape Coast/Elmina Dungeons, Aburi Botanical Gardens, Trinity Home Orphanage, The Good Shepherd Orphanage, Akoma International Academy, Busua Beach, Labadi Beach, Makola Market, Shai Hills, Kakum National Park and .

Daily activities will include Morning Exercise including Yoga, Daily Affirmations, Daily Sharing and Nights on the Town.
You will get the chance to meet many who have repatriated to Ghana, visit land sites, and also various arts and craft villages, all the while meeting the nicest people on the planet!
LAND ONLY PACKAGE for $2500 includes:
*Accommodations for 10 nights based on double occupancy

2 meals daily

Transportation including airport transfers

Swag Bag

Surprises
*Single accommodations incur an additional $50 per day charge
To register with your $250 non-refundable deposit by May 6, 2019, please click HERE or email peppypromotions@gmail.com or call Peppy on 301-395-1013. We are offering convenient payments of $250 per month, but please feel free to make deposits over $250 per month if you wish.
Final balance for your package MUST be paid by March 1, 2020.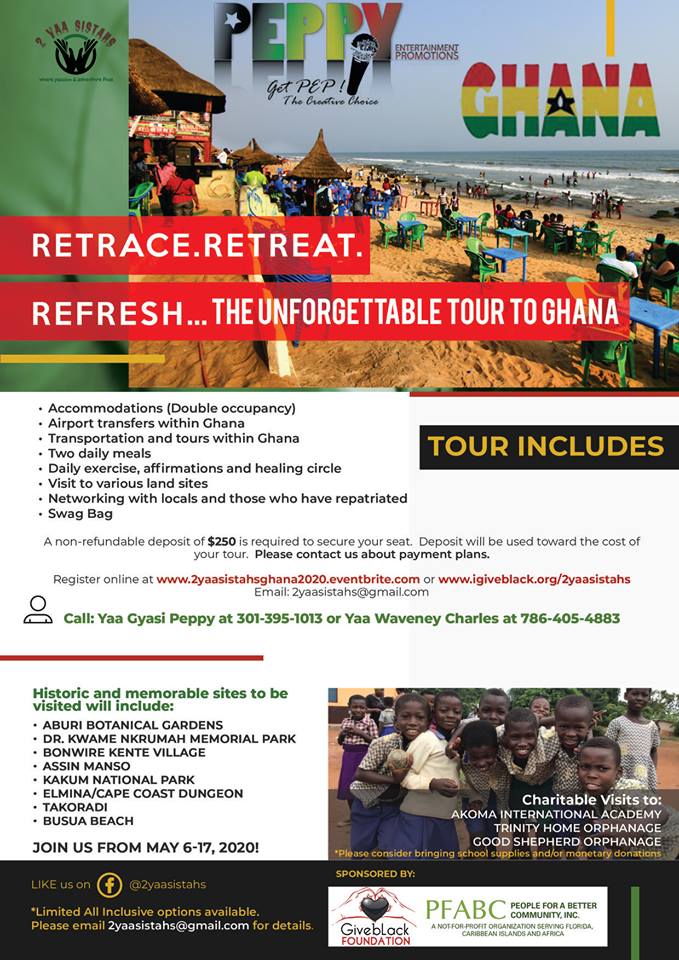 Please visit www.rosieparke.com or www.igiveblack.org/2YaaSistahs for itinerary, frequently asked questions and additional information.