Description
2 Weekends (12hrs/4modules)
End of the Year Intensive Accounting TRAINING
For Graduates of Marketing & Business Administration: This Training will cover Practical aspects of CRM (Customer Relationship Management), SCM (Supply Chain Management) which are paramount to your practice nowadays.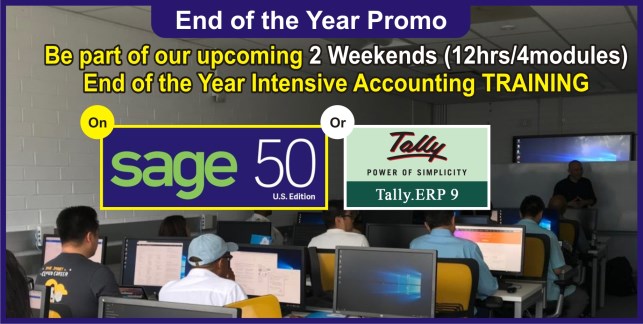 For Graduates of Economics & Finance: This Training also covers Business Intelligence & Business analytics, dashboard analysis, Chart analysis of financial activities and more…
For Accountants: The training covers the application of this software for Oil & Gas Project Accounting, Telecommunication Accounting, Construction Accounting & Manufacturing accounting.
For those that will like to work in the Oil & Gas firms You will be trained on how to use this software for Oil & Gas Jobs, such as:
Oil & Gas Drilling Project accounting with over 100 cost centres
Oil & Gas piping projects accounting.
Oil & Gas Local content contract accounting.
View Full Training Outline Here
Graduate Opportunities
Graduates from this program may find employment with:
Private industry
Public Accounting
Government
Self employment
Reasons Why you Must Enroll
You will be trained with the most recent version of ERP.
It will Increase the chances of getting a good job
Real world Practical Application of what you have learnt in school
You will be trained by experienced Professionals
It will give you the knowledge on how to use Accounting Softwares in different industries.
Be assured of a Comprehensive and Advance Knowledge of the applications
You will be given an additional training on Microsoft Excel for FREE
The course Fee has been subsidized for Fresh Graduates.
Trainees will benefit from IFRS training
View Full Training Outline Here
Note:
Please, you must register to attend the training. Registration is Free.
You can come with a laptop so that we can install the software on it.
Free Software Installation and Handout will be given to you
Certificate of Training will be issued at no cost
Free Sage 50 Training for first 10 students that registered & Pay
Joint Our Accounting Whatsapp Group:
Location and Periods (12hrs):
Lagos Center - 19, Odunlami Street, Near Access Bank, Somolu, Lagos.
Sage50 - Saturdays, Nov. 10th & Nov. 17th, 2018

TallyERP - Sundays, Nov. 11th & Nov. 18th, 2018

TallyERP - Saturdays, Dec 8th & Dec. 15th, 2018




Sage50 - Sundays, Dec 9th & Dec. 16th, 2018
Ibadan Center- 2, Obasa Str, Off Oyo Rd or Sango-Ojoo Road, Sango, Ibadan.
Sage50 - Saturdays, Nov. 24th & Dec. 1st, 2018

TallyERP - Sundays, Nov. 25th & Dec. 2nd, 2018



Time:
Saturdays Class - 10am to 4pm




Sundays Class - 1pm to 7pm



Cost: ₦10,000 each (Instead of ₦45,000).

Pay ahead for both Sage & Tally, get another 25% (#5k) Discount in total, so instead of #20,000, you pay #15,000.

Bank Account Details:

Acct Name: Topsite Infotech
Acct No: 0137403564
Organizer of 2 Weekends of Sage50 or TallyERP Accounting Package Training - Year End Promo