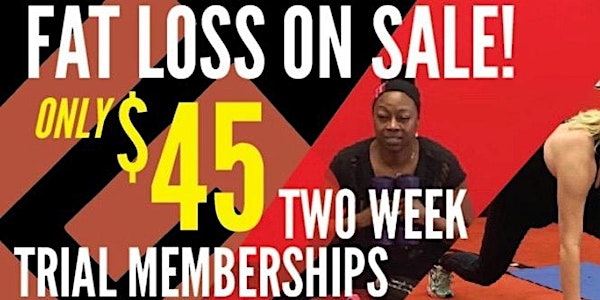 2-Week Trial South Holland Fat Loss Camps
Ready to try something new?
When and where
Location
chicagoland Fat Loss Camps 506 W Taft South Holland, IL 60443
About this event
Have you been wanting to try out our workouts but worried that Bootcamp workouts are too hard?
Come meet our friendly team who will guide you through a 2 week trial. This ticket is for the on-boarding session and the 2 week trial membership. YOU WILL FIRST ATTEND AN ON-BOARDING SESSION BEFORE THE TRIAL CLASSES BEGIN. PLEASE NOTE YOUR ON-BOARDING SESSION TIME REFELCTED ON YOUR TICKET
2 week trial dates: August 17-29, 2020
You might want to know what comes with the 2 week trial?
FOR $45 YOU GET:
- Access to our fun, fast, effective workouts (see list of available time slots below)
- Small group coaching session
- A fat burning meal plan
- 2 weeks of accountability
- Private Facebook group to share and get team motivation
Ticket Choices:
OPTION 1: On-Boarding Session Thurs 8/13 at 8:15-8:45 AM
(Your Trial Class time is.... 4:20 AM M T W Th, August 17-29, 2020)
OPTION 2: On-Boarding Session Thurs 8/13 at 8:15-8:45 AM
(Your Trial Class time is.... 6:20 AM M W F, August 17-29, 2020)
OPTION 3: On-Boarding Session Thurs 8/13 at 8:15-8:45 AM
(Your Trial Class time is… 720 AM T & Th, August 17-29, 2020)
OPTION 4: On-Boarding Session Fri 8/14 6:15 PM
(Your Trial Class time is... 5:10 PM M to F, August 17-29, 2020)
OPTION 5: On-Boarding Session Fri 8/14 6:15 PM
(Your Trial Class time is.. 6:10 PM M to Th, August 17-29, 2020)
OPTION 6: On-Boarding Session Saturday 8/15, 9:15 AM
(Your Trial Class time is.. 5:10 PM M to F, August 17-29, 2020)
OPTION 7: On-Boarding Session Saturday 8/15, 9:15 AM
(Your Trial Class time is.. 6:10 PM M to Th, August 17-29, 2020)
Non-refundable. New clients only