(2 left) 2017 Back To The 50'S Retreat which includes a Trunk Show w/ JENNY

Wednesday, March 1, 2017 at 10:00 AM

-

Saturday, March 4, 2017 at 11:00 AM (CST)
Event Details
  "Please Scroll down to find, classes, supply lists and a schedule of events and all kinds of fun information"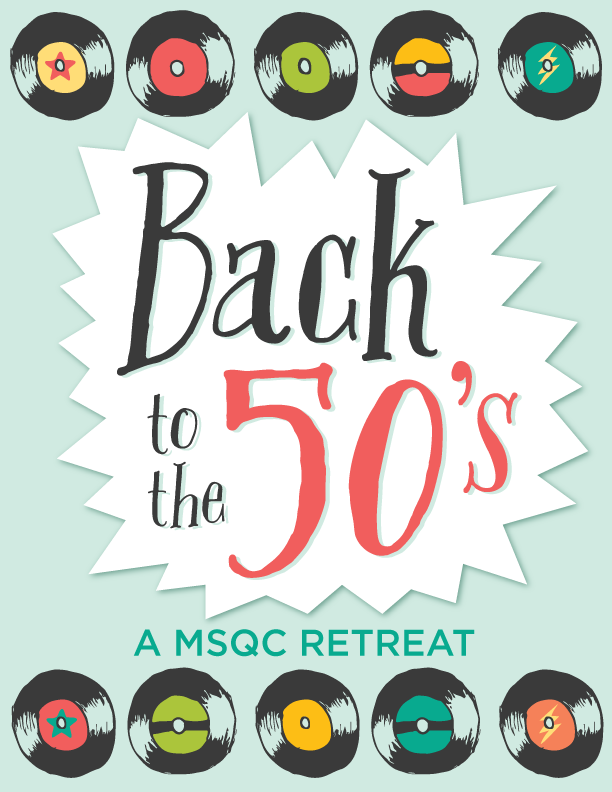 Let's twist again at Missouri Star's
Back to the 50's Retreat!
Remember the purr of a 57' Chevy?
The taste of a ten-cent burger?
The sweet sounds of the Everly Brothers?
We're going to take you on a trip down memory lane.
Maybe there won't be goldfish swallowing
or hula hooping contests, but there's plenty of fun to be had!
We might even get some quilting done!
So grab your poodle skirt and saddle shoes, we can't wait to see you!       
Wednesday
10:00 am - 5:00 pm Arrival, Set Up, Shopping, Open Sew Time
5:00 pm Group Picture, Ice Breaker
6:00 pm Jenny's Trunk Show - Meet and Greet with Jenny
Thursday

7:00 am  Continental Breakfast
10:00 am Class
Lunch at Noon
5:30 pm Dinner
6:00 pm Open Sew
7:00 am Continental Breakfast
10:00 am Class
Lunch at Noon
5:30 pm Dinner
6:00 pm Open Sew
7:00 pm Show & Tell
Saturday

8:00 Continental Breakfast
12:00 Check Out
What to expect
Bring projects to work on -  You may not want to take a class and if you choose not to do this you will want to bring projects to work on.  Your free time is your own to do as you please.  We will have demonstrations and optional mini classes throughout the retreat.  You can participate in these classes if you wish.  We do not include a supply list for these classes because they are smaller and do not require much fabric.  You can shop an MSQC shop or browse through one of the area stores.  There is always something to do in Hamilton.
Meals - We set out a continental breakfast each morning at 7 am.  We offer a daily lunch and dinner.  You are on your own to enjoy the area food if you wish to do that. Our meals are served for up to 45 minutes and then put away.  We ask that you be present when we are serving.  If you come back to the Sewing Center an hour or two following the serving time you can still eat but you will be on your own to reheat what was served for that meal.
Snack Table - We set out a snack table and encourage you to bring a snack to share with the group.  
Show & Tell - We will have a Show & Tell time on Saturday night for those who want to participate.
Shipping - There is free shipping for all of our guests who spend over $100 in the shops.
Dresden 
 1 24 1/2" Background Square
 1/4 Yard White
 1/4 Yard Inner Border
 1/2 Yard Outer Border
 1/2 Yard Binding
 1 Yard Backing
 Additional Optional Materials: 
10" Dreden Template  (You can use our Sizzix to cut out your Dresden Blades)
Small Simple Wedge Template  (We also have a Simple Wedge on a Sizzix Die)
1 1/2 Yards Background Solid for Solid Blocks and Inner Borders 
3/4 Yard Binding - Coordinating Fabric
7 1/2 Yards Backing or 2 Yards 90" Wide
If you would like to give it a try and make a smaller version bring:
1/2 Yard Background Solid 
If you're not sure what to do to book a spot in this retreat, you can follow this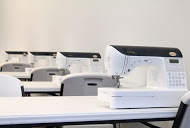 You can bring your unfinished projects from home, or drop in at our stores in town to purchase anything you may want to start something new. PLUS.....our sewing/activity and kitchen areas are available for you to use 24 hrs. a day!  
And, when you're ready to turn in, you'll sleep like a log in our comfy, cozy beds.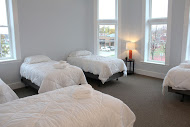 PLEASE NOTE:
This event is for Ladies Only.
All rooms upstairs are shared rooms. NO PRIVATE ROOMS.
Ages 18 and over please. 
Our sleeping rooms are on the second floor of the Retreat Center and are only accessible via stairs. They are shared rooms, configured in several different ways from rooms that have three twin beds, to a room that sleeps six. There are six individual, private bathrooms, each with a shower, toilet and sink, just steps away from the sleeping rooms that are shared by all the guests on the second floor. We also have two sleeping rooms located on the main floor, each with a queen bed and its own bathroom, that we reserve for individuals who cannot physically climb the stairs to the second floor. 
We are located 15 minutes east of I-35 and MO Hwy 36, approximately 60 miles north of Kansas City. If you are flying in, you'll want to fly into Kansas City International airport.  We are a little over an hour from the airport. For shuttle information please call Lucas Stock at 785-393-5955. 
Coming with a friend? Contact us at retreats@missouriquiltco.com with your roommate preference.

WHAT WE'LL PROVIDE:
+ 6 Meals
+ Unlimited access to our spacious and well-lit sewing space
+ Tables for cutting
+ Ironing boards and irons
+ Sewing tables and electrical outlets
+ A full kitchen (microwave, stove, refrigerator, freezer, dishwasher)
+ Dishes, mugs, flatware
+ Two coffee pots
+ Super comfy, cozy beds
+ Bed linens and towels
+ Sewing machines available for $10 usage fee during retreat
+ "Sewing essentials" kit (cutting board, rotary cutter, ruler, scissors) available for $5 usage fee during retreat
WHAT TO BRING:  
+ Sewing machine (optional, we do have some to rent)
+ Power strip or extension cord
+ Cutting board, cutter, rulers, scissors (optional, we have "sewing essentials" kits to rent)
+ Ironing board and iron (optional -- we will have some available for use)
+ Food (dining options listed above and Hy-Klas Grocery Store 1/2 block from the retreat center)
+ Casual, comfy attire  
+ Personal toiletries, blow dryer, ear plugs and pj's 
+ Something cushy for your "tushy" (optional)
+ Personal sewing lamp (optional) 
REFUND POLICY: This is a NON-REFUNDABLE REGISTRATION.  In the event that you register than are unable to come, you may transfer this registration to someone else. 

QUESTIONS? Contact us at retreats@missouriquiltco.com. 
Venue map / Missouri Star Quilt Company Retreat Center
Save This Event
When & Where

Missouri Star Quilt Company Retreat Center
202 North Davis St.
Hamilton, Missouri 64644


Wednesday, March 1, 2017 at 10:00 AM

-

Saturday, March 4, 2017 at 11:00 AM (CST)
Add to my calendar
Organizer
Missouri Star Quilt Company