Description
GRUPARA VENTURES Present:
"MANAGING FINANCIAL FOR STARTUPS 2 IN 1"
at Freeware Spaces Kemang
with
KEVIN LAWIRA (Marketing Head, Jurnal.id)
ADHITYA SATRIADI (Managing Director, TMP Accounting & Tax)
Date / Time : Thursday, April 13th, 2017, 18.00 - 21.15
Location: FREEWARE SPACES KEMANG / FREEWARE LABS KEMANG
Jl. Bangka XII no 4
Jakarta Selatan 12720
18.00 - 19.00 : Registration & Networking
19.00 - 19.45 : "How to Effeciently Managed Taxes for SMEs" by TMP Accounting & Tax
19.45 - 20.30 : "Basic Principals of Book Keeping" by Jurnal.id
20.30 - 21.15 : Q&A Sessions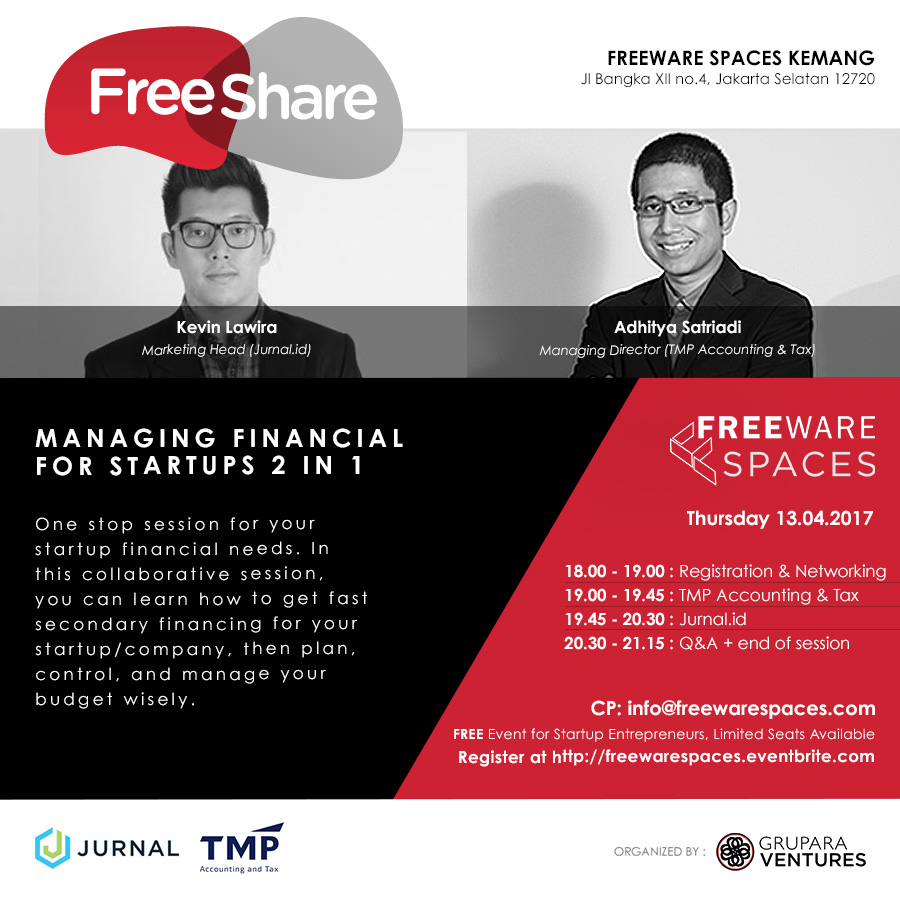 Who Is Kevin Lawira?
Kevin Lawira is Graduated from Universitas Prasetiya Mulya
He started his career by becoming the Co-Founder of RAGA from 2010-2013. On 2014-2015, Kevin becoming the CMO of Stache and the Co-Founder of Doggy Daddy from year 2015-2016. He continue his career at Jurnal.id on 2015 by becoming the slaes executive and right now he's becoming the General Manager Sales at Jurnal.id
Who is Adhitya Satriyadi?
Experiencing as Senior Accountant at Rödl & Partner for 2 years, Adhit has a big integrity in doing Financial Analyst. Graduated his Magister at Prasetya Mulya majoring Finance, surely he is a decent accounting analyst.
TRY WORKING AT FREEWARE SPACES KEMANG FOR FREE ON THE DAY OF THE EVENT STARTING 08.00 AM EMAIL ICHA@FREEWARESPACES.COM FOR DETAILS
For bank transfer or wire can be done to BCA 6220258406 a/n Aryo Prakoso Ariotedjo for Rp 99.000 and email to info@freewarespaces.com