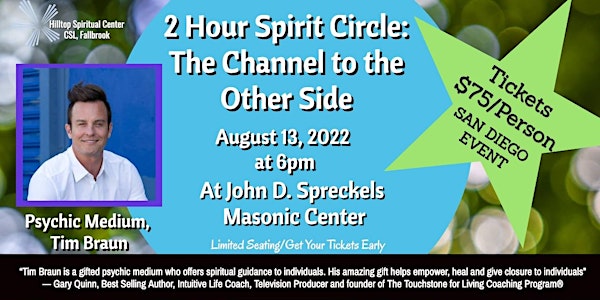 2 Hour Spirit Circle: The Channel to the Other Side, Tim Braun
Location
John D. Spreckels Masonic Center
3858 Front Street
San Diego, CA 92103
An Evening with Psychic Medium, Tim Braun to experience communication with loved ones who have passed. This is a group experience.
About this event
Come enjoy this demonstration of mediumship, spiritual insight and teachings, where messages and communication from spirit will be delivered with love and support.
Have you ever wondered what it would be like to talk with the ones you've lost? Tim invites you to explore communicating with the other side. Tim facilitates healing through communicating with loved ones on the other side. He uses guidance from your higher self as well as your spirit guides. It is Tim's desire to heal those with grief of loss and to re-establish the ties that we have lost with those who are no longer with us. Tim believes our love is the link that allows him to connect with those on the other side. He provides evidence of life after deaths through the messages he delivers from family and friends who have crossed over.
Many of Tim's clients have had their lives changed dramatically, and have been given hope that there exists a place of beauty and joy at the end of life on this earth. Loved ones are there, and love doesn't die, but it is taken to this place, "the other side".
The Spirit Circle is an ideal platform for individuals to have a group setting experience while witnessing what occurs during a private, individual sitting. Tim wants to keep this an intimate setting so seating is limited to 75 guests.
***TICKETS WILL GO FAST DUE TO LIMITED CAPACITY***
Participants are able to expand their understanding and experience the innermost connection with their spiritual self while Tim demonstrates his gift to help participants to realize and share the ability to communicate with their lost loved ones.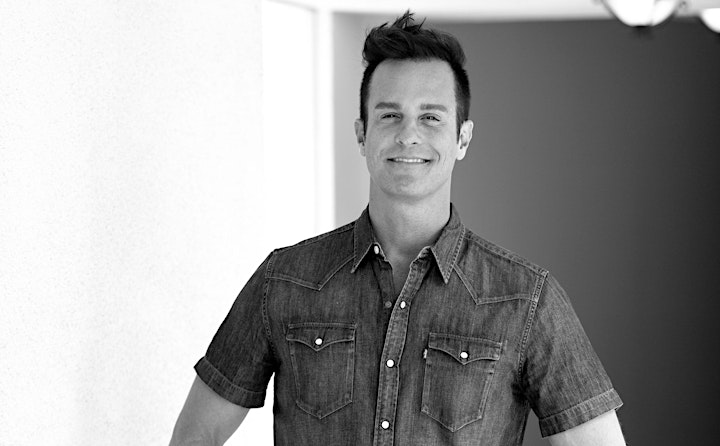 "A Psychic Medium selling out casinos? That's right! The time has come for spiritual work that brings comfort, hope, peace, and joy to infiltrate pop culture. Who can actually entertain crowds by healing broken hearts and opening closed minds? Tim Braun can! Tim bridges heaven and earth in his sold-out shows! What could be more exciting than this?"
— Amelia Kinkade, Best-selling author of Straight from the Horse's Mouth: How to Talk to Animals and Get Answers, The Language of Miracles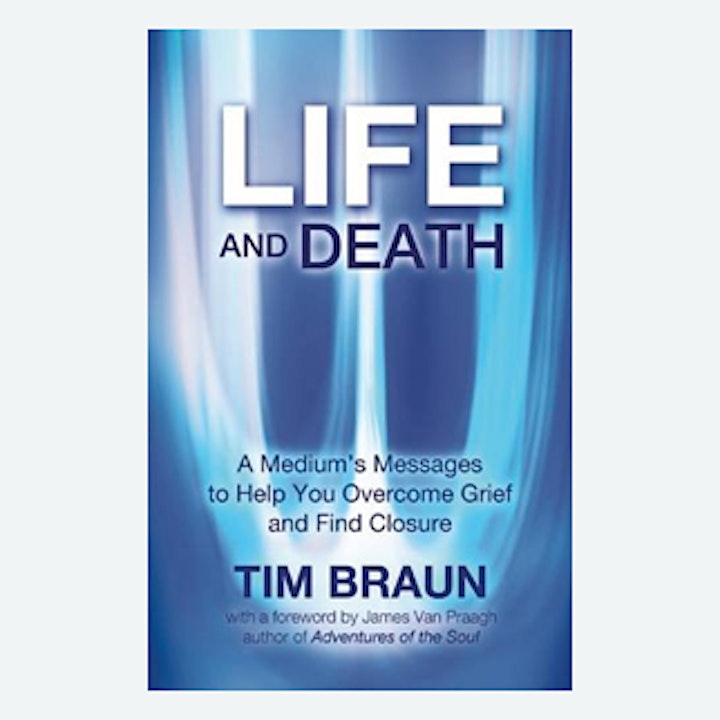 "Life and Death will answer many of your questions regarding those who've crossed over. A very comforting book. It helps with the acceptance of death and the healing process"
— James Twyman – New York Times bestselling author of The Moses Code and Emissary of Light