Sales Have Ended
Registrations are closed
GEAR Attendees must have a modern, magazine-fed, semi-automatic rifle such as AR-15, AK variants, M1As, etc. Attendees must also bring a semi-automatic pistol and a minimum of 3 magazines. Additional Required Equipment: Holster that covers the trigger guard Chest rig, belt pouches, or other device specifically designed to retain rifle and pistol magazines Sling for Rifle Eye and Ear Protection Minimum 100 rounds rifle ammunition Minimum 50 rounds pistol ammunition 10 blank rounds for rifle - Bring your own or will have 223 blanks for purchase at the event Dress appropriately for the weather and bring water to stay hydrated REGISTRATION Pre-registration for 2-Gun Tactical events is handled through Eventbrite. The cost is $20 for ASC members and $60 for non-members and is non-refundable. There will be a maximum of 6 participants per instructor in the Introduction sessions and 12 participants per instructor in the regular sessions. We are keeping numbers small to ensure safety and allow for meaningful discussions and critiques of performance. Welcome. Safety brief Overview of course: 2 Gun Tactical is a shooting course where participants utilize both rifle and pistol to solve various scenarios involving tactical situations. Heavy emphasis will be placed on malfunction drills with both pistol and rifle. Primary focus will be on proper handling and tactics using a modern sporting rifle, proper draw from and return to holster, methods and techniques for transitioning from rifle to pistol / pistol to rifle, reloading both rifle and pistol (with and without retention of magazines), equipment placement and interaction, firing positions, properly utilizing cover, negotiating objects, shooting around objects and negotiating corners. Introductory Class Outline: Pistol Draw Pistol Return Sling placement Rifle Stock Adjustment Gear Placement Magazine attitude (rounds facing strong hand). Pistol Reloading drills (with proper tactics) Pistol malfunction drills Pistol reloading/malfunction drill LIVE FIRE Rifle Reloading drills (with proper tactics) Rifle malfunction drills (SPORTS) Rifle reloading/malfunction drill LIVE FIRE Transition technique / drills Transition technique / drills LIVE FIRE (Rifle Malfunction) Firing positions (standing, standing supported, kneeling, kneeling supported, prone, prone supported) Negotiating objects, movement, movement to cover, types of cover (difference between cover and concealment) Shooting around objects / corners drills Shooting around objects / corners drills LIVE FIRE CHECK-IN You must be present for CHECK-IN* 15 minutes before the published start time. Shooters not present for check-in will forfeit their spot. Check-In occurs at the 50 yard bay where the events will be held. AT 15 MINUTES BEFORE THE PUBLISHED START TIME, we will start promptly with a Roll Call followed immediately by a safety brief. Shooters not present for the safety brief will not be allowed to participate. If you have questions, send an e-mail (ecallis@aurorasc.org)
Sales Have Ended
Registrations are closed
GEAR Attendees must have a modern, magazine-fed, semi-automatic rifle such as AR-15, AK variants, M1As, etc. Attendees must also bring a semi-automatic pistol and a minimum of 3 magazines. Additional Required Equipment: Holster that covers the trigger guard Chest rig, belt pouches, or other device specifically designed to retain rifle and pistol magazines Sling for Rifle Eye and Ear Protection Minimum 100 rounds rifle ammunition Minimum 50 rounds pistol ammunition 10 blank rounds for rifle - Bring your own or will have 223 blanks for purchase at the event Dress appropriately for the weather and bring water to stay hydrated REGISTRATION Pre-registration for 2-Gun Tactical events is handled through Eventbrite. The cost is $20 for ASC members and $60 for non-members and is non-refundable. There will be a maximum of 6 participants per instructor in the Introduction sessions and 12 participants per instructor in the regular sessions. We are keeping numbers small to ensure safety and allow for meaningful discussions and critiques of performance. Welcome. Safety brief Overview of course: 2 Gun Tactical is a shooting course where participants utilize both rifle and pistol to solve various scenarios involving tactical situations. Heavy emphasis will be placed on malfunction drills with both pistol and rifle. Primary focus will be on proper handling and tactics using a modern sporting rifle, proper draw from and return to holster, methods and techniques for transitioning from rifle to pistol / pistol to rifle, reloading both rifle and pistol (with and without retention of magazines), equipment placement and interaction, firing positions, properly utilizing cover, negotiating objects, shooting around objects and negotiating corners. Introductory Class Outline: Pistol Draw Pistol Return Sling placement Rifle Stock Adjustment Gear Placement Magazine attitude (rounds facing strong hand). Pistol Reloading drills (with proper tactics) Pistol malfunction drills Pistol reloading/malfunction drill LIVE FIRE Rifle Reloading drills (with proper tactics) Rifle malfunction drills (SPORTS) Rifle reloading/malfunction drill LIVE FIRE Transition technique / drills Transition technique / drills LIVE FIRE (Rifle Malfunction) Firing positions (standing, standing supported, kneeling, kneeling supported, prone, prone supported) Negotiating objects, movement, movement to cover, types of cover (difference between cover and concealment) Shooting around objects / corners drills Shooting around objects / corners drills LIVE FIRE CHECK-IN You must be present for CHECK-IN* 15 minutes before the published start time. Shooters not present for check-in will forfeit their spot. Check-In occurs at the 50 yard bay where the events will be held. AT 15 MINUTES BEFORE THE PUBLISHED START TIME, we will start promptly with a Roll Call followed immediately by a safety brief. Shooters not present for the safety brief will not be allowed to participate. If you have questions, send an e-mail (ecallis@aurorasc.org)
Description
Aurora Sportsmen's Club - Action Shooting Sports
2-Gun Tactical 2016
---
Information Page: ASC 2-Gun Tactical Website
Note: You must complete the mandatory introduction course (either this year, or past years) prior to participation in this event. Registration for the mandatory introduction course can be found here: Mandatory Introduction Course
The focus of 2-Gun Tactical is the introduction, development, and practice of rifle and pistol skills that would be applicable in self-defense situations. 2-Gun Tactical is a skills development activity, not a competition. Note that you must be present for the safety brief at 08:45 to be eligible to participate. There are no exceptions to this.
As participants advance to solve more difficult shooting problems, the potential for safety infractions advance as well. Instructors will not allow participants to attempt to execute skills that we feel are beyond their ability. Participants who perform unsafe actions will not be able to continue the training and may be asked to re-take the Introductory class.
Additionally, the introductory class will be 8 hours long. The instructors feel it is in EVERYONE's best interest to do as much as possible to ensure that participants in the regular events have had every opportunity to bring their skill level up to a minimum level before moving on to the regular events. In the past we have allowed everyone who took the into class to move on to the regular sessions. This will no longer be an automatic pass. If you do not demonstrate the minimum level of proficiency we are looking for, you may have to repeat the into class. We aren't trying to be hard-asses, we want everyone to be successful.
There are NO REFUNDS on 2Gun tactical. It always sells out and people who register to hold a spot, then ask for a refund at the last minute prevent those who can really make it from participating. Keep that in mind when you sign up.
April 1 - Double intro class - 24 participants 8 hrs
May 6 - Target discrimination and identification
June 3 - Intro and Advanced - Movement, Barricades, Muzzle Awareness - Intro is 8 hrs.
Aug 5 - Vehicle Ops
Sept 2 - Put it all together - Urban Engagement
October 7 - Urban Engagement AT NIGHT - Adjusted hours 3 PM to 11 PM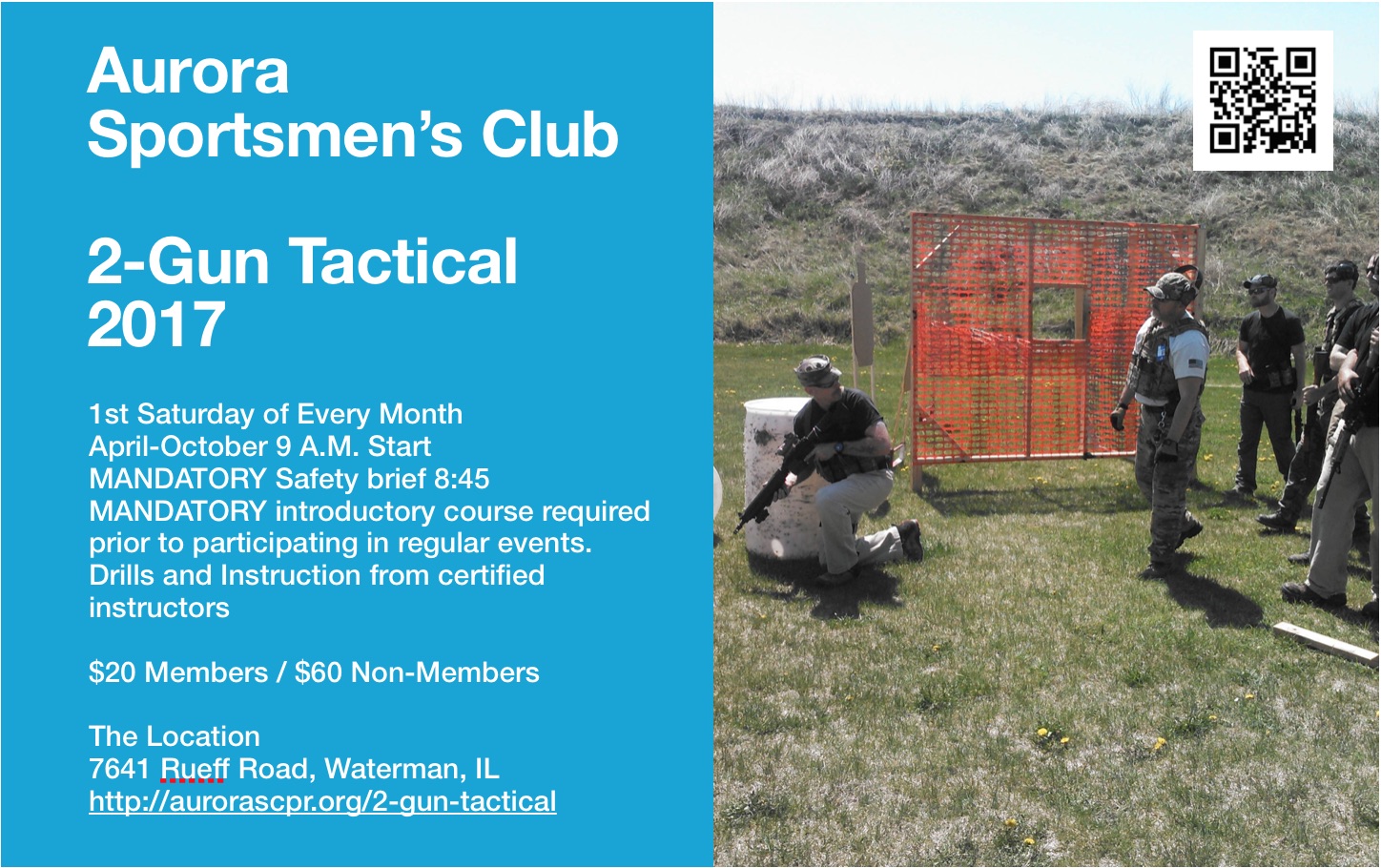 Registration fees are non-refundable, except in the event of event cancellation.