About this Event
ES/ En este 2020 se abre la segunda & nueva plataforma de encuentro para empresarios(as) visionarios(as).Empresas que otorgan servicios en español y desarrolladores de contenido en varios idiomas dentro Alemania. Los visitantes tendrán a su disposición de conocer personalmente a todos estos proveedores de productos y servicios en español en ciudad más imporarte del sur de Alemania-Múnich.
DE/ In diesem Jahr 2020 wird die zweite Version & neue Meeting-Plattform für visionäre Unternehmer eröffnet: Unternehmen, die Dienstleistungen auf Spanisch anbieten, und Content-Entwickler in mehreren Sprachen in Deutschland. In der wichtigsten süddeutschen Stadt München können Besucher all diese Anbieter von Produkten und Dienstleistungen auf Spanisch persönlich treffen.
EN/ In 2020, the second version & new meeting platform for visionary entrepreneurs is available for companies that provide services in Spanish and content developers in several languages within Germany. Visitors will be available to personally meet all these suppliers of products and services in Spanish in the most important city in southern Germany-Munich.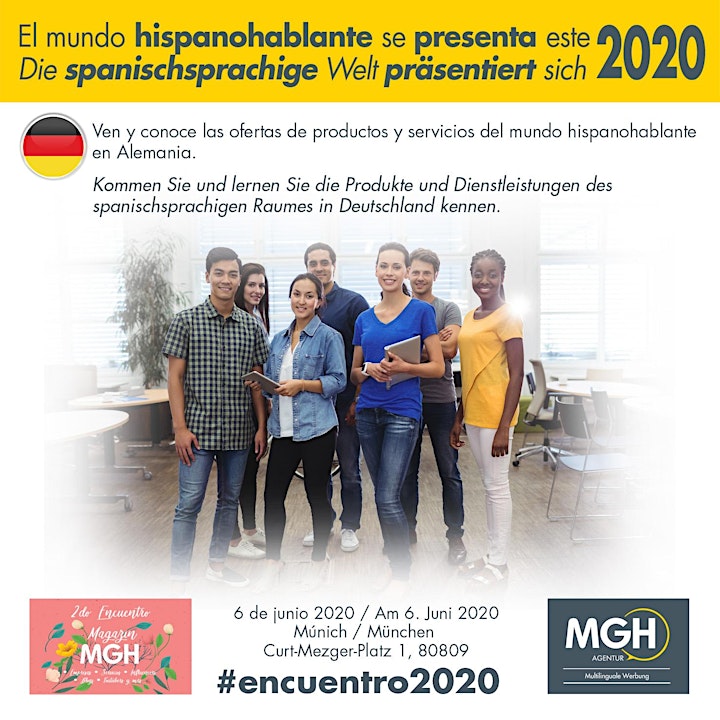 Hay 3 tipos de tickets disponibles este 2020 para expositores.
1.- Earlybird Ticket MASTERCLASS & Mesa Asociaciones (e.V).
( Disponible a la venta: 05.11-30.01.2020) ...Precio: 5 Euros ( + comisión del sistema eventbrite) +VENTA CERRADA+
Incluye:
30 minutos de ponencia al público en general.
Mención de participacion en la revista impresa MGH edición de primavera 2020.
1 Post en redes sociales de la revista/agencia MGH en FB (@miguiahispania) & por Instagram.
Partipacion en el video de evento - Postevent-
2.- Ticket Masterclass - 2020
Precio:30 Euro
Incluye:
30 minutos de ponencia al público en general.
Mención de participación en la revista impresa MGH edición de primavera 2020 así como en el material de promoción del evento. -Previo al evento-
1 Post en redes sociales de la revista/agencia MGH en FB (@miguiahispania) & por Instagram.
Partipacion en el video de evento - Postevent-
3.- Ticket All inclusive 2019-2020
( Disponible a la venta: 05.11.2019-14.05.2020)
Precio: 300 Euro
Incluye:
30 minutos de ponencia al público en general.
Mención de participacion en la revista impresa MGH edición de primavera 2020 así como en el material de promoción del evento. -Previo al evento-
1 Post en redes sociales de la revista/agencia MGH en FB (@miguiahispania) & por Instagram.
Partipacion en el video de evento - Postevent-
1 Mesa para exposición ( 1 metro aprox. + 2 sillas )
4.- Ticket All inclusive + Video 2020
( Disponible a la venta: 05.11.2019-14.04.2020)
... Precio: 499 Euro / interasd@s al email: sales@miguiahispania.com. ( No de venta en el sistema Eventbrite)
Incluye:
30 minutos de ponencia al público en general.
Mención de participacion en la revista impresa MGH edición de primavera 2020 así como en el material de promoción del evento. -Previo al evento-
1 Post en redes sociales de la revista/agencia MGH en FB (@miguiahispania) & por Instagram.
Partipación en el video de evento - Postevent-
1 Mesa para exposición ( 1 metro aprox. + 2 sillas )
2 min de video durante el evento ( Se entrega editado en formato de video 5 días despues del evento)
**********************************************************************************************
VISITANTES GRATIS
Temas de Masterclass confirmados:
En este enlace: https://shop.ticketpay.de/UYPBFJ1R