2 days CSR Masterclass: From Zero to CSR Strategy

Tuesday, September 12, 2017 at 9:00 AM

-

Wednesday, September 13, 2017 at 3:30 PM (BST)
Event Details
Time: 2-days (9am - 3pm)
Venue: The Address Dubai Hotel or Shangri-La Hotel Dubai (5* hotels)

Participants will:

Learn from Zero to CSR Strategy – all steps and tools needed

Develop an in-depth understanding of SDGs and how to apply them


Learn the building blocks of CSR  policy and strategy creation and how best to apply these to your own organization

Learn how to identify 'CSR target areas and initiatives' within the organization and its reach

Learn methods of measurement and reporting frameworks, including how and when to measure social return on investment (SROI)

Develop leadership skills to ensure engagement and ownership of stakeholders and success of CSR strategy and implementation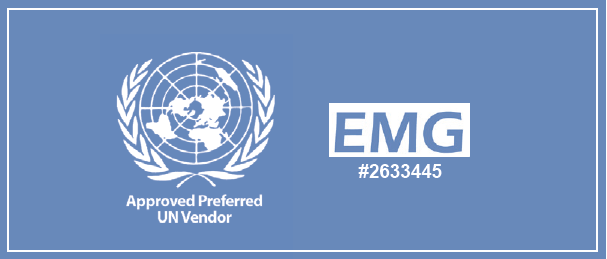 Delivered by:
The training is delivered by EMG Senior consultants trained at the Cambridge University in United Kingdom. Over the years, EMG has become a recognized authority in field of CSR and Sustainability. The winner of numerous international awards for its quality service and generated impact, EMG is regularly invited as a keynote speaker and international expert to share its thoughts and opinions on the most important trends in CSR and Sustainability.

About the CSR Masterclass
This CSR Masterclass is designed for Sustainability & CSR managers from all sectors and functions, and focuses on their role in mainstreaming CSR and Sustainable Development Goals (SDGs) within an organisation.

Prior to the Masterclass, participants have access to a short assessment outlining key issues they want to focus, to help them maximise their time. The Masterclass is more than a one-off inspirational event. Participants are supported after the event, whilst taking action to make their organisation more sustainable, and there is the option of meeting again, six months after the programme, to discuss progress and share further challenges.




What delegates say about our training
"I commend your mastery of your subject and the rich information I came across in your presentation." Mohammad N. Yamani, Saudi Aramco

"I encourage not just companies, but everyone to attend such a good course by a good presenter like this one" Heba Faqih, Arabian Cement Company

"EMG did a great job in activating participants to focus on how to pitch [sustainability] in a competitive market in a practical and inspiring way." Albin Kälin, CEO of EPEA Switzerland

"I would like to take this opportunity to thank you for the CSR Training, it was extremely informative and gave me a fantastic head start into CSR!!" Assma Al Adawi, CSR Specialist, Dunduq UAE

"With their vision and deep knowledge of CSR and a profound understanding of the Islamic world, the EMG team provided exemplary guidance on how to strategise our CSR initiatives, and identify new opportunities for business growth through CSR. It is clear that EMG are experts in their field and can add value to any organisation by enabling more good."  Nadia Boumeziout,  Financial Technologies Manager, Noor Bank
"The hands-on approach allowed me to understand the concepts in the context of my own industry, and the opportunity to follow-up the session with questions allowed for interactive and on-going learning. I would strongly recommend EMG for CSR training." Patricia McCall, Executive Director, Centre for Economic Growth, INSEAD Abu Dhabi

By the end of this two days training participants will have covered the following:

Fundamentals of CSR & Sustainability and role of SDGs

Regional case studies of best practice (health and well-being, environment, industrial, retails, NGO, etc...)

Developing CSR / Sustainability from start to completion
Stakeholder mapping and engagement
Social return on investment (SROI) and SDGs

ISO 26000 & GRI G4

Development of KPIs (Key Performance Indicators)
The business case for CSR:

Getting buy-In from the management



How to link your CSR to National Vision
How to get employees buy-in

CSR measurement and reporting mechanisms
How to develop CSR charter, CSR Road map



Places on the Masterclass are limited so, please register as soon as possible.

Training includes all training material, training, lunch, tea, coffee and all refreshments. There is an opportunity (separate reservation needed) for third day individual coaching, one-on-on with the trainer for 4 hours.

Note: Transfers are subject to €300 administration fee. Registrations cancelled more than 4 weeks before the training are subject to €300 administration fee. EMG retains the right to reschedule the training. No Show will result in the full forfeiture of the event price paid. If a training is cancelled or postponed, participants will be transferred to the next available date at no cost.




When & Where

Dubai

Dubai Hotel The Addres Marina, 133
United Arab Emirates

Tuesday, September 12, 2017 at 9:00 AM

-

Wednesday, September 13, 2017 at 3:30 PM (BST)
Add to my calendar
Organizer
For more than a decade, EMG has been the first choice in CSR advisory for governments, businesses and not-for-profit organizations worldwide. Our unique blend of deep insight, coupled with our extensive international experience, make EMG a trusted partner for realizing long-term profit and growth through sustainability and social responsibility on a major scale. EMG is a registered vendor to the United Nations Global Marketplace (UNGM), complying with the UNGM Code of Conduct, and providing services which adhere to the standards set by the United Nations.