2 DAYS 2020 DANCE, MIME & FLAGS WORSHIP CONFERENCE REGISTRATION
About this Event
NONPROFIT WORSHIP ACADEMY
WE ARE A NONPROFIT WORSHIP ACADEMY: WORKSHOP OPEN TO THE PUBLIC. ARE YOU READY TO MOVE TO THE NEXT LEVEL IN MINISTRY? STOP HERE AND JOIN US! THE WORKSHOP IS FOR ADULTS , CHILDREN, BEGINNERS AND ADVANCED MINISTRY. WE ARE MOVING TOWARDS UNITY COME AND LEARN TO FELLOWSHIP HAVE FUN IN GOD. REFRESH YOUR MIND LEARN NEW THINGS. THE DOORS OPEN TO EVERYONE. COME ONE COME ALL FOR THE KINGDOM OF GOD.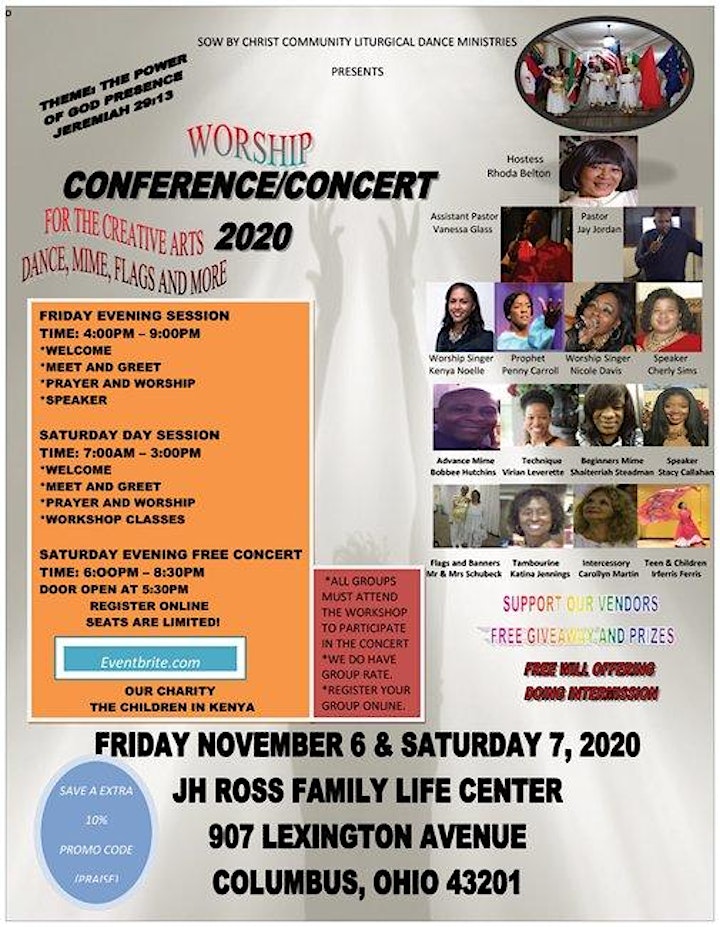 19TH YEARS OF COMMUNITY SERVICE, CONCERT AND FUNDRAISER!
*CONFERENCE PRICES
2 DAY PRICE WITH LUNCH AND T-SHIRT
-$110.00
*ALL PARTICIPATING IN THE CONFERENCE NEED YOU TICKETS OR COPY OF REGISTRANTS.
AT THE DOOR 1 DAY CLASSES PRICE FOR SATURDAY ONLY - PAY AT THE DOOR WITH CASH.
-$65.00
12 & UNDER PRICE WITH LUNCH AND T-SHIRT
-$45.00
CLOSED TO NON- REGISTRANTS
GROUP 5 INDIVIDUALS OR MORE MORE WILL RECEIVE A DISCOUNT PER PARTICIPANT WITH (SPECIAL PROMO CODE (PRAISE ) TO GET EXTRA 5%)
*HOTEL ROOM AND RATES
STARTING $81.00 WITH DISCOUNT AND SENIOR DEALS
EXTENDED STAY AMERICA 1-877-432-9997 BOOK WITH KAYAK.COM ONLINE PRICE RANGE $69 AND UP
4200 STELZED ROAD COLUMBUS OHIO 43230-4168
- FREE BREAKFAST
- FREE PARKING AND MORE
*GARMENTS
- SATURDAY WE ARE ASKING THAT ALL CONFERENCE ATTENDEES TO COME DRESSED TO BE READY TO WORSHIP AND DANCE BEFORE THE LORD.
SATURDAY REHEARSAL GARMENTS AFTER LUNCH
-CONCERT T-SHIRTS WITH BLACK PALAZZO PANTS /OR BLACK LOOSE-FITTING PANTS
SATURDAY NIGHT CONCERT CLOSING WE ARE REPRESENTING ALL THE NATIONS'S (WE ARE WEARING)
- ALL WHITE/ WITH
- NATIONS FLAGS FABRIC SASH OR VEST
- NATIONS FLAGS OVERLAY GARMENTS
DANCE WEAR 1-866-542-6500
CHILDREN AND ADULT GARMENTS
- LONG SLEEVES WHITE JUMPER #SE328
- WHITE UNITARD TO GO UNDERNEATH YOUR WHITE JUMPER
- BOYS - WHITE LONG SLEEVE SHIRT AND BLACK DANCE PANTS
*REGISTRATION TO PARTICIPATE IN THE 2020 CONCERT
*ALL PERFORMERS ARE REQUIRED TO TAKE AT LEAST 2 CLASSES, (NO EXCEPTIONS)
*LIMITED SPACE AVAILABLE!: ALL GROUP MEMBERS WHO PAID IN FULL AND REGISTER FOR THE CONFERENCE WILL BE CONSIDER TO PARTICIPATE IN THE 2020 SATURDAY CONCERT.
*FRIENDS AND FAMILY MEMBER NEED TO REGISTER FOR THE FREE CONCERT. PLEASE BRING YOUR SONG ON A CD.
*ONCE WE ADD YOU TO THE LIST PLEASE HONOR YOUR WORD AND COMMIT ON SHARING THE NEWS ABOUT THE CONFERENCE TO YOUR MINISTRY, FRIENDS, FAMILY AND CHURCH ENCOURAGE THEM TO COME. PLEASE ASK EVERYONE TO REGISTER ONLINE FOR THE FREE CONCERT. (SEATS ARE LIMITED)
*SCRIPTURES FOR THE CONFERENCE: PSALM 95: 1 & 2 THEME (THE POWER OF GOD'S PRESENCE)
*OUR CHARITY:
1. TREASURE BOYS 2. GARDEN OF EDEN ALL IN (KENYA).
TICKET INFORMATION:
*EACH PARTICIPATING GROUP IS REQUIRED TO GET 10 PEOPLE TO SIGN UP PER PERSON FOR THE FREE CONCERT AND HELP PROMOTE THE CONCERT.
*ENCOURAGE OTHER GROUPS TO PARTICIPATE IN THE 2020 CONFERENCE.
FRIDAY NIGHT ADULT ONLY CHILDREN IS WELCOME: TIME 6:00 PM
SATURDAY MORNING PRAYER TIME: 7:00 AM
DOOR OPEN REGISTRATION: TIME 8:00 AM
PRAISE & WORSHIP TIME: 9:00 AM
CLASSES: TIME 10:00 AM
CHILDREN ARRIVE TIME 10:00 AM - 3:00 PM
WORKSHOP, TECHNIQUE AND CLOSING FOR THE CONCERT REHEARSAL
GROUP REGISTRATION AND PARTICIPATE:
ALL MEMBER MUST REGISTER AND ATTEND THE WORKSHOP AND PAY IN FULL TO PARTICIPATE IN THE CONCERT. YOUR GROUP CAN WEAR WHATEVER GARMENT THEY LIKE AND YOU NEED TO BRING YOUR OWN SONG ON A CD.
CLASSES:
1. MIME - ADVANCED OR BEGINNER
2. FLAGS - MOVEMENT OR MAKING
3. WORSHIP MOVEMENT - IN THE PROPHETIC
4. TAMBOURINE
5. CHILDREN AND TEEN CLASS
6. TECHNIQUE AND MORE
TECHNICAL REHEARSAL:
ALL GROUPS WILL BE ASSIGNED TIME FOR REHEARSAL. THE ENTIRE GROUP MUST BE AT REHEARSAL IN ORDER TO PARTICIPATE IN THE CONCERT.
GROUP REGISTRATION: PROMO CODE (PRAISE) FOR ADULTS AND GROUP TO GET A EXTRA 5% AT CHECK OUT.
TO PARTICIPATE IN CONCERT (CLICK ON LINK)
*VOLUNTEER SIGN-UP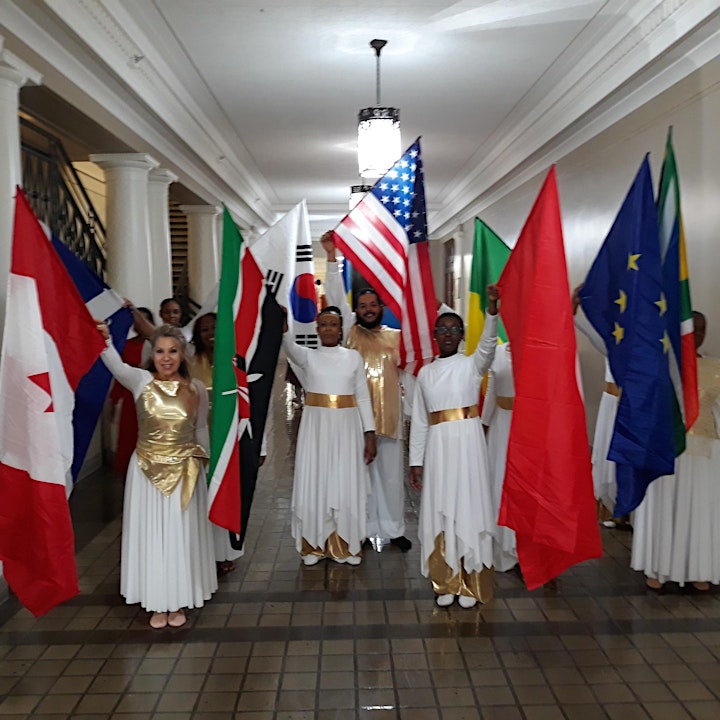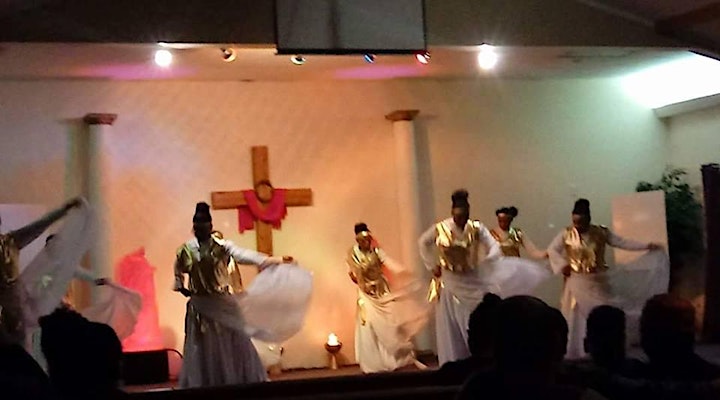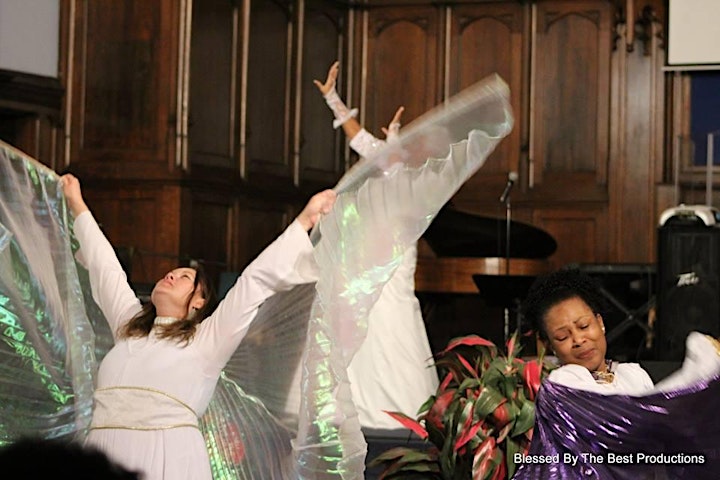 WE ARE CREATED TO WORSHIP GOD IN SO MANY WAYS DANCE, MIME, FLAGS, AND MORE.