Actions and Detail Panel
2-Day UART Workshop with LaVone Sterling: The Magic Light Brings to the Lan...
Sat, May 20, 2017, 9:00 AM – Sun, May 21, 2017, 4:00 PM PDT
Description
"The Magic Light Brings to the Landscape" in the Studio & En Plein Air UART Workshop with LaVone Sterling
Date: Saturday May 20- Sunday May 21 2017
Times: Saturday May 20 9:00 am-4:00 pm, Sunday May 21 9:00 am-4:00 pm
Location: Three Rivers Memorial Building, Three Rivers, CA
Instructor: LaVone Sterling
Medium: Pastels
Skill level: Beginner to advanced
Number of Workshop Days: 2
Price: $225.00
# of Students: 6-12
Join LaVone Sterling for a two-day workshop that will focus on capturing the light and creating mood in your pastel landscape on UART Premium Sanded Pastel Paper. By using various underpainting techniques, we will discover the potential in a finished work. On day one, in the morning LaVone will demonstrate painting trees, grass and mountains. In the afternoon, students will work from photos in the studio. On the second day of the workshop, after meeting at the studio, we will paint en plein air. The last hour of the second day, we will meet back at the studio and LaVone will critique your work.
Inside the studio or out of doors, LaVone will give each student individual instruction and help. Three Rivers should be blanketed with wildflowers, streams and rivers this May. It is a beautiful location nestled in the Sierra Nevada Mountains, the gateway to Sequoia National Park. This will be an exciting place to paint!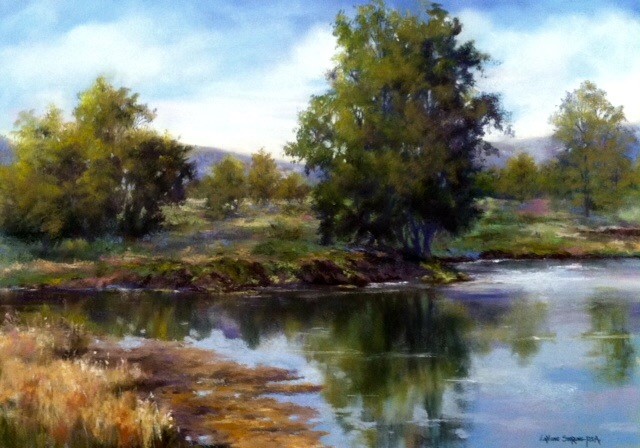 About the Artist: LaVone Sterling is an internationally recognized pastel artist who lives in Visalia, California. She is a signature member of the Sierra Pastel Society, the Pastel Society of the West Coast and the Pastel Society of America. She has been published in numerous magazines and books. The most recent publications include an 8 page demo/article in the International Artist's Magazine, titled: "The Importance of Composition and Value", and a hardbound book by North Light Books, titled: "People, The Best of Contemporary Figure and Portrait Artists". Currently her painting "Golden Glow" is on the box lid of a set of Sennilier Pastel half-sticks and is sold all over the world. LaVone paints every day. One of her favorite subjects is the river that runs behind her home, which she rafts with friends in July and is the subject of the photo shown above.

Among her many achievements, LaVone was awarded the Pastel Society of America's Pastelagram Award at the 42nd International Enduring Brilliance Exhibition in New York City and Best of Show Award at the 52nd International Exhibit, Bold Expressions in Sacramento. LaVone is a retired Community College instructor with a M.A. in art. She is married and lives with her husband and two dogs.