Description
Due to the positive response we have received from our Spiritual Workshops in Vancouver, The Spiritual Science Research Foundation is pleased to announce that we will be holding a 2-Day Spiritual Workshop to share about various aspects of Spirituality and Spiritual Practice that will enrich your spiritual journey.
This workshop is for Spiritual Seekers who are:
Interested in learning about various aspects of Spiritual Practice and gain unique tools that will facilitate faster spiritual growth

Wanting to learn how to apply spiritual remedies to overcome problems that have their root cause in the spiritual dimension

Looking for a platform to clarify their questions and receive individual guidance for their spiritual practice

Wishing to connect with a group of like-minded individuals who are desirous of making Spirituality a way of life
Program for the Workshop:


Day 1, October 21 2017
1:00 – 3:00pm | How to Overcome your Stress & Anger (Part 1)

3:00 – 3:30pm | Vegetarian snacks and refreshments will be served to attendees

3:30 – 4:30pm | Powerful Self-Healing Techniques

4:30 – 5:00pm | Questions & Answers on any topic of Spirituality


Day 2, October 22 2017
1:00 – 3:00pm | How to Overcome your Stress & Anger (Part 2)

3:00 – 3:30pm | Vegetarian snacks and refreshments will be served to attendees

3:30 – 4:15pm | Unique video presentation on spiritual research

4:15 – 5:00pm | Chanting technique to achieve calmness of mind
Below are the descriptions of the main sessions presented in this workshop:
How to overcome your Stress & Anger
Everyone wants to experience more happiness in life and to truly achieve this we need to go deeper within ourselves. How we react or respond to situations depends on the impressions within our sub-conscious mind. In this interactive session we will guide you on how to identify which impressions or personality defects are causing you stress or reactions such as anger and share with you an effective spiritual technique that will help you overcome them.
This technique called The Personality Defect Removal Process has been developed by, His Holiness Dr. Athavale, the inspiration for SSRF and the founder of the Maharshi University of Spirituality. In His earlier professional life, He was a Clinical Hypnotherapist with a strong research background in the field and has achieved international recognition. He was the author of many journals and peer reviewed articles on the subject of Personality Development and Clinical Hypnotherapy.
By combining aspects from both His background in psychiatry and from His vast knowledge of Spirituality, this technique has helped thousands of people to overcome the blocks in their lives preventing them from experiencing their true joyous nature. It has helped them to overcome debilitating personality defects such as fear, anger and insecurity allowing them to experience transformational change in their character for the better and this way improving their lives.
Powerful Self-Healing Techniques
In this interactive session we will help you to understand how the spiritual dimension affects every facet of our lives and how doing regular spiritual practice complimented with self-healing techniques will help you overcome many of the problems you are experiencing. Whether the problems are related to physical or mental health, many of them can be alleviated by spiritual healing methods and spiritual practice.
With practical demonstrations, videos, and real-life case studies, we will guide you on how to implement powerful spiritual self-healing techniques. These techniques are inexpensive and easy to apply to compliment your current spiritual practice. SSRF encourages self-healing techniques as this enables one to be independent and self-sufficient rather than dependent on others.
Chanting technique to attain calmness of mind
With our busy and demanding lifestyles, it is often difficult to maintain stability and calmness from within. Our mind is bombarded with millions of thoughts throughout the day and this can leave us feeling mentally drained by the end of it. Some of us may have tried different techniques to overcome this obstacle to attain calmness of mind, but there is one simple technique that is very effective for achieving this.
In this session we will share with you a chanting technique that will overpower the various impressions in the subconscious mind that give rise to excessive thoughts. Chanting is also the most conducive spiritual practice in today's time since it can be done anywhere and anytime without restrictions. Learn how chanting works and which chant is suited for you to attain calmness of mind as well as spiritual growth.
Registration & Ticket Options
Please click on the "Tickets" option to view the registration options. If you preregister before the event you can receive an Earlybird Discount at $50 (Regular registration is $60). For the Student discount, attendees are required to show a valid student ID on the day of the event. Your registration will help us cover the costs of hosting this event. Tickets are non-refundable but can be transferred to another SSRF event.
We will also be holding an Advanced 2-Day Spiritual Workshop on 25 & 26 November (details can be found here). If you wish to attend both our October 2-Day Workshop and November 2-Day Workshop we can offer you a special discount of attending both 2-Day workshops for $75 (each workshop is $50 at the Earlybird price). If you wish to take this offer or would like more information, please email us.
Please feel free to contact us at ssrfcanada@gmail.com if you have any questions about this workshop or the registration process.
About the presenter: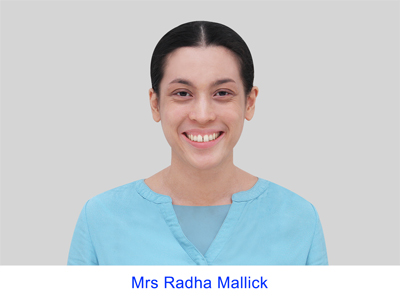 Mrs. Radha Mallick is from Vancouver, Canada and is of Chinese origin. From an early age she was very interested in learning about different cultures, their belief systems, and how each culture perceived God. She started her spiritual practice with SSRF in the year 2009 and quickly started experiencing the benefits of incorporating Spirituality in her day to day life. By profession she is an Early Childhood Educator and studied in Capilano University's ECCE Program. Since 2011, she has dedicated her life to spiritual practice. For the past year she has been living in the SSRF Spiritual Research Center and Ashram in Goa, India with her husband. After living in the ashram she was able to experience firsthand how to live Spirituality. Radha has a lot of love for others so others naturally feel close to her. Currently she is also responsible for all SSRF activities in Canada, SSRF online webinars, and is leading the SSRF promotions team.
This event is organized by:
The Spiritual Science Research Foundation
www.ssrf.org
Date and Time
Location
Refund Policy