Description
OVERVIEW
Scrum is a proven development methodology to quickly respond to vision changes. It is the defacto development methodology for software companies. Scrum is now spreading beyond IT to other fields. It's essential to adopt Scrum when everything is changing so fast.
PT Ekipa Agile Consultancy is organizing a two-day Scrum training, with optional certification through scrum.org. In this 2 day training, you will learn the basics of Scrum and involve in exercises to bring them into practice. You'll also work on improvements for your team and learn how to apply scrum in your team. You'll learn the materials you need to start your assessments for the professional scrum master certification.

During the training, groups can work in Indonesian and there is an Indonesian facilitator to bridge possible language gaps.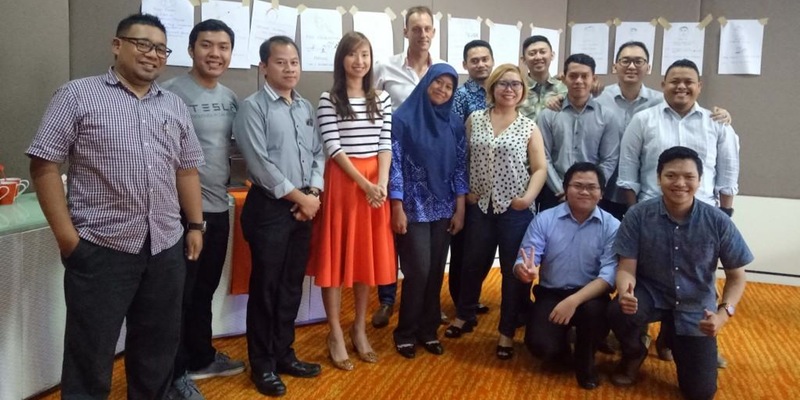 Who can benefit?
Anyone who wants to learn how to (better) apply scrum. Whether you're new to scrum or already use scrum within your team, this crash course will get your knowledge level up and provide you with a clear action plan on how to implement improvements.
Entrepreneurs, managers, project managers and programmers, remote team members, outsourcing managers, account managers.
Typical attendees in the past have been functional managers, team leads, analysts, architects, engineers, software developers, directors, testers and other roles that support product development. Also, many people in sales join our training to learn how to sell scrum to their customers. We've had companies from production, software, marketing and a variety of other fields go through our program.
Program
Day 1
Morning: scrum fundamentals
Scrum overview

The agile manifesto

Scrum versus waterfall

Scrum roles, events and artifacts

Additional concepts: estimates, velocity, burndown chart
The goal in the morning is to get everyone on the same level of knowledge about scrum. We'll start the day with an interactive scrum game in which teams create a learning backlog. This backlog is prioritized by a product owner. This will be our vehicle throughout the training. We will go through all the concepts in interactive breakouts. You'll learn from both the trainer and the other participants, share what you know and work on visuals and action plans to ingrain the learning goals.
Afternoon: practice scrum
1. Lego city simulation
We will build a city of lego using the concepts we learned in the morning. Building something with lego is a neutral way to practice scrum applicable to both software development and other fields. We will split up in teams. The product owner (the trainer) has created a prioritized product backlog. During pre-planning teams can clarify requirements and we'll use planning poker and swimlanes to make estimates. The game itself consists of 3 iterations (5 minutes planning, 7 minutes sprints and 5 minutes retrospective). The end goal is a city of lego (all teams work on the same product).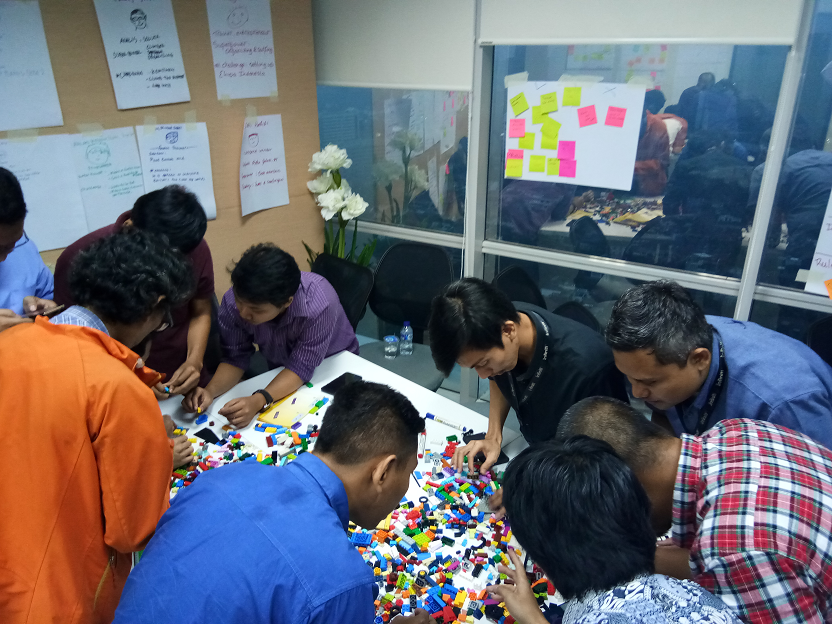 2. Retrospective day 1

We close the day with a group retrospective. People can indicate what they learned/loved/lacked/longed for, so we can make the experience even better on day 2.


Day 2
Morning: wrap up of scrum theory
1. Scrum guide presentation
We will work in teams to create a presentation about the scrum guide. Everyone gets a printout and reads the whole guide. Then within the team you discuss what you found in the guide that you
A. can apply right away in your team
B. recognized as an improvement for your team
C. didn't know before or missed out on day 1
Each team creates a visual board and presents it to the other groups.
2. Build your own scrum
In teams, we will build an overview of the scrum framework and flow. By cutting and pasting icons that are provided, each team will capture and summarize their views on scrum. Each group will present.
3. Agile manifesto and principles applied
In this exercise, we will study the agile manifesto and principles in groups. Each group will create an overview of how their company already works according to the principles and where they need improvement. Each team will also create an action plan and presentation.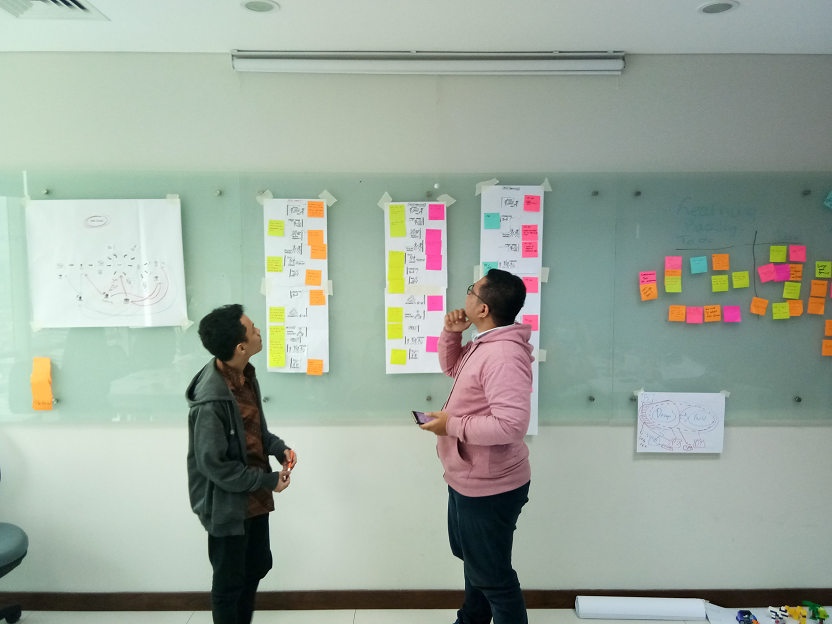 4a. Test exam
All participants will go through a test exam. Using the questions, you will deepen your knowledge, play with the materials and you also get prepared for a possible certification assessment.
4b. Case study
Those who don't want to prepare for the exam, will work in groups to find case studies (online / in the room). The groups will create a presentation and share with the others.
Afternoon: applying scrum
5. Scrum applied to your (non IT) team
We gather in teams. If you came with your full team, that's the case you will work on. If the team has members from different companies, 1 real team situation will be chosen. The teams create a visual map of how scrum will be applied to a real project. Your team discusses how each of the elements is applied within the team. You work out who gets what role, what events are planned, when and attended by whom. We also create an action plan for the implementation of this scrum setup. The goal is to have a tangible plan of implementation which can be started upon returning to office.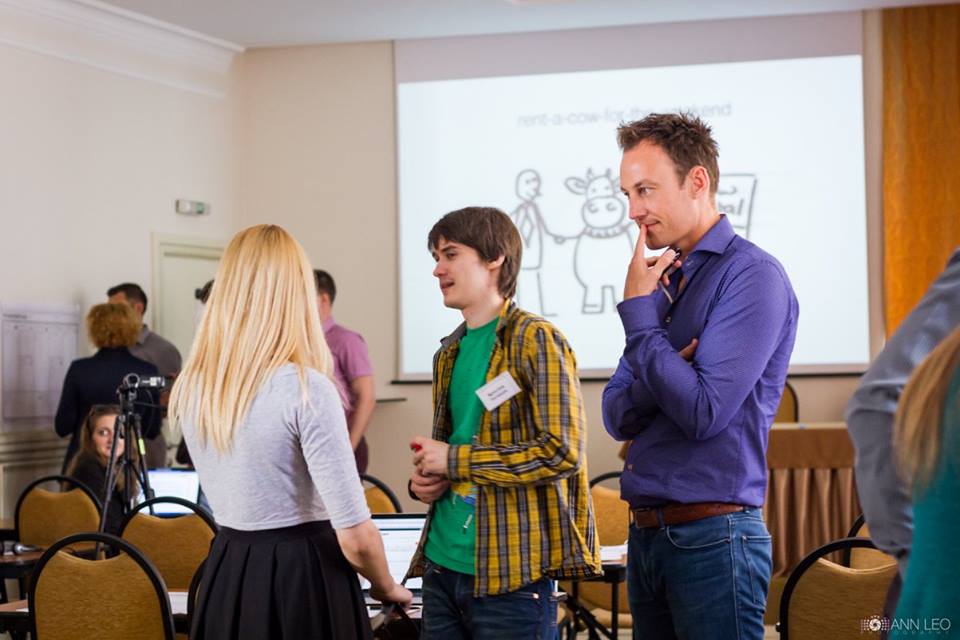 6. Learning breakout
In the last part of day 2, we break out into different teams. Each team takes some of the user stories from the learning backlog created in the morning. Teams discuss the user stories and present their conclusions to the rest of the group.
7. Retrospective
Wrap up of the training. We'll discuss any remaining issues and discuss how everyone can make actions from what they've learned.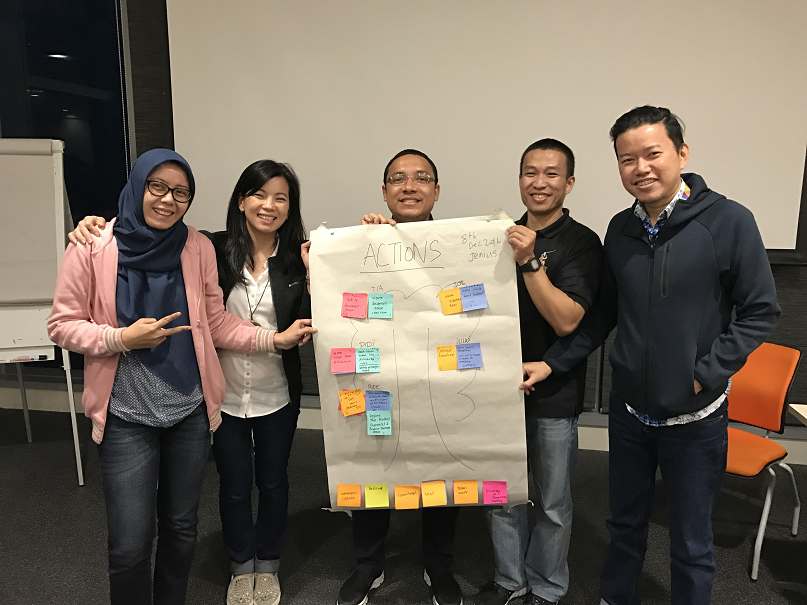 Why participate ?
Get working knowledge of the scrum methodology

Get ideas on how to improve your current scrum process

Get your lifelong Professional Scrum Master™ Certification (PSM)

Practical exercises that you bring right into practice.

Learn how to apply scrum within a remote or distributed team

Learn from other participants.

Numerous practical tips on how Scrum works and what are the pitfalls to watch out for.
This interactive workshop is full day of theory, models, exercises and lots of practical tips. Hugo believes in the power of self organization and self learning. The classroom will not be a static setup with you sitting and listening, while the trainer is showing slides. You'll work in groups to learn about scrum, to share knowledge and experiences. We will enrich the theory by doing games and exercises throughout the training.
The location and facilities
This training will take place at the training facilities of Harris hotel in Tebet:
JI. Dr. Saharjo No. 191
Tebet, Kota Jakarta Selatan,
DKI Jakarta 12960, Indonesia
http://tebet-jakarta.harrishotels.com/

For buying tickets, you can use the eventbrite checkout. If you don't have credit card or paypal, you can contact Fitri Hardiyanti to receive an invoice: fitri@ekipa.co or phone/what's app: +62 811-2142-341. Office phone: +62 0213-0022-735

The Indonesian pricing: Rp. 8 million.
About the trainer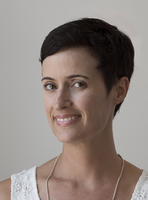 Nicola Stephens I have 20 years of experience working across multiple geographies and cultures. 13 years in a traditional waterfall project management role and 7 years running agile projects. I am a Certified Scrum Master and Professional Scrum Product Owner (although my PSPO was done through Scrum.org).
She has worked in various technologies across a number of industries such as Finance (Banking and Insurance), Retail, Petro Chemical, Shipping, Information Technology and Travel.
She has been engaged with a combination of local and multinational teams and is passionate about forming relationships at all levels of the business. These relationships have helped her sharpen her skills to facilitate effective interactions with stakeholders, management, project teams and customers.
Her career experience ranged from planning, managing and tracking end-to-end lifecycle of small, medium and large projects using Prince2 principles in her earlier stages. Managing multiple strategic project roll-outs throughout the Asia Pacific Region. More recently, and with a burning passion to see teams grow; stakeholder and team coaching to achieve sprint goals, deliver features with the greatest business value first and at the same time manage costs, risks, time and changes.
She has learnt over the years that she is a motivator; She more enjoys
seeing teams grow in maturity rather than achieving project success.
Greetings!