2-Day Recruiting Workshop: Book More Business!
Description
Recruiting Workshop: Book More Business!
How to Connect with more Candidates and Turn Prospects into Clients


---


Orders are stacking up on your desk so why would you leave your desk to go to another training session?
What if James Harden or JJ Watt just showed up for game day? How can you not take time to sharpen your saw, to recalibrate, to be inspired to raise the bar on what you can produce. Wouldn't it be amazing to see potential become a reality?
Competitive, world-class professionals dedicate specific time to honing their craft. This workshop is specifically designed for recruiters of all levels, to polish the techniques it takes to perform at industry-leading levels.
---
The course work covers what it takes today to find talent and get them to talk to you, how to get a hiring authorities attention, what it takes to truly diagnosis the need of both client and candidate, and strategies to guide each through the decision making process. In other words…what it takes to book more business!
This is the first time any trainer begins a workshop by providing insight on how you are naturally wired in recruiting and sales. You will gain a better understanding of your strengths, and how you mentally approach the sourcing and business development process. Techniques will be taught on how you can better engage those that may be wired differently.
The Everything DiSC for Sales assessment will help identify what makes you amazing in sales and recruiting, and where it can open doors to sabotage building candidate and client relationships.
Here's the Recruiting Workshop: Book More Business Curriculum
How to thaw your Cold Calls

Seven steps to guarantee success in your recruiting calls

B

uild relationships, open the door to their hearts and minds to give you a better roadmap, and leverage the call to maximize referrals

Understanding the key pulse points that drive consistency and high levels of production

The what, where and how of assignments are important, however, it's learning the WHY that drives decisions

Master the use of softening statements to set expectations on next steps

Order taker or Consultant:

Repeat business and long-lasting relationships come from being in the role of a trusted advisor. So, how do we earn it?

Prepping your candidates to kill it in interviews to give them a competitive advantage

Is your feedback process squashing your deals?
Want word tracks on how to respond to better engage both candidates and clients?
How do we climb out of the box that candidates and clients put us in by thinking "oh, you are one of those?"
Learn how the power of your unique stories is the key to standing out from the crowd
Your ability to affect action requires an enhanced power of persuasion. It's the stories you and your company have that positions you as better, different and more capable than the competition.
How to craft vivid stories that create buy-in and instant credibility
Learn a quick and easy-to-implement process
3 Biggest mistakes that destroy your persuasiveness
What if they say?...
This interactive workshop develops word tracks that build a path through obstacles prospective candidates and clients use to derail recruiters' advances. We'll tackle the big objections recruiters face every day, allowing attendees to walk away better armed to knock down doors and take control of the placement process.
So, the question you might have is "Why invest two days?"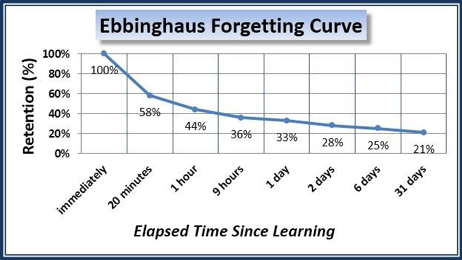 Sitting in a chair listening to a talking head is no way to develop. Athletes or dancers don't watch game film then jump into the game. You'll be asked to be involved in the discussion of the material…all sessions are highly interactive. Then you go back to your desk to put into action the steps you chart out. The second session you get to return, celebrate victories and discuss walls.
Back in the office, each morning you'll receive a link to a 5-minute message from Mike that reviews the information discussed and a daily challenge to stretch.
Live webinar for the group to reconnect is scheduled exclusively for the group in November to again celebrate and review what's working and what needs to be sharpened (remember the Ebbinghaus Curve?).
This is a novel approach to make training more than an event. If you want to finish 2019 with a punch and begin to build momentum for 2020, don't miss this rare opportunity to sharpen your skills to move to the head of the class.
Special bonus:
Free lunch, Free parking, and a special bonus: Mike's wife Tommie's special homemade cookies (worth the price of admission!)
One-on-one coaching call with Mike
The 2-day workshop, webinars and coaching session would normally be $695 per person. As a special HAAPC offering, the price has been reduced for only $275 for HAAPC members and $375 for non-members.
To receive the discount, you must sign up by October 10th AND use the code HAAPC19. If you have any questions or more than 2 people attending from your firm, call Mike for a group rate.
"Here's my promise…you'll walk away sharpening your skill, looking at our industry with a new perspective, be inspired to reach higher, and have a blast throughout the process." -- Mike Lejeune