2 day Public Speaking and Presenting Masterclass with Shereen Mitwalli
Description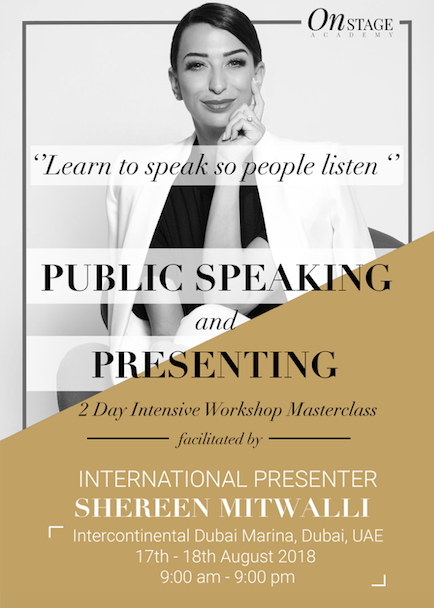 Do you ever experience stage fright?
Are sweaty palms, nausea or a racing heartbeat common before a presentation?
Do you get anxiety while interacting with an audience?
Do you struggle with structuring your presentation?
How many opportunities have you lost in the past because your fear of public speaking got in the way?
Do you struggle in making an impact?
Is your earning potential limited because you cannot communicate effectively?
ARE YOU STRUGGLING TO BE HEARD?
According to Forbes, the top communication skill that is recognized in a work place is public speaking. It is a skill, which enhances your professional value by a remarkable 50%!
"Your words can make you rich" – Dr. Donald Moine
Did you know speech anxiety is one of the world's most common fears? 3 out of every 4 people suffer from this condition and have troubles in public speaking or presenting to an audience.
Some of the most iconic leaders such as Winston Churchill, Abraham Lincoln, Rupert Murdoch and Warren Buffet had once been nervous speakers. Celebrities such as Adele, Rihanna and Julia Roberts also, have openly confessed to be suffering from stage fright.
"All the great speakers were bad speakers at first." – Ralph Waldo Emerson
Onstage Academy has specifically designed a 2-day intensive master class to help conquer your fear of public speaking and to assist you in becoming a more effective communicator.
Self-belief is an integral part of public speaking. Through the 2 days we work extensively on building your confidence with over 20 hands-on exercises.
About the Course
We will teach you the tips and tricks of public speaking and presenting to turn you into refined speakers. On completing the master class you will be able to communicate effectively with tremendous conviction and poise.
Since we work with a small focus group, you are guaranteed to have dedicated personal attention, assessments and feedback along with ample practical experience and guidance to transform you into a confident communicator.
The master class gives you real life presenting experiences. We start with teaching you the vital techniques and later progress quickly into actually delivering talks! Yes, you will be on your feet and successfully presenting in no time.
"There are always three speeches, for every one you actually gave. The one you practiced, the one you gave, and the one you wish you gave." –Dale Carnegie
What you will learn?
How to build confidence
How to eliminate stage fright
How to build content
How to improve your first impression
How to improve your delivery
How to story tell
How to use visual aid seamlessly
How to influence your audience
How to improve audience engagement
How to inspire, educate and entertain
Why public speaking and presenting skills are a key ingredient for success?
Builds self confidence
Develops your personality
Strengthens leadership skills
Makes you an effective communicator
Makes you socially comfortable
Ability to persuade and influence an audience
Increases income potential
Lets you leave a lasting impression
Who should attend?
CEO's, Directors and Managers
Professionals from all sectors
Academics
Students
Anyone who wishes to elimiate stage fright
Anyone who wishes to work on building confidence and develop personality
Aspiring Public Speakers and Presenters
Learn From the Expert Shereen Mitwalli
"You can succeed in anything if you know how to effectively communicate" - Shereen Mitwalli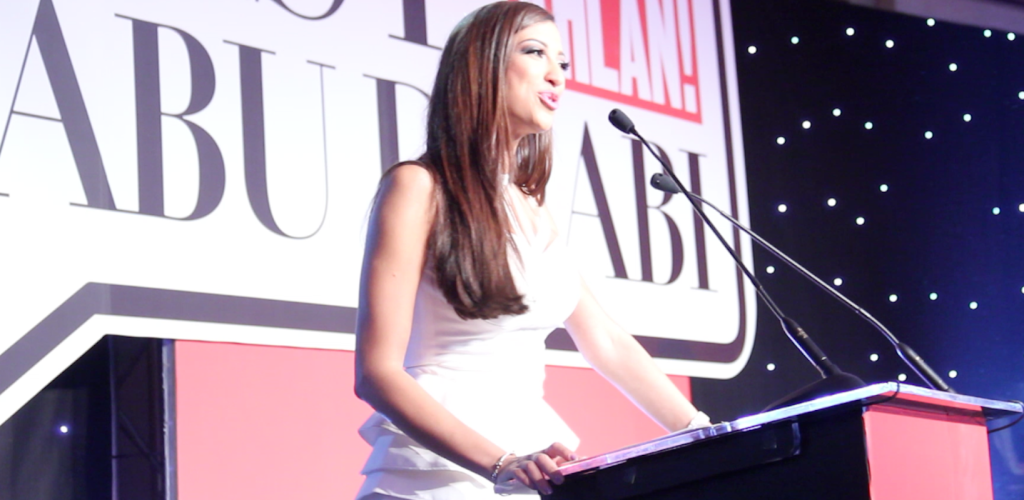 Shereen Mitwalli is one of GCC's most successful celebrity presenter and entrepreneurs. Formally trained in TV & Live Presenting from 'The Sydney Academy Film & Television' in Australia and the prestigious 'New York Film Academy' in Los Angeles – Shereen has worked with some of world's greatest public speaking coaches. Shereen is also a certified NLP practioner and success coach and is formally qualified to work on cases such as severe anxiety and phobias.
Her expertise, professionalism, and charismatic personality are only a few of the traits that have made her the first choice in the UAE & Middle East and has been able to present in front over one million people with her public speaking and presentation skills.
International brands such as Rolls Royce, Ferrari, Samsung, Harpers Bazaar, PWc have made Shereen their preferred choice for various engagements from speaking on stage for brand representation.
Established names such as Nicolas Cage, Antonio Banderas, Liam Neeson, Gerard Butler, Sir Richard Branson, Guiliana Rancic, Nicole Richie, Fabio Cannavaro, Garry Marshall, Maisie Williams, Zendaya and not to mention business leaders and several members of the Emirati Royal Family have all been interviewed by Shereen on and off camera, adding to her reputation of versatility and professionalism in dealing with different personalities.
"I have spent 3 years working on the course outline to ensure every single student leaves a more confident speaker" - Shereen Mitwalli
---
Testimonials:
I have learned so much throughout the two days. I enjoyed the NLP module and would love to study it ahead on a more advanced level. However my favorite exercises were the ones that focused on eliminating my limiting beliefs and helped me push my self towards achieving my goals. Nothing seems impossible now!
Komal Chhatwani – Talent Manager
Throughout the class we were made to come up on stage and present several times. This kept us on our toes. Shereen's positivity and passion for the subject was infectious and charged us up completely. One key lesson I have learned is that all types of speaking is public speaking and that I should treat it like a conversation.
Madonna Kobayssi - Technology, Media and Telecommunications lawyer

I was very impressed by the improvisation techniques taught to us at the master class. We learned how to use visual aids correctly. This is something I would not have expected at a public speaking class but I was pleasantly surprised. The emphasis on introducing and ending a speech correctly is a lesson I am going to keep with me always. I cannot wait to go ahead and apply the skills I have learned as am sure it is going to prove to be life changing.
Alanoud A. Madhi -Associate at Crown Prince Court
Being a training manager I have had several opportunities to come on stage and speak but the course at Onstage Academy was very detailed and informative. I enjoyed learning the techniques of handling a large audience, as this is quite relevant to my profession. I was very impressed by the expertise and knowledge of the facilitator on the subject.
Dr. Manar Shami – Training Manager
---
All students attending the master class will be presented with a certificate of completion. Lunch and refreshements provided. Limited seats available.
---
For all questions relating Onstage Academy Courses, please contact;
Lavina/ Program Co-ordinator
Email: bookings@onstage.ae
Office: +971 4452 3343
Payment via cash, bank transfer and cheque accepted. Please cordinate with the Onstage International office by calling +971 4452 3343.