Event Information
Location
Riverside Corona Resource Conservation District
Building F
4500 Glenwood Drive
Riverside, CA 92501
Refund Policy
Refunds up to 7 days before event
Description
Online Ticket Sales for the 2-day Curtis Stone Workshop Ends Wednesday, April 4, 2018 at 11:59 PM.
Limited tickets will be sold at the door on Thursday, April 5, 2018.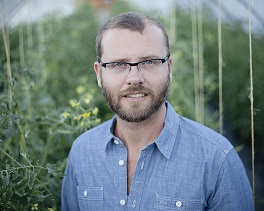 Join Curtis Stone, author of The Urban Farmer, for a 2-day intensive workshop at the 5th Annual GrowRIVERSIDE Conference.
About Curtis Stone:
Curtis Stone is a farmer, author, speaker and consultant with expertise in high value, quick-growing annual specialty crops for direct consumer market streams. His book, The Urban Farmer, demonstrates organic intensive techniques with a focus on business and growing systems to streamline labor and production. Stone offers a new way to think about urban farming where quality of life and profitability coexist. Curtis' farm, Green City Acres located in Kelowna, BC, Canada, generates $100,000 per year on one-quarter acre utilizing a mix of specialty crops and intercropping strategies; Green City Acres is internationally recognized as a flagship urban agricultural model demonstrating profitability and productivity.
---
About Workshop:
Is it possible to make a good living on less than an acre of land? Learn how you can farm on half an acre of land and make up to $50,000 to a $100,000 per year. Curtis Stone is the owner/operator of Green City Acres, a commercial urban farm in Kelowna, BC. Since 2010, he has been successfully farming on multiple urban lots in the city's downtown, and will demonstrate to you, that you can farm on very small plots of land without the debt burden of a mortgage or the high capital expenses of the usual infrastructure that most farms need.
In the 2-day Profitable Urban Farming Workshop, participants will learn about strategic production techniques that focus on high value crops with short growth cycles as well as specialized and niche market streams such as restaurants, and cooperative CSA's. Participants will also learn how to use modern technology to better manage your business that will save you time and money! Curtis wants to show you how you can shave off two to three years of the mistakes he made, and get you off to a strong start now, making a great living doing something you love!
This two-day workshop runs from 8:00 a.m. to 5:00 p.m. each day. There are two 15 minute breaks at 10:15 a.m. and 3:00 p.m., and an hour locally inspired lunch break at 12:30 p.m.
Topics Covered
A farm in the city
Why urban farming

A quick breakdown of economics

An urban farmers place in the community
A viable business on a half-acre or less
The zones of the farm and your life

Crops better suited for the city

An urban farmers place in the community
The business of urban farming
Starting small

Market streams

Working with chef's

Labor

Crunching numbers

Self-promotion

Community connection

Finance options
Finding the right sites
The urban advantage

Scouting for land

The suburbs

Multi-locational

Single site

Urban soil & Fertility
Building your farm, one site at a time
Your first site

Satellite farms

Converting a lawn

Layout

The perimeter

Irrigation
Infrastructure and equipment
Base of operations

Tools

Market gear

Nursery

Inexpensive season extension

Transportation
Operations
The 40 hour farm week (work flow)

Structuring the week

Processing

Bed turn over

Urban pests
Production systems
A standardized bed

Extending your season

Planting

Harvesting

Micro greens
Crop planning
Determining outcomes

The base plan

Quick succession planting

The flexible farm plan

Interplanting

Record keeping
Crop profiles
Crops for the urban farm (review)

Q&A and review
Ticket holder voluntarily assumes that their email will be used to receive emails pertaining to GrowRIVERSIDE. We are committed to keeping your e-mail address confidential. We do not sell, rent, or lease our subscription lists to third parties, and we will not provide your personal information to any third party individual, another government agency, or company at any time unless compelled to do so by law.
Date and Time
Location
Riverside Corona Resource Conservation District
Building F
4500 Glenwood Drive
Riverside, CA 92501
Refund Policy
Refunds up to 7 days before event