About this Event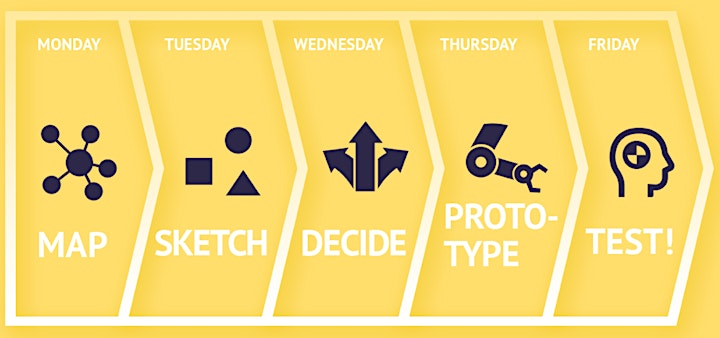 1. About the Bootcamp
Created at Google, a Design Sprint is a five-day (sometimes 4-day) process for quickly answering big business questions and testing new ideas with real customers. It compresses months of work into a single week.
The method is based on Design Thinking. Today tons of teams around the globe us Sprints to create innovative solutions for big problems.
In this Bootcamp you'll experience how Design Sprints work. We'll work together on a Sprint Challenge und we'll run you through different exercises of the Sprint process. It'll be a good mix of theory and hands-on practice. You won't get bored.
2. Who is this training for?
It's for professionals who want to learn how Design Sprints work and how to apply them.
For teams who want use Design Sprints in their companies.
For future Design Sprint Facilitators. (Please note that we offer an additional Masterclass that is specifically designed to learn the role of the Sprint Facilitator.)
And for people with the following titles/roles:
Innovation Manager
Project or Product Manager
Teamlead
Future Design Sprint Facilitator
Startup Founder or Employee
UX, XD, CX Designer
Creative
Developer
Engineer
Marketeer
Strategy Expert
Business Development
Agile Coach
Scrum Master
3. What you get out of it
By the end of the 2-day training, you'll
Know what Design Sprints are, how they work and how to apply them in a business context.
Be empowered to run your first Design Sprint.
Have experienced the benefits of Design Sprint.
Know tons of agile hacks and are able to use them.
Understand how to conduct ideation.
Know the best practices to plan a Design Sprint.
Heard from the biggest fuckups we experienced.
Have tasted the power of fast decision-making.
Know how to work customer-centric and conduct effective user-interviews.
4. Additional offer: Design Sprint Facilitator Masterclass | Advanced Workshop
In addition to our Bootcamp we also offer a 2.5-Day Design Sprint Facilitator Masterclass. This training is specifically tailored to people who already have a good basic knowledge of Design Sprints and who want to train the role of the Facilitator in detail.
The Facilitator Masterclass takes place directly after the Bootcamp. You can book the two trainings individually or together. They are perfectly matched. If you want to come to both trainings then use the Combo-Ticket and save 25% of the total costs. Find out more about the Masterclass here.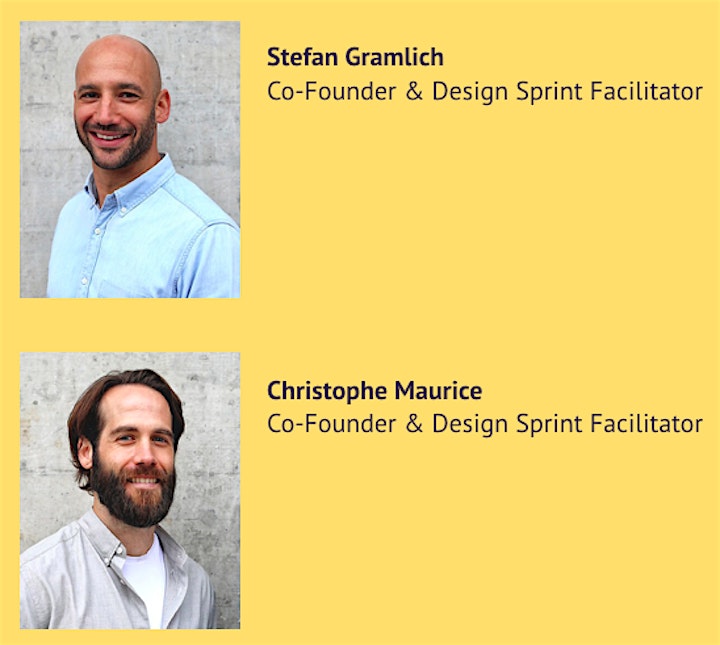 5. Who is coaching you?
We are RUN A DESIGN SPRINT. We are based in Berlin and run Design Sprints everywhere. We are specialized in Design Sprints and do nothing else.
Your Bootcamp will be lead by our co-founders Christophe Maurice and Stefan Gramlich. They will share their experiences and Insights. Other senior members from our team will be present to exchange knowledge and support you throughout the 2 days.
6. Where in Berlin does the Bootcamp take place?
We believe that good ideas need a good environment. For our Bootcamp we always pick nice inspiring locations. This can be, for example, a rooftop-loft with the view over Berlin or a creative workspace on the border of the river Spree. We'll let you know 5 weeks bevor the training starts where we'll be this time. Let yourself be surprised!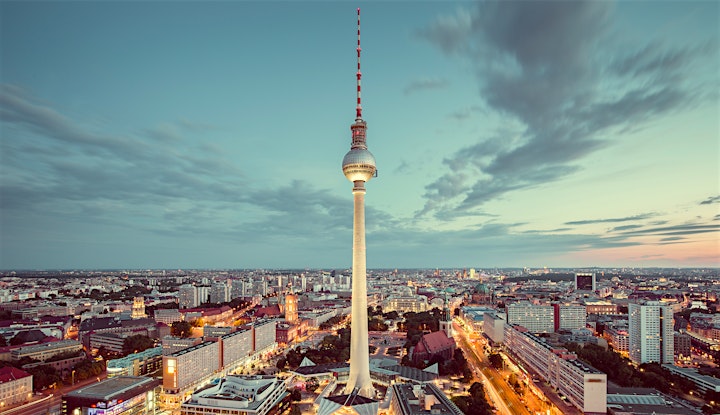 7. Good food matters!
Food for thought. We'll have a lot fun during the 2 days of the Bootcamp but it will also be intense work. We'll make sure you have enough energy and feel comfortable. We'll provide yummy snacks, tasty coffee and healthy drinks. There will be lunch so you don't need to bring anything. A special highlight is our RADS Dinner on the first evening of the Bootcamp where we invite everyone to enjoy a some good food and socialize.
You have special culinary preferences or allergies? No worries, we'll take care of you. Bevore the training starts we'll be in touch to check with you to check what you need. No one will stay hungy.
8. FAQs
How many people will attend the Bootcamp?
Max. 21 peopel, as we want to have time to focus on each one of you.
Where does the training take place?
In Berlin. In a very nice location. We'll inform you 5 weeks (at the latest) where we'll go this time. It will be cool.
Is this Bootcamp conducted in English?
Yes, it is. If you prefer German, we offer the same Bootcamp one week before in Berlin in German. Check it out here.
Do I need to bring anything?
Not really. Bring good vibes and bring your smartphone. At one point you'll need it to do some research on the web. Everything else, we'll provide.
Can I transfer my ticket to someone else?
Yes, you can. No problem at all.
I don't have any Design Sprint experience, can I still come?
Of course. No prior knowledge is needed. At the end of the Bootcamp you'll know how Sprints work.
Bootcamp vs. Facilitator Masterclass, what's the difference?
In the Bootcamp you learn how a Design Sprint works. Focus is on the process, the excercies and overall experience of the Sprint. You don't need any prior knowledge to attend it.
The Masterclass however, is specifically designed for people who want to learn and train the role of the Sprint Facilitator. You'll need some prior knowledge of the Design Sprint process to attend as we won't go through the entire process like in the Bootcamp. Instead, we'll focus on running Sprints from the moderator perspective.
Bootcamp and Facilitator Masterclass take place in the same week one after the other. You can come only to one of the two trainings or join both. They are perfectly matched. If you come to both, you'll get a 25% discount with our Combo-Ticket. If you are unsure which training is better suited for you then contact us via training@runadesignsprint.com. We'll help you.
Will I have the chance to ask individual questions and discuss topics with the coaches?
Of course. This exchange of opinions is very important to us. There will be group talks, and room for one-on-ones.
I will be traveling to Berlin, can you help me find a place to stay?
Sure thing. Berlin is our town. Just drop us a line via training@runadesignsprint.com We'll hook you up.
Will I receive a certificate at the end of the Bootcamp?
Yes, you'll receive the RUN A DESIGN SPRINT Bootcamp certificate.
You have more questions?
Contact us via training@runadesignsprint.com