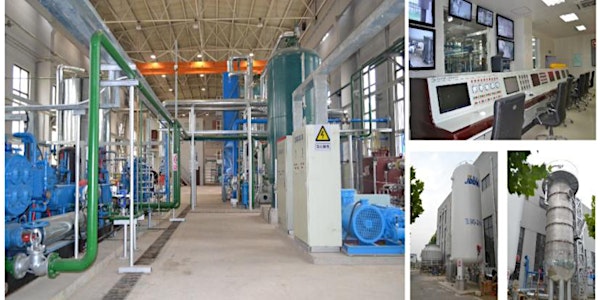 2-day Advanced Management of Compressed Air Training- Fayetteville, AR
Location
University of Arkansas Engineering Research Center
AT&T Conference Room
700 W Research Center Blvd
Fayetteville, AR 72701
Refund policy
Refunds up to 7 days before event
Two-day training designed to provide in-depth technical information for troubleshooting and making improvements to compressed air systems.
About this event
This is an intensive two-day training which provides in-depth technical information for troubleshooting and making improvements to industrial compressed air systems. Two instructors will be present to provide detailed, hands-on classroom instruction and individual assistance.
This advanced training session dives into compressed air system profiles, explores the math and theory behind systems design, identifies the various types of system controls while explaining how to balance compressed air supply and demand.
Many end-users who implement compressed air system efficiency measures also experience significant non-energy benefits. Over 75% of end-users who implemented system efficiency measures have reported experiencing benefits such as: reduced downtime, reduced moisture and contamination in the system air, more consistent system pressure, and restored delivery of adequate pressure to all system components.
This in person training event has been confirmed. Registration extended to Sunday, October 10, 2021.
Attendance may be limited due to COVID-19; social distancing and sanitary precautions will be followed within the classroom to provide a safe training environment for instructors and attendees.
This class is sponsored by Energy Efficiency Arkansas and is subsidized for Arkansas residents. 
Participants will Learn to:  
Develop and use a system profile;
Collect and use data and tools to assess the efficiency and cost- effectiveness of a compressed air system;
Implement a system maintenance program;
Address air quality, highest pressure requirements and high- volume intermittent applications;
Understand complex control system strategies;
Align the supply side to demand side operation;
Explain the value of heat recovery; and
Successfully sell compressed air improvement projects to management.
Who Should Participate?
This training has been developed for end users, maintenance and operations staff, plant managers, engineers, distributors, manufacturers, vendors or consultants.
*Attendees earn credit for fourteen (14) hours of attendance for this training*
The Compressed Air Challenge is a Department of Energy recommended, voluntary collaboration of industrial users; manufacturers, distributors and their associations; facility operating personnel and their associations; energy efficiency organizations, and utilities. The mission of the Compressed Air Challenge is to provide resources that educate industry about optimizing their compressed air systems and thereby increasing net profits.
About the Instructor(s):  
Mr. Frank Moskowitz has an extensive background with over 30 years experience in plant engineering. He has a degree in mechanical engineering and education, including the refrigeration, electrical, plumbing trades. For the past 20 years, Frank has been an associate of Draw Professional Services primarily in the auditing, consulting, training and system design fields. His specialty consists of Compressed Air Systems (oil flooded and oil free), Vacuum Systems, Contaminate Removal, System Design and Energy Management. Frank is a compressed air challenge instructor for the Fundamentals and Advanced level of training, an AIRMaster+ instructor and a Department of Energy (energy savings) expert on compressed air systems. Frank is also Vice-Chair for ASME Standard EA-4-2010 "Energy Assessment for Compressed Air Systems"; and is a member of International Standards Organization (ISO) technical committee for Air Compressors and compressed air systems energy management; TC118/SC6/WG4.
Mr. Eric Bessey, PE is a licensed professional mechanical engineer and compressed air systems specialist with over 20 years of experience. Eric has performed over 100 compressed air system assessments and has extensive knowledge with low and medium voltage reciprocating, rotary screw, and centrifugal compressor types as well as supporting treatment equipment. He is also largely responsible for the development of AIRMaster+, a nationally recognized software program used to model existing and improved compressed air systems. He is a certified USDOE AIRMaster+ Specialist as well as a certified instructor for the Compressed Air Challenge and AIRMaster+. On a daily basis at TTed Solutions, he is responsible for leading assessments, developing control system proposals, managing installation of master control systems, and providing training and technical support.
Lunch will be provided each day and out of state attendees are welcome to register for this training at the full cost of $479.00.