Description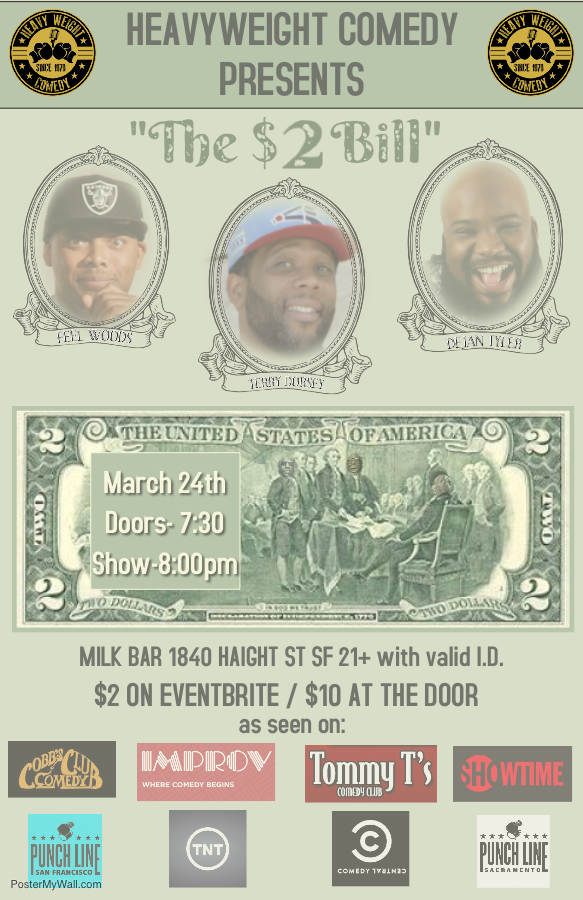 "The $2 BILL" Is a comedy show that features the funniest comics in the bay for the low low price of $2.00. The talent that you will se on this showcase haqs been featured on every major comedy stage in Northern California including: IMPROV San Jose, Cobb's Comedy Club, Punchline SF, Punchline SAC, Tommy T's, Rooster T Feathers and more. This clubs are not the only place you may have caught this lineup: Comedy Centrals "Collosal Cluster Fest" as well as Jamie Foxx's "Laffapooloza" and "The World Series of Comedy." Add to all of that the multipe T.V. streaming and movie apperances and you know that the price of admission is more of a tip than an actually ticket fee!
This is a rare comedy show that has just 3 comicsgiving you there feature lenght sets. All of these comics have feat for various comedy greats over the years including: Gilbert Godfrey, Hannibal Buress, Godfrey, DeRay David, Deon Cole and the list goes on! Come and find out why some of the best in the business choose these guys and why you should catch them now before they are at your local club for waaaay more than just $2.00!
Seating is limited so please arrive early as it is first come first serve. This is a 21+ event, valid ID required. NO DRINK MIN but comedy is best enjoyd with friends and a few drinks. Please contact terrygdorsy@gmail.com for any reservations, larger groups or special requests.