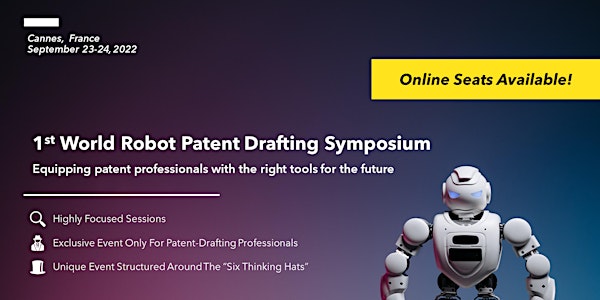 1st World Robot Patent Drafting Symposium
The World Robot Patent Drafting Symposium is one of the most focused and exclusive events in the IP industry.
When and where
Location
Hotel Barrière Le Majestic Cannes 10 Boulevard de la Croisette 06400 Cannes France
About this event
At the 1st World Robot Patent Drafting Symposium, you will be meeting a group of delegates that are united in one strong quest – minimizing human input in drafting patent applications while maximizing the value that humans can contribute to drafting these patent applications.
You will be amidst a group of Early Adopters that are eager to cut down their learning curve and to reduce the time that it takes to adopt this new technology in their own patent practice.
Why Join Us:
Focused Sessions
Automated Patent Drafting - We will only discuss this. Nothing else. No trademarks. No designs. No copyright. No litigation. Only Robot Patent Drafting.
Exclusivity
We hold a meeting for a group of privileged people with one common interest: disrupting the patents industry with automated drafting of patent applications.
Making Hybrid Work
This will be a very different hybrid experience. Whether you attend virtually over video or in person, on-site, you have the same experience as an attendee. We have tweaked a video conferencing system to make that possible.
Unique Event
We have a one-of-a-kind event structured around Dr. Edward de Bono's "Six Thinking Hats". We have separate talks and discussions for facts, worries, fears, and visions. So you will not get confused.
White Paper
We will not record the talks and nothing that has been spoken will see the light of the day. We will compile a Symposium White Paper, but that's it.
Added Values
We don't just produce hot steam. Your conference tickets include vouchers for using actual online patent drafting robots that are used in the field. So you can try out yourself what you have seen.
FAQs
Why Attend the Conference On-Site in Cannes?
Cannes is a very nice place, so it is not a punishment at all to go there.
Being there on-site in Cannes comes with a lot of advantages. You can meet the manufacturers of the currently available patent drafting robots at the conference in Cannes.
The on-site seat in Cannes also comes with a pre-dinner upgrade option that is only available to 20 paying on-site members on a first-come-first-serve basis.
You only speak with LegalTech people who spend the time and money for coming to Cannes. This is the time for forging alliances in the area of robot patent drafting.
The big advantage of this conference is that you are meeting only pre-qualified people who don't reject but agree that robot patent drafting is the future.
After our conference, I can introduce you to the FICPI people who have their World Congress 2022 in Cannes, right after our Robot Patent Drafting Event. I can even sneak you into this conference as an official day-time only attendant, although the FICPI World Congress is sold out already.
The on-site seat comes with an additional online seat that you can give to someone else while you are attending the meeting in person.
Of course, you need to come to Cannes, in person, if you want to enjoy all the above benefits.
What is the difference between onsite and online Pass?
On-site Pass: Not only do you get 2 days on-site access to the limited seat event, but you also get an additional online seat that your colleague can use. Additionally, you get access to the exclusive Backstage Sponsor's Dinner.
Online Only Pass: You can access the two-day event online through the online meeting platform.