Description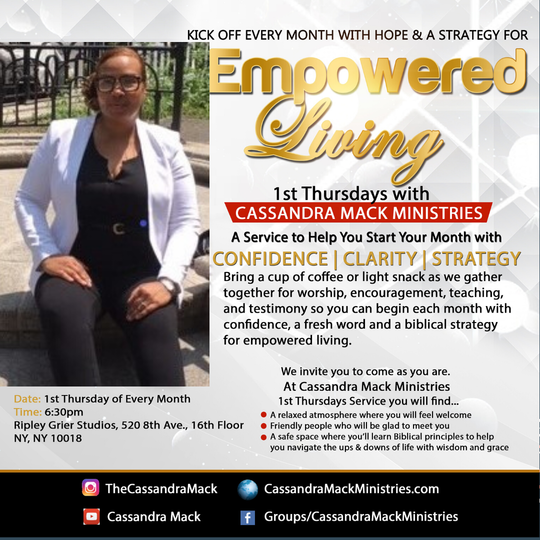 Kick Off Every Month with Hope & A Kingdom-centered Strategy For Empowered Living @ 1st Thursdays with Cassandra Mack Ministries
A Service to Help You Start Your Month with Confidence, Clarity & Strategy
Bring a cup of coffee or light snack as we gather together for worship, encouragement, teaching, and testimony so you can begin each month with confidence, a fresh word and a biblical strategy for empowered living.
We invite you to come as you are. At Cassandra Mack Ministries 1st Thursdays Service you will find...
1. A relaxed atmosphere where you will feel welcome
2. Friendly people who will be glad to meet you
3. A safe space where you'll learn Biblical principles to help you navigate the ups & downs of life with wisdom and grace
Our 1st Thursdays Service Features:
1.) An inspiring and practical message by Cassandra Mack
2.) A post-it note prayer wall where you can write your prayer request on a post-it note and post your prayer requests
3.) A short networking activity so that you can have an opportunity to fellowship and meet new friends.
Cassandra Mack Ministries, is a non-denominational Christian ministry where we believe that God's grace is available to all people, no matter who you are, where you come from, what you look like, or what you've done.
At Cassandra Mack Ministries, we believe that living a life inspired by God's grace inspires us as people of faith to offer help, hope, and healing through the Gospel to those who are hurting, hopeless, lost or simply looking for greater meaning in their lives. Further
, we see the church in a much broader way — not limited to a physical building, but as a conduit of hope, help and healing that compels people of faith to live out their faith
as a 365-day active experience rather than a weekly event that we attend. It's about taking the message of the Gospel and bringing it to the world around us in ways that: inspire hope, pay it forward, meet tangible needs and by participating in kingdom-centered initiatives that spark personal, community and global transformation.
For many people of faith, there's often a disconnect between what we learn in the Bible and how to practically apply this life-changing insight and revelation to our lives today. At Cassandra Mack Ministries, Cassandra Mack's goal is to help individuals bridge the gap between biblical learning and practical application through her Spirit-led innovative teaching style and her Kingdom-centered empowerment strategies.
The reality of life is, each of us is doing the best that we can to figure out how to navigate this life and do it with success and grace. And as we journey towards solutions to the things that challenge us, frustrate us, push us to grow and test our resolve; we need strategies that are timeless, practical and relevant. That's where Cassandra Mack Ministries comes in. Cassandra Mack's goal here is to inspire and equip you with Kingdom-based empowerment strategies to maximize your life, unlock the kingdom within and shed the things that prevent you from having life abundantly.
Can you imagine living your entire life never fulfilling your purpose, dreams, hopes, or desires? Well, your life doesn't have to be one of quiet desperation or constant frustration because we're here to help.
Cassandra Mack Ministries is a bible-based teaching ministry that was created to provide people who want more from their lives with timeless tools and empowering resources to do these 5 things:
1.) Unlock potential
2.) Seize their success
3.) Focus on purpose
4.) Shut the door on excess stress
5.) Navigate their lives with grace

Why Cassandra Mack Ministries?
Although we believe that connecting with the right bible-based local church is paramount to one's spiritual growth. There are so many people who may not necessarily go to a church building or have a church home nearby; but who still want to grow in their faith, develop biblical strategies for success and self-mastery, maintain healthy well-being and live their lives from a place of grace, purpose and resilience.

What makes Cassandra Mack Ministries, your place to receive Kingdom strategies for empowered living, tools for restoration and breakthrough success is simply this: Our tips, tools and teachings are in alignment with the Bible and this enables you to fully self-actualize and achieve whole-life success. Because in order to maximize our lives, we must consult the Good Book which has the blueprint for our success. We accomplish our Kingdom purpose through our: weekly Church By Phone Service, various prayer & teaching calls, inspiring videos, teaching resources as well as consulting, coaching, and live events primarily led by Cassandra Mack.
About Your Host & Speaker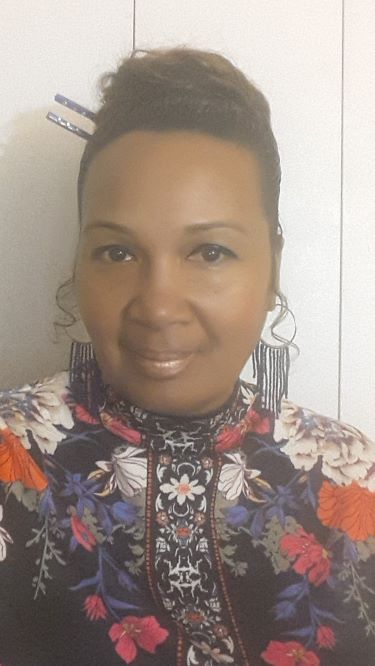 Cassandra Mack, is a life coach, corporate trainer and Minister of the Gospel, with a mission to help people heal their lives, accelerate their path to success and embrace their greatness.
She has written more than 15 highly successful personal-growth books that are widely utilized in the health and human services, youth organizations as well as the faith-based community.
Cassandra Mack is the founder of Cassandra Mack Ministries a non-denominational Christian ministry that utilizes social media, special events and a weekly CHURCH BY PHONE SERVICE called The Sunday Morning Hour of Power to help people develop Bible-based tools for living, loving and overcoming. For more information go to: www.CassandraMackMinistries.com
Cassandra Mack, is also the owner of Strategies for Empowered Living Inc., a training/consulting/coaching company established in 2000 in New York City that offers workshops, consultation services and publications designed to help individuals and organizations maximize success, build capacity and eliminate the roadblocks that undermine their vision. For more information go to: www.strategiesforempoweredliving.com.
ADVANCED REGISTRATION IS REQUIRED.
***********Due to limited seating and the room occupancy policies of the Event's Venue, if you do not have your Eventbrite ticket with you upon arrival, we may not be able to accomodate you.
Conduct
We expect all attendees to behave in a respetful manner. We reserve the right to ask an attendee to leave the event if their behavior is disrespectful to attendees or the speaker.
This Event Will Be Videotaped
This event will be videotaped and used for promotional purposes in appropriate publications eg newsletters, brochures, website and social media. Photos will also be taken during the course of the event. Participation in this event confirms your acceptance of images and video recording to be taken for this purpose.
Join Cassandra Mack Ministries ...Live By Phone Every Sunday for CHURCH BY PHONE