Location
Bright Building
Manchester Science Park, Pencroft Way
Manchester
M15 6GZ
United Kingdom
Description
First Local Transport Ideathon Manchester 2019
Transport for Greater Manchester is partnering with the International Association of Public Transport (UITP), as part of the EU-funded IMOVE research project to tackle tough urban mobility challenges. Are you a developer, innovator or entrepreneur? An expert in business development, Internet of Things technology, or public transport systems? We need you! Join us for a weekend of innovation and collaboration, working with industry experts to help shape the future of mobility and bring about the social and environmental potential of Mobility as a Service.

With crash courses in running a start-up and workshops with leaders in technology and sustainable transport, your idea could make its way to the 63rd UITP Global Public Transport Summit in Stockholm later this year, one of the biggest sustainable transport events in the world!
Prizes include an expenses-paid trip to the Global Transport Hackathon in Stockholm, £25 of Uber credits for each member of the winning team, a £1200 introduction to coding course from Code Nation, two pairs of See.Sense. bike lights worth £79.99, 5x £20 high street gift cards, x4 bluetooth speakers, x6 colour changing cat or whale lamps, and x4 GridIt device organisers!


Is the future of travel booking via voice assistants like Amazon Alexa and Google Home? Or a Facebook Chat concierge creating a journey tailored to your every need? Or could it be a simple journey app that helps you discover new and exciting parts of your city? Sign up now to make your ideas a reality.
http://www.y4pt.org/projects/hackathon/seasons/s3/local/manchester/
FREE TO ATTEND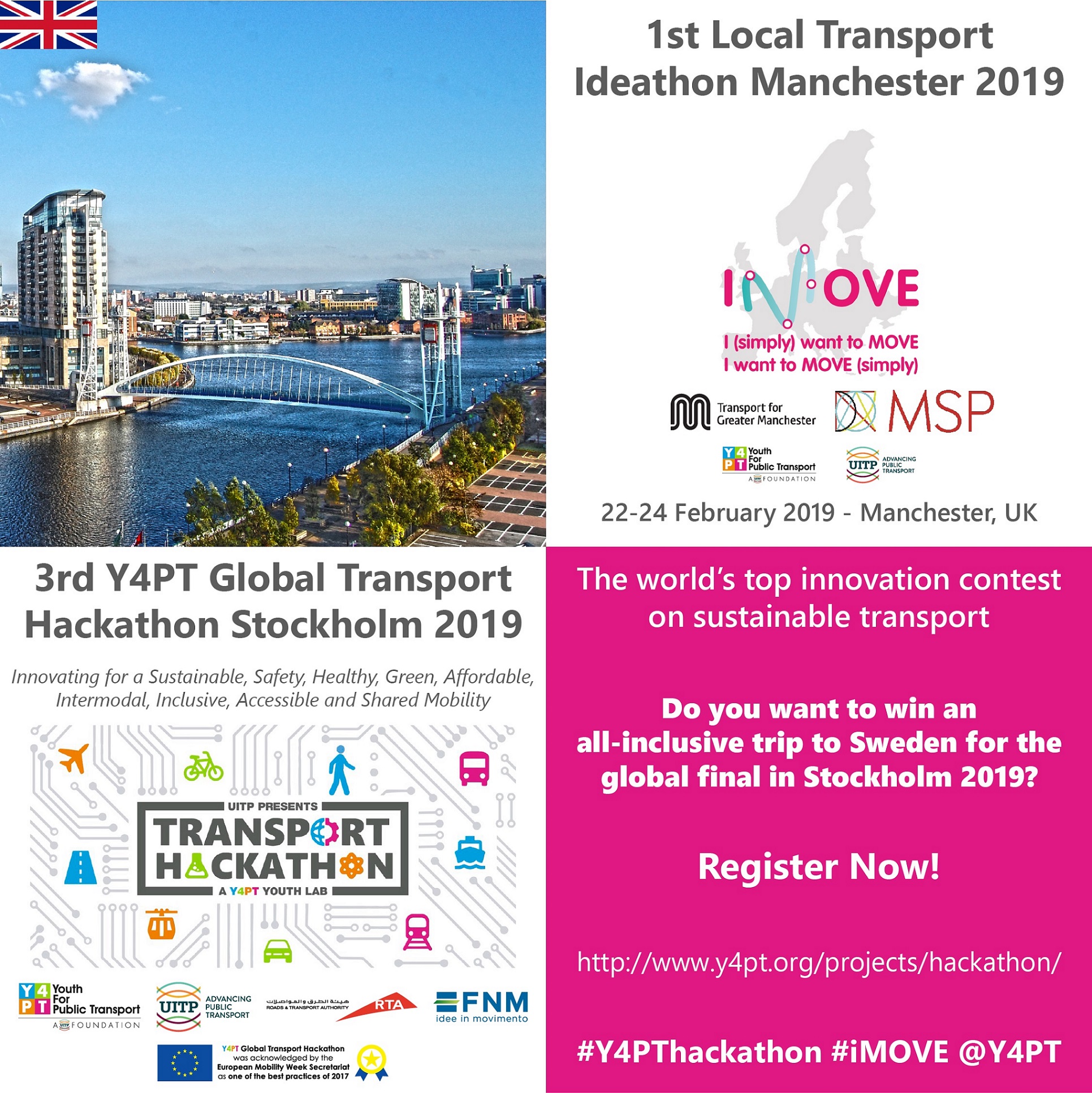 Friday 22nd February:
18:00 - 22:00 – Challenge kick-off and networking
Saturday 23rd February
09:00 - 09:30 Breakfast and coffee / tea
09:30 - 10:00 Day overview (over breakfast)
10:00 - 13:00 Work time
10:00 - 10:30 Workshops: Technical and Lean Canvas
12:00 - 13:00 MVP 1: What's the big idea?
13:00 - 14:00 Lunch
14:00 - 19:00 Work time
19:00 - 20:00 Dinner
20:00 - 22:00 Work time
20:00 - 21:00 MVP 2: Market Viability
22:00 - Bright Building closed
Sunday 24th February
09:00 - 09:30 Breakfast and coffee tea - wake & work
09:30 - 09:45 Day overview
09:45 - 12:00 Work time
10:30 - 11:30 Workshops: Presentation Skills & Funding Templates
12:00 - 13:00 Lunch
13:00 - 15:00 Work time
14:00 - 15:00 MVP 3: Does the code work?
15:00 - 15:00 Hard stop
15:30 - 16:15 Project & Business Demonstrations
16:15 - 16:45 Judges review / Secondary awards
16:45 - 17:00 Grand Prize Presentation
17:00 - 18:00 Networking and drinks