Actions and Detail Panel
1ST KRIO DESCENDANTS UNION HOMECOMING
Tue, Dec 27, 2016, 2:00 PM – Mon, Jan 2, 2017, 5:00 PM GMT
Description
" LƐ Wi Ɛp WisƐf"
1ST KRIO DESCENDANTS UNION HOMECOMING
Krio Dɛm! Usay Wi Kɔmɔt? Usay Wi De Go
December 27, 2016 - January 2, 2017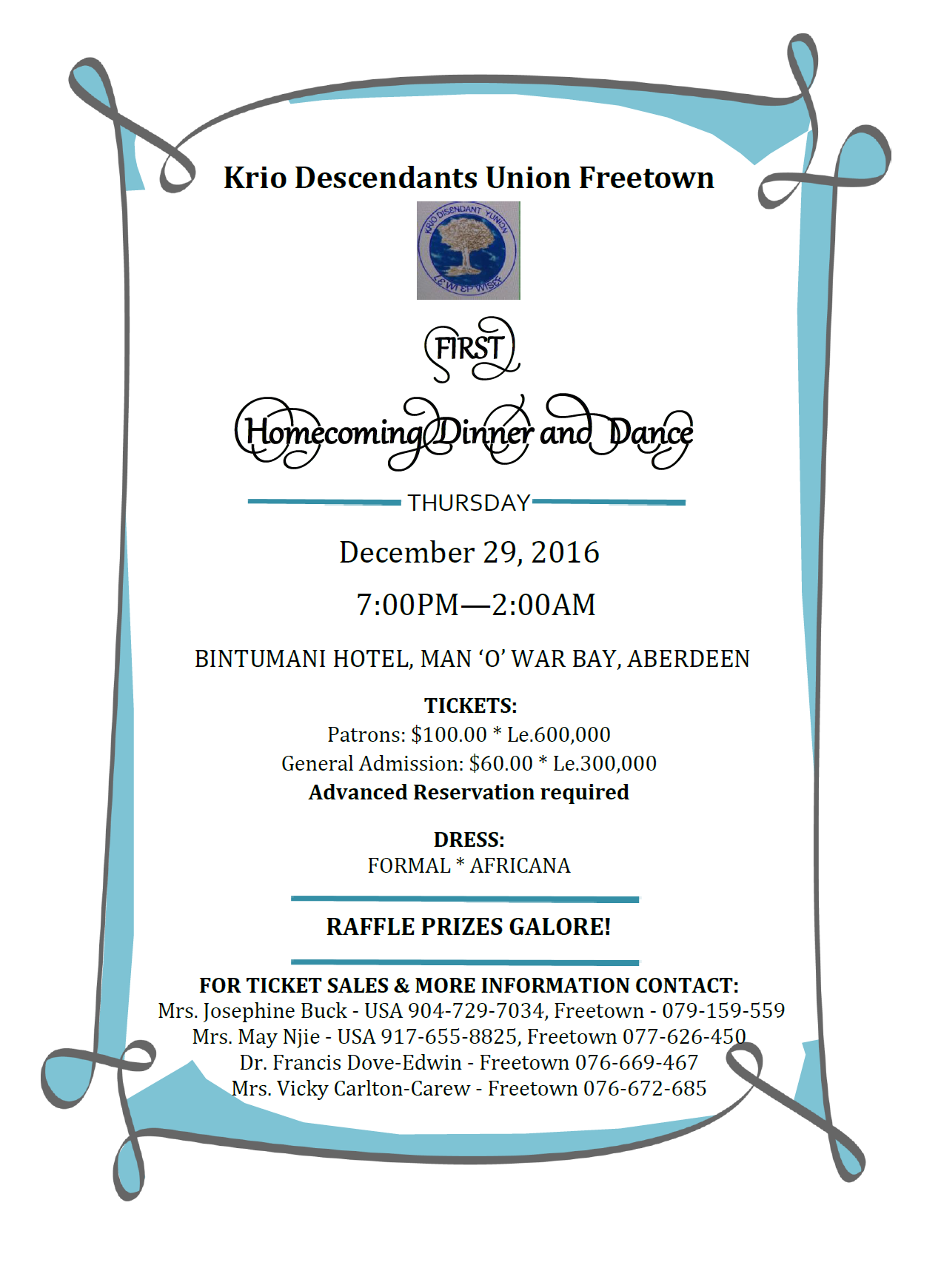 Come join us in Freetown, Sierra Leone for the 2016 Annual Family Reunion
Reunite with Family and Friends at home and explore the beauty of Sierra Leone
Secure your Heritage, rediscover your traditions and celebrate your identity
December 27th Tuesday
Aw du Ɛn Kabɔ – 2:00 PM - 10:00 PM Freetown Golf Club, Lumley Beach, Entrance is Free *Food and drinks will be sold
---
December 28th Wednesday
Symposium – 8:30 AM - 1:00 PM Free
Town Hall Meeting – 2:30 - 6:00 PM Miatta Conf. Centre, Youyi Building, Brookfields *Food and drinks will be sold; Entrance is Free
---
December 29th Thursday
Health Outreach – 8:00 AM - 12:00 PM FSSG, Brookfields, Entrance is Free
Dinner & Dance – 7:00 PM - 3:00 AM Bintumani Hotel Gen: $60/Le 300,000 Patron: $100.00 / Le 600,000
---
December 30th Friday
Turning of the Sod – 9:00 AM, Murray Town, Entrance is Free
Cultural Expo - 3:00 PM FSSG, Brookfields $5.00/ Le 30,000
---
December 31st Saturday
Peninsular Tour & Picnic – 7:00 AM - 7:00 PM, York Village $50.00/ Le 300,000
---
January 1st Sunday
Thanksgiving Service
Mosque - 1:00 PM Jamieul Salaam Mosque, Mountain Cut
Church - 2:00 PM Church of The Holy Trinity, Kissy Road
---


January 2nd Monday
Tℇnki ℇn Tata – 11:00 AM - 5:00 PM Miatta Conf. Centre, Youyi Building $20.00/Le 60,000
PLEASE NOTE:
Package Deals: General ($125) & Patron ($165) *Make only one payment to include Dinner & Dance Cultural Expo; Peninsular Tour; & Tenki en Tata!
Tickets can be picked up at the "Aw du Ɛn Kabɔ" event at Freetown Golf Club, Lumley Beach between 2-10PM on December 27th or at the Dinner & Dance on December 29th at Bintumani Hotel.
---


Accomodation:
Traditional Accomodation
Www.imageevent.com/jbb_global

Homestay and Guest homes
Www.imageevent.com/jbb_global/homestays

Retreats around the Peninsula
Www.imageevent.com/jbb_global/peninsula

Reservations from the special KDU block of rates are based on a first come basis & advance security deposit.

---
If you have technical issues with this eventbrite listing, please contact us at kdyhome1@gmail.com