1st Global Optimism Summit (English, Español, Deutsch)
Sales Have Ended
Ticket sales have ended
The accommodation at the venue is limited. Please, book your rooms as soon as possible to guarantee their availability. Thank you. info@jessicajlockhart.com El alojamiento en la sede de la cumbre es limitado. Se ruega reservar pronto para garantizar su disponibilidad. Gracias: info@jessicajlockhart.com Die Unterkunft am Veranstaltungsort ist begrenzt. Bitte buchen Sie Ihre Zimmer so schnell wie möglich, um ihre Verfügbarkeit zu garantieren. Danke info@jessicajlockhart.com
Sales Have Ended
Ticket sales have ended
The accommodation at the venue is limited. Please, book your rooms as soon as possible to guarantee their availability. Thank you. info@jessicajlockhart.com El alojamiento en la sede de la cumbre es limitado. Se ruega reservar pronto para garantizar su disponibilidad. Gracias: info@jessicajlockhart.com Die Unterkunft am Veranstaltungsort ist begrenzt. Bitte buchen Sie Ihre Zimmer so schnell wie möglich, um ihre Verfügbarkeit zu garantieren. Danke info@jessicajlockhart.com
Description
ENGLISH - (ESPAÑOL ABAJO - DEUTSCH UNTEN)This weekend will completele CHANGE YOUR LIFE!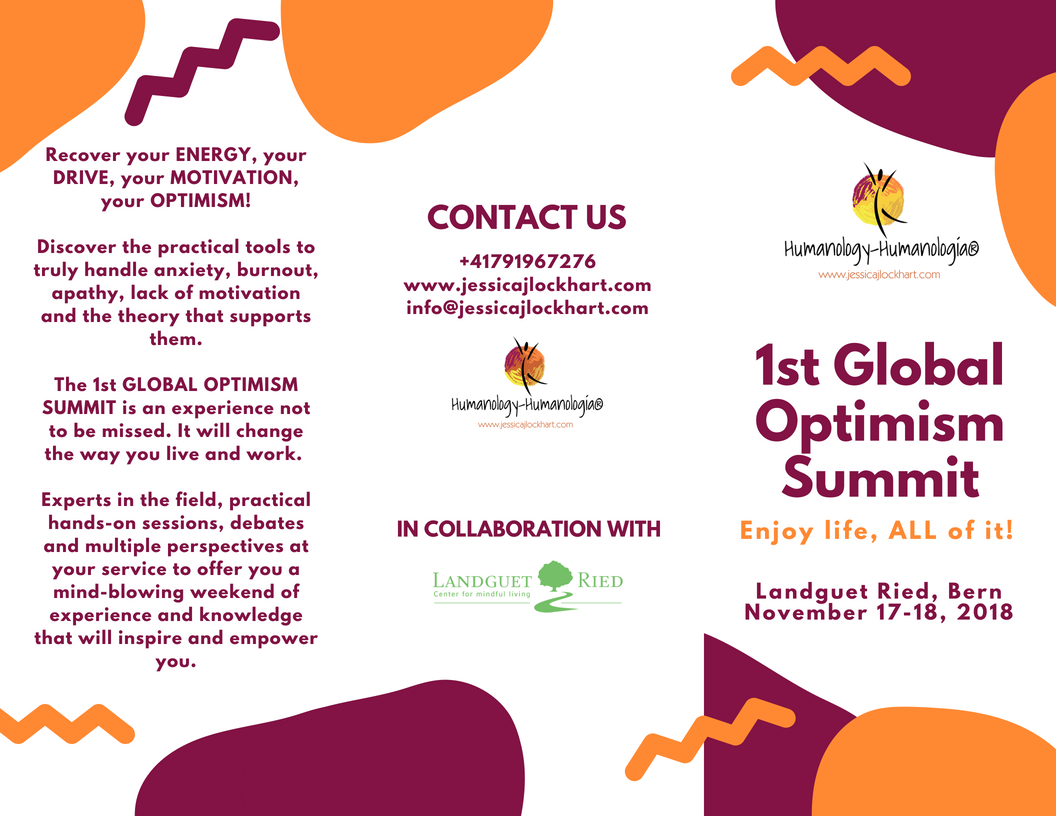 Recover your ENERGY, your DRIVE, your MOTIVATION, your OPTIMISM!
Discover the practical tools to truly handle anxiety, burnout, apathy, lack of motivation and the theory that supports them. Recover your ENERGY, your DRIVE, your MOTIVATION, your OPTIMISM! Remember that you will NOT be asked to share any personal experiences or information. You will learn and enjoy but there will be no need to expose yourself to sharing anything you don't want or wish to share. This is a pleasant, fun event that will help you grow
The 1st GLOBAL OPTIMISM SUMMIT is an experience not to be missed. It will change the way you live and work.
Experts in the field, practical hands-on sessions, debates and multiple perspectives at your service to offer you a mind-blowing weekend of experience and knowledge that will inspire and empower you.
OPTIMISM COACHING
Optimism Coaching was created by humanologist Jessica J. Lockhart to help human beings recover their lost energy, motivation and drive.
Based on academic and scientific knowledge and supported by life experience, the method offers tools specifically focused on:
Defining and enhancing personal MOTIVATION
Balancing and reinforcing MOTIVATION in groups
Assessing and promoting OPTIMISM
Preventing and healing BURNOUT
Improving MOODS
Enhancing PRODUCTIVITY and CREATIVITY
Because all human beings are born optimists. Discover how to recover your energy and drive.
Hotel accommodation not included. More details to book rooms and tickets: info@jessicajlockhart.com
ESPAÑOL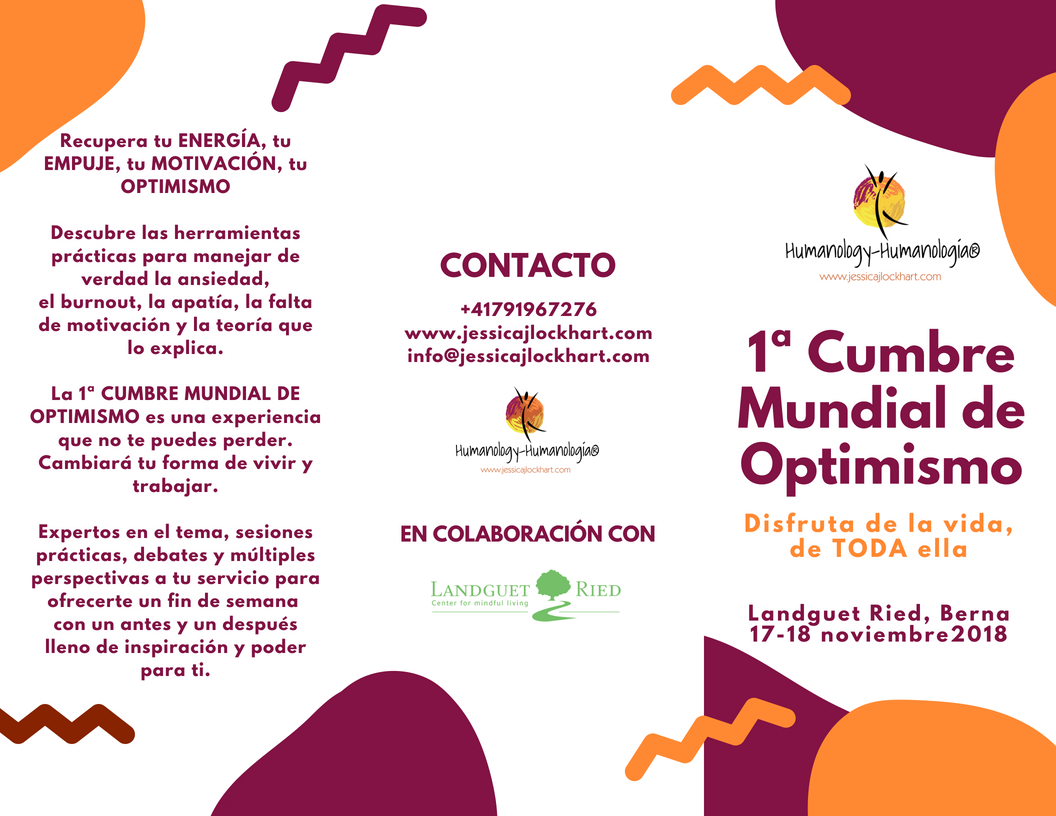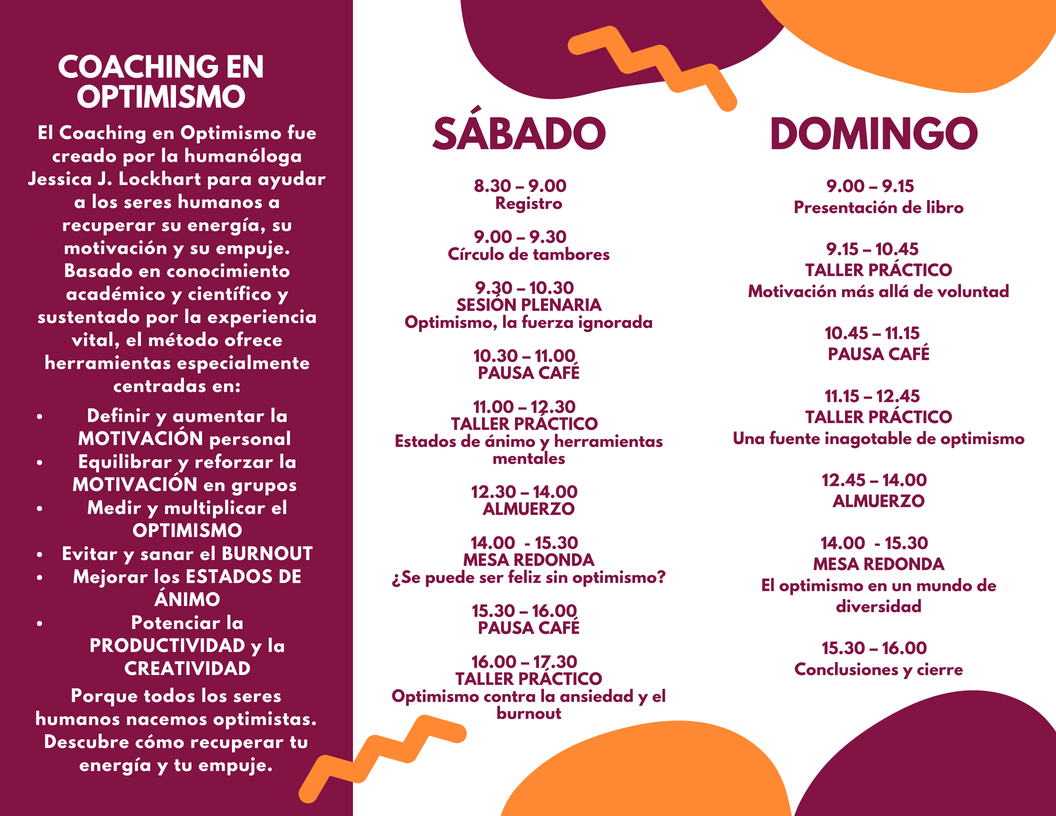 Este fin de semana... ¡TE CAMBIARÁ LA VIDA!
Recupera tu ENERGÍA, tu EMPUJE, tu MOTIVACIÓN, tu OPTIMISMO
Descubre las herramientas prácticas para manejar de verdad la ansiedad, el burnout, la apatía, la falta de motivación y la teoría que lo explica.
Recupera tu ENERGÍA, tu EMPUJE, tu MOTIVACIÓN, tu OPTIMISMO. Recuerda que NO necesitas compartir ninguna experiencia ni ningún recuerdo personales. Aprenderás y disfrutarás y no se te pedirá que te expongas a compartir nada que no desees comentar. Este fin de semana ha de ser un evento agradable y divertido que te ayude a crecer
La 1ª CUMBRE MUNDIAL DE OPTIMISMO es una experiencia que no te puedes perder. Cambiará tu forma de vivir y trabajar.
Expertos en el tema, sesiones prácticas, debates y múltiples perspectivas a tu servicio para ofrecerte un fin de semana con un antes y un después lleno de inspiración y poder para ti.
COACHING ENOPTIMISMO
El Coaching en Optimismo fue creado por la humanóloga Jessica J. Lockhart para ayudar a los seres humanos a recuperar su energía, su motivación y su empuje.
Basado en conocimiento académico y científico y sustentado por la experiencia vital, el método ofrece herramientas especialmente centradas en:
Definir y aumentar la MOTIVACIÓN personal

Equilibrar y reforzar la MOTIVACIÓN en grupos

Medir y multiplicar el OPTIMISMO

Evitar y sanar el BURNOUT

Mejorar los ESTADOS DE ÁNIMO

Potenciar la PRODUCTIVIDAD y la CREATIVIDAD
Porque todos los seres humanos nacemos optimistas. Descubre cómo recuperar tu energía y tu empuje.
Alojamiento en el hotel del evento no incluido. Para más información y opciones de pago: info@jessicajlockhart.com
DEUTSCH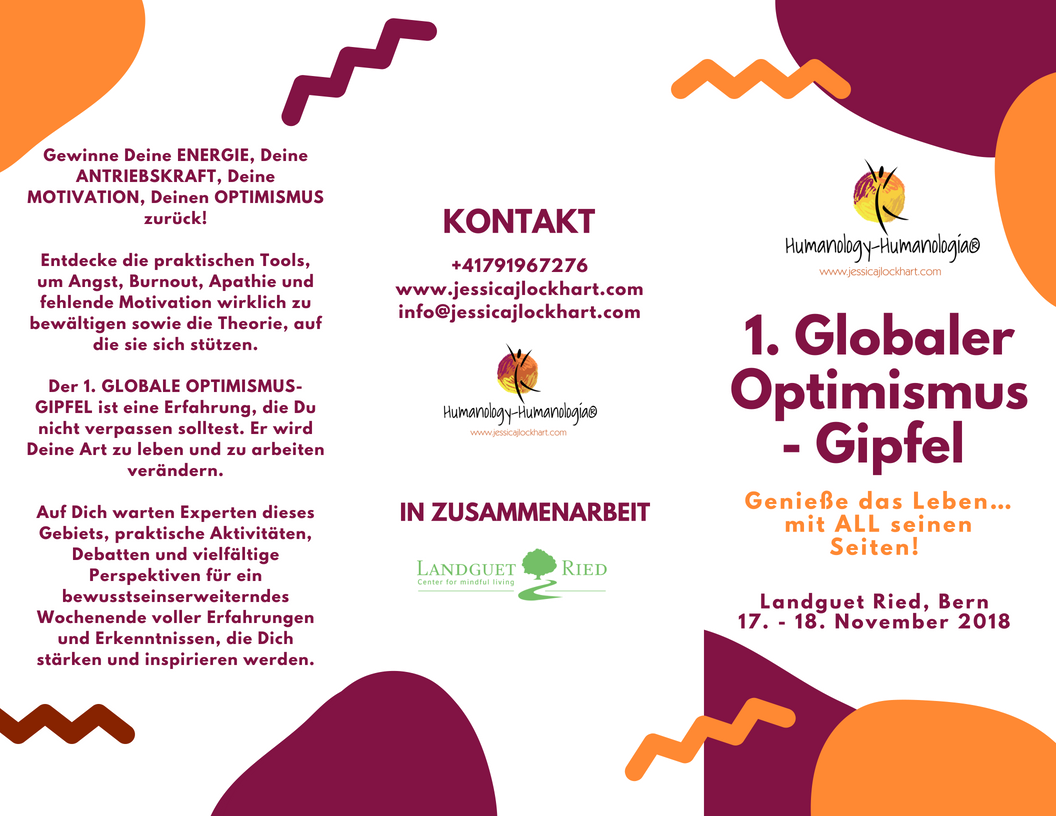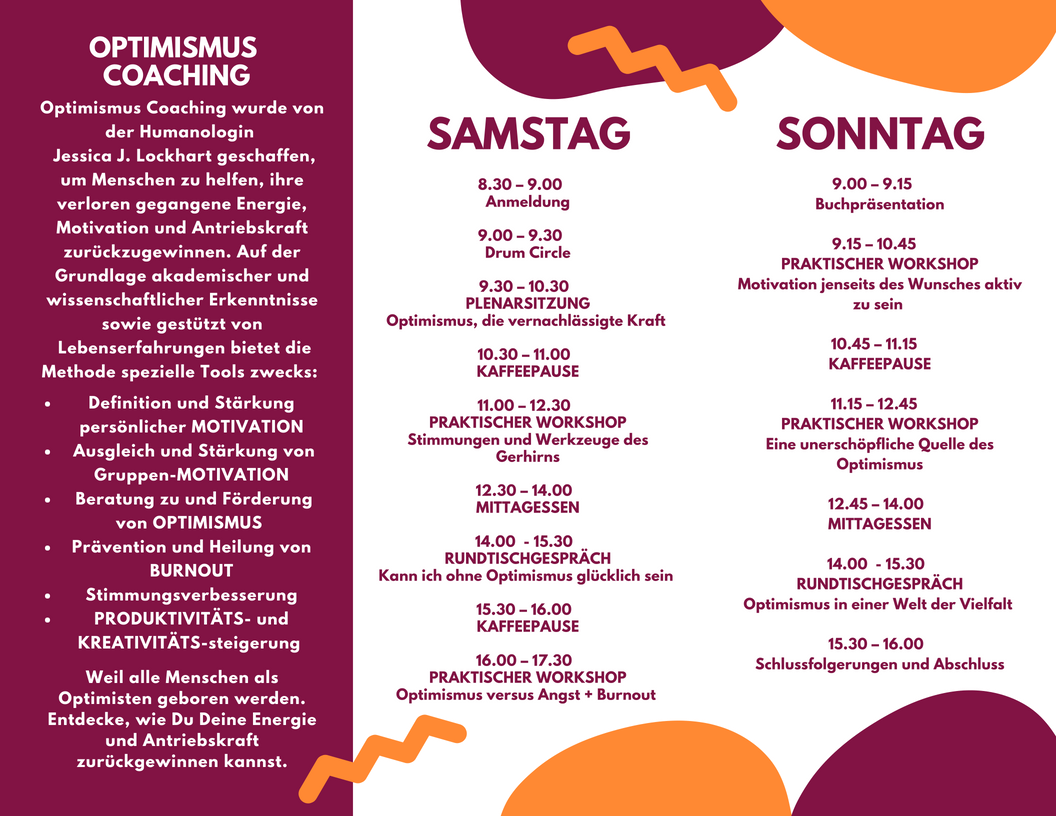 Gewinne Deine ENERGIE, Deine ANTRIEBSKRAFT, Deine MOTIVATION, Deinen OPTIMISMUS zurück!
Entdecke die praktischen Tools, um Angst, Burnout, Apathie und fehlende Motivation wirklich zu bewältigen sowie die Theorie, auf die sie sich stützen.
Der 1. GLOBALE OPTIMISMUSGIPFEL ist eine Erfahrung, die Du nicht verpassen solltest. Er wird Deine Art zu leben und zu arbeiten verändern.
Auf Dich warten Experten dieses Gebiets, praktische Aktivitäten, Debatten und vielfältige Perspektiven für ein bewusstseinserweiterndes Wochenende voller Erfahrungen und Erkenntnissen, die Dich stärken und inspirieren werden.
OPTIMISMUS COACHING
Optimismus Coaching wurde von der Humanologin Jessica J. Lockhart geschaffen, um Menschen zu helfen, ihre verloren gegangene Energie, Motivation und Antriebskraft zurückzugewinnen.
Auf der Grundlage akademischer und wissenschaftlicher Erkenntnisse sowie gestützt von Lebenserfahrungen bietet die Methode spezielle Tools zwecks:
Definition und Stärkung persönlicher MOTIVATION

Ausgleich und Stärkung von Gruppen-MOTIVATION

Beratung zu und Förderung von OPTIMISMUS

Prävention und Heilung von BURNOUT

Stimmungsverbesserung

PRODUKTIVITÄTS- und KREATIVITÄTS-steigerung
Weil alle Menschen als Optimisten geboren werden. Entdecke, wie Du Deine Energie und Antriebskraft zurückgewinnen kannst.