Orlando's top Grown Folk DJ's have come together to bring you a PARTY! It's going down EVERY 1st Friday @ Xperience LIVE!
About this Event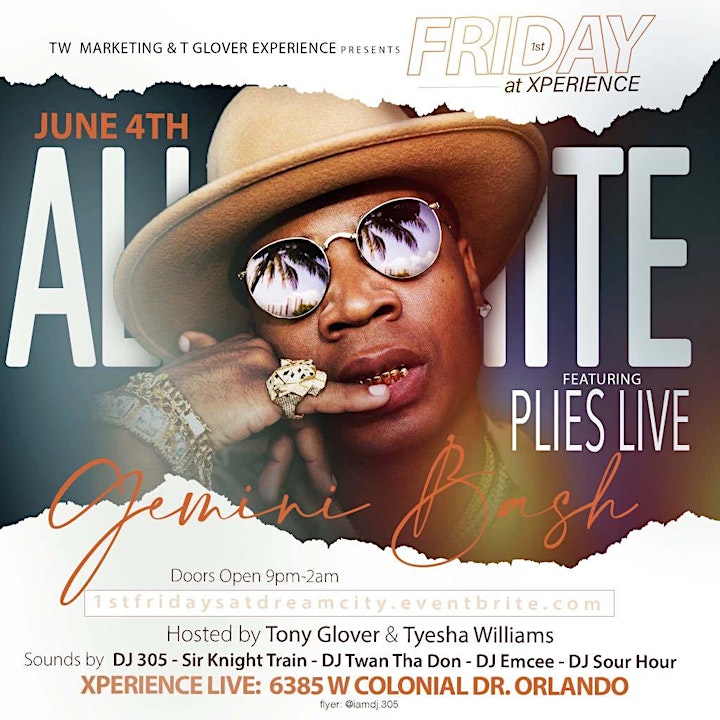 TW Marketing & T Glover Experience have put together Orlando's top Grown Folk DJ's to bring you 1st Friday @ Xperience Live Event Center!
Plies will be performing LIVE at the June "All White" Gemini edition! It's the Concert Party Edition; Vol 3 going down on June 4th! You don't want to miss the hottest grown folk party in the city!
A 1st Friday Series catered to only the Grown Folk ONLY! Pull out your sexiest ALL WHITE attire and get ready for a night of music, stepping, food, dance, drinks and party!
Music mixed by DJ 305, DJ Twan Tha Don, DJ EmCee, DJ Sir Knight Train & DJ Sour Hour!
Come VIBE with us! Put on your dancing shoes as we mix all of your favorite music! Hosted by Tyesha Williams.
Tables/Tickets: 1stfridaysatxperience.eventbrite.com
Xperience LIVE Event Center - 6387 W Colonial Dr, - Orlando, FL 32818