1st Friday Founders Fireside Chat @ Kapor Center: From Entrepreneurs to Ven...
Description
::::WE ARE SOLD OUT - You can join the waitlist and we'll notify you when tickets become available ::::
Every First Friday in Oakland, join us at the Kapor Center for all things diverse and inclusive tech entrepreneurship!

You'll have the opportunity to meet other current and aspiring founders of color, potential future team members, and even potential investors. Join us over food & drinks as we demystify entrepreneurship alongside inspiring, successful founders. Be ready to be inspired by tech entrepreneurs of color who will share their journey through the highs & lows.

The Kapor Center and Oakland Startup Network invites you to join us for our May fireside chat at 5:30pm on the rootftop as we sit down with entrepreneurs turned venture capitalists: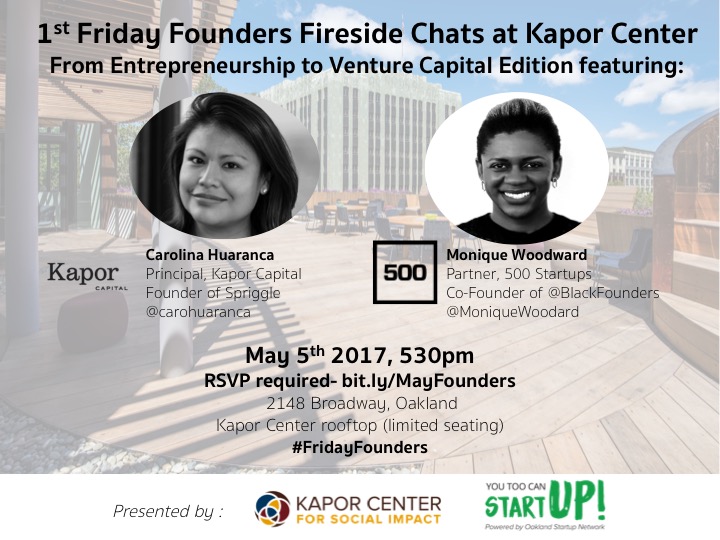 >Carolina Huaranca Mendoza joined Kapor Capital in 2016 and focuses on identifying early stage investments, evaluating those investments, and partnering with entrepreneurs to grow their companies. She is particularly interested in Future Work, People Operations Technology, and Education. Prior to becoming Principal, she was an Entrepreneur-in-Residence at the Kapor Center for Social Impact (KCSI) working on a tech platform for teacher professional development. Carolina began her career as a Mergers & Acquisitions investment banker at Citi but left to pursue opportunities in the technology and education sectors. She began her technology career in 2003 as a Sales & Marketing Manager at SchoolNet, which sold to Pearson for $230MM. In 2012, she founded Spriggle, a marketplace helping parents identify science and math inspired products for children ages 3-9.

>Monique Woodard is a Venture Partner at 500 Startups where she invests in early stage startups and leads a $25M microfund that invests in Black and Latino founders and growing markets. She believes that demographic shifts combined with current $2.5 trillion in Black and Latino purchasing power is creating the next big emerging market – right here in the United States. As the co-founder of Black Founders, Monique created an organization for tech entrepreneurs and has provided support for startups around business strategy, marketing, and fundraising. She also served as an Innovation Fellow for the City of San Francisco where she worked on government innovation, including open data and municipal broadband access. Monique has had a 15 year career in tech that includes both entrepreneur and operating experience in consumer-centric businesses in mobile, media, e-commerce, and civic technology.