Description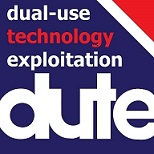 1st DUTE OPEN DAY
Thursday 17th March 2016, 09:00-15:30
Westminster Conference Centre, 1 Victoria Street, London, SW1H 0ET
---
Please note that tickets to this event have now sold out.
If you would like to be informed of future DUTE cluster events, please email events@axillium.com with your contact details, and we will add you to our distribution list.
---




The Programme Directors of DUTE, the Dual-Use Technology Exploitation Cluster, have announced that the 1st DUTE OPEN DAY will be hosted by the Department for Business, Innovation and Skills (BIS) in London on 17th March 2016.
DUTE is a £10 million project supported by the UK Government and Industry, created to identify and leverage technologies from adjacent defence and industry sectors such as rail, civil aerospace, lightweight technology and information economies, and put them to dual-use

The DUTE Open Day will showcase the first round of DUTE projects which have harnessed a community of innovative SMEs, universities and leading UK industry partners, and combined these with wider market pull and business growth.
Focussed on exploitation across defence and industry, this event brings together public and private investors from both sectors who are looking to draw on the best technologies to deliver game-changing solutions to market.
This 1-day event is free to attend and will give participants the opportunity to find out about how to work with DUTE funding and innovation opportunities as the Cluster continues to scale up.
Event Overview
The DUTE Open Day will offer current and future partners a timely review of DUTE's advances in boosting economic growth in the UK across sectors, with presentations from the Cluster partners:
Marshall Advanced Composites will show the transfer of defence technology into the adjacent civilian sector through its advanced composites capability.
NetComposites and Airbus Helicopters will present their work to produce lower-weight, lower-cost helicopter armour.
Saietta Group will review their exploitation of defence technology in high-performance, low-weight electric transport markets.
Horsebridge will discuss their defence capability and secure civilian-sector applications for cyber security communication.
Attendees
Opportunity to Engage the Dual-Use Market for Technology & Enterprise
Attendees will have the chance to hear from funding bodies and industry partners looking to fully exploit the entrepreneurial opportunities and synergies between so-called 'dual-use' products, services and technologies that can drive innovation in both the civil and defence sectors.
Attendees will also have the opportunity to engage with the next stage of technology in the DUTE Cluster covering a wide range of sectors including smart, connected transport for air, rail and road, lightweight technology, energy generation and distribution, information and cyber economics, as well as environmental sciences.
Opportunity to Explore Access to Funding & Investment
With both UK and EU funding opportunities being presented, the event will give delegates wishing to engage with the investment community from the civilian and defence markets direct access to explore options to become part of the Cluster and work with public and private investors.
Agenda Outline
09:00 Arrival and Registration
09:30 Welcome and Introduction – Marshall, DUTE Lead Partner
Morning: DUTE Origins and Programme To Date
Including: Show case partners
Keynotes on: Dual-use Strategy, Technology Challenges
Q&A
13:00 Lunch and Networking
14:00 Afternoon: Engagement Opportunities
Including: Keynotes on: Funding, Market Opportunities
Register interest in participating in DUTE
Q&A
15:30 Next Steps and Close


Open Day Registration
Tickets to this event have now sold out. If you would like to be informed should any places become available before March 17th, then please email events@axillium.com with your contact details, and we will add you to our Waitlist.
Yours faithfully
Chris Owen & Will Searle
Programme Directors, DUTE
DUTE Cluster Partners: