Actions and Detail Panel
1st Buildings India 2017 (EIP)
Wed, May 10, 2017, 9:00 AM – Fri, May 12, 2017, 6:00 PM IST
Description
Sustainable Infrastructure is an integral part of the smart cities mission. Driving a nation's social and economic development, cities are the centre of resource consumption. Today, as people moving towards urban areas, cities are facing the pressure to accommodate the growing population.

According to the United Nations (UN), the global urban population surpassed the global rural population in 2007, and it predicts that 70% of the world's population will be urban by 2050, with many cities having more than 10 million inhabitants.
As the cities expand, it is imperative to invest in smart buildings and housing to enable smart cities of the future. Smart buildings are intelligent structures that significantly save time, energy and operating cost, with the help of smart technology and materials. It is estimated that smart buildings will save up to 30 percent of water consumption, 40 percent of energy consumption, and reduce the overall building maintenance costs by 10 to 30 percent.
Key aspects of Buildings India 2017 expo
Connected homes
Homes around the world to become smarter and more connected in next five years
Connected homes give you total control on your house, with the ability to control elements in the home while you are away
Connected-home devices include all smart appliances (washers, dryers, refrigerators, etc.), safety and security systems (internet-connected sensors, monitors, cameras, and alarm systems), and energy equipment like smart thermostats and smart lighting
A PwC study estimates connected home market could be worth almost US$150 billion globally by 2020
With the growing proliferation of consumer electronics connected to internet, the Internet of Things (IoT) market is expected to reach US$ 15 billion by 2020 as per research firm IDC
Energy management
Cities account for 70 percent of the world's energy consumption and greenhouse gas emissions
Increase in price, availability of energy resources, and their environmental impact are some of the major concerns today
In the US alone, businesses spend about US$100 billion on energy for their offices every year
Commercial buildings could save up to $60 billion if investments in energy efficiency were ramped up by just 1-4%, according to a study by the American Council for an Energy Efficient Economy (ACEEE).
It is possible to convert these buildings into smart and energy efficient buildings by infusing sensors, actuators and CCTVs that sense and respond intelligently to the needs of the building occupants.
Green buildings
More than 3,570 green building projects with a footprint of over 3.59 billion sq. ft. are registered with the Indian Green Building Council (IGBC), of which 789 green building projects are certified and functional
India's green building footprint has emerged as the second largest in the world, and can go up to 10 billion sq. ft. by 2022
It is estimated that energy saving from green buildings is about 30 to 40 percent
The green building industry in India will grow by 20 percent in the next three years, increasing the scope of green building materials in the country
All types of buildings are going the green way: government, IT parks, offices, banks, residential, convention centres, airports, institutions, hotels, hospitals, factories, SEZs, townships, schools, metros, etc.
Housing for all
The urban landscape of India is fast filling, and it is expected to reach 81 crore by 2050
According to the 2011 Census, there is a shortage of 18.78 million houses in the country
'Housing for All by 2022' is a flagship project launched with the aim of building affordable homes for the urban poor and slum dwellers at low interest rates
Government of India plans to construct 29.5 million houses in rural areas under 'Housing for All' scheme
The Government will need to provide assistance for 10 million households by FY 2018-19 at an estimated cost of around US$ 12 billion out of which US$ 10 billion will be provided by budgetary allocation and the rest will come from borrowing through National Bank for Agriculture and Rural Development (NABARD)
Real estate
The real estate sector holds prodigious strategic economic importance in the Indian economy
Real estate is the second largest employment generator in India after agriculture
The Indian real estate market is expected to touch US$ 180 billion by 2020. The housing sector alone contributes 5-6 per cent to the country's Gross Domestic Product (GDP)
Both the central and state governments are spending about USD 5 to 6 billion annually, to develop the housing sector of India
The construction industry ranks third among the 14 major sectors in terms of direct, indirect and induced effects in all sectors of the economy
Smart appliances
Machine to machine (M2M) communication and large scale digitization are expected to provide new growth opportunities to players in the smart appliances market
Some smart appliances are: televisions, fridges, cookers, washing machines, dishwashers, robotic vacuum cleaners, air conditioners, smart security systems, etc.
The Indian consumer electronics and appliances market is projected to be worth $20.6 billion by 2020
Smart lighting
One-third of the world's roads are still lighted by technology dating back to the 1960s
Philips estimates that a complete switch to LED technology can generate savings of approximately €130 billion
The Indian lighting industry will be INR 35,000 crore (US$ 5.22 billion) by 2020
With the government's decision to switch to LED for all public space lighting, the Indian LED industry may touch INR 21,600 crore by 2020
Sensors and metering systems will enable the city to generate information about its own infrastructure usage and condition in coming years
Water and waste management
It is estimated that as much as 40 to 50 per cent of the water is "lost" in the distribution system
Smart buildings have been found to help save up to 30 percent of water usage, 40 percent of energy usage and thereby help reduce building maintenance costs by 10 to 30 percent.
Only 31 percent of urban wastewater is treated per day at 11,787 million litres per day (MLD)
Only 37 percent of urban sewage is treated per day at 23,277 million litres per day (MLD)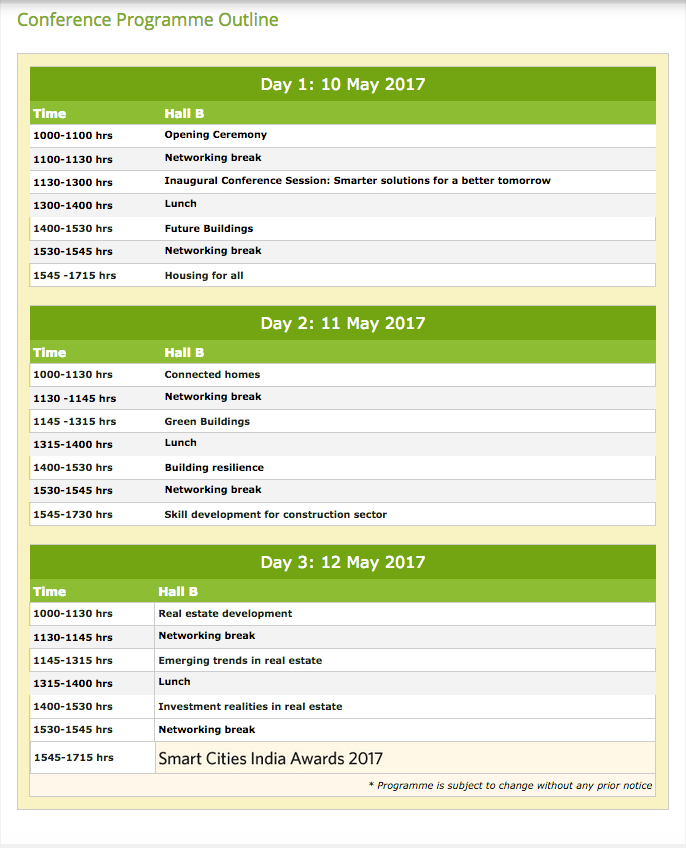 NO REFUNDS ON REGISTRATIONS ALLOWED

NO TRANSFER ON REGISTRATIONS ALLOWED

-----------------------------------------------------------------
This Event Listing is Promoted and Marketed by
New York Media Technologies LLC in partnership
with Exhibitions India Group.
-----------------------------------------------------------------
SHU170202CEV