Description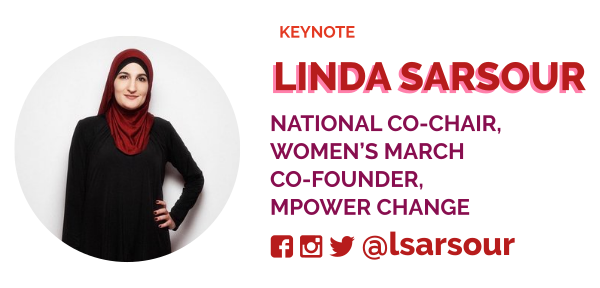 Join Flip the Script on November 2, 2017 to honor the bold and brave women of San Diego who are driving the progressive agenda forward and leading us toward a brighter future.
Linda Sarsour, nationally acclaimed civil rights activist and Co-Chair of the Women's March on Washington will keynote.
The awards ceremony includes a delicious lunch, catered by Kitchens for Good.

2017 Women Who Change the Game Honorees
Thank you to all the people who nominated a script-flipping, game-changing powerhouse woman for the awards celebration! We are proud to announce our 2017 Women Who Change the Game honorees:
Mover and Shaker Award
Alreen Haeggquist, co-founder and managing partner at Haeggquist & Eck LLP, is committed to advancing human rights and giving voice to the underrepresented. She has successfully represented employees in cases involving wrongful termination, retaliation, wage theft, contract violations, sexual harassment, and all types of discrimination. She is currently representing two female senior scientists in a gender discrimination lawsuit against the Salk Institute. Her firm also served as class counsel in the consumer fraud litigation against Donald Trump and Trump University, which settled for a staggering $25 million. The firm litigated the case, which they worked on for seven years, on a pro bono basis.
Truth to Power Award: Trish Martinez
Trish Martinez is a Diegueño and Yaqui Native American and is a citizen of the Mesa Grande Band of Mission Indians of San Diego County in California. She is a trailblazer both within and beyond her tribal communities as an advocate for the disenfranchised, abused and forgotten. As as the Native Liaison for the San Diego Human Trafficking Advisory Council, Martinez is a leader among the movement to end human trafficking and commercial sexual exploitation of children. She recently addressed the United Nations 61st Commission on the Status of Women on Human Trafficking in Native Country. Trish Martinez is an example of how individuals can help mobilize others to become filled with renewed hope, addressing human rights violations happening in their communities, region, and nation.
Mighty Pen Award: Kelly Davis
Kelly Davis is a freelance journalist who is being honored for her unparalleled coverage of the criminal justice system, homelessness and civil rights issues in San Diego. Davis focuses on telling the stories of people who are otherwise overlook, giving a voice and a human face to the marginalized and most vulnerable people in our communities. Through thorough investigative journalism, her mighty pen has elevated the discussion around our region's responsibility in dismantling structural injustices, helping prompt improvements within our local mental health and criminal justice systems.
True Grit: Kelly Harvey
Kelly Harvey is co-founder of Justice4SD33, a coalition organized to support families impacted by gang laws.The coalition was started in 2015 in response to the application of Penal Code 182.5, which was used to arrest community members in Southeast San Diego based on presumed association with and benefit from gang crimes. She successfully advocated for her sons and other community members to be freed from jail and reunited with their families. She is a powerful and nurturing leader who has helped bring forth a deeper understanding of the systems that impact her community
Individual tickets are now on sale and may be purchased on this Eventbrite page. Click on the link below become a sponsor of the 1st Annual Women Who Change the Game awards celebration. This event will sell out!
Thank you to our generous sponsors: